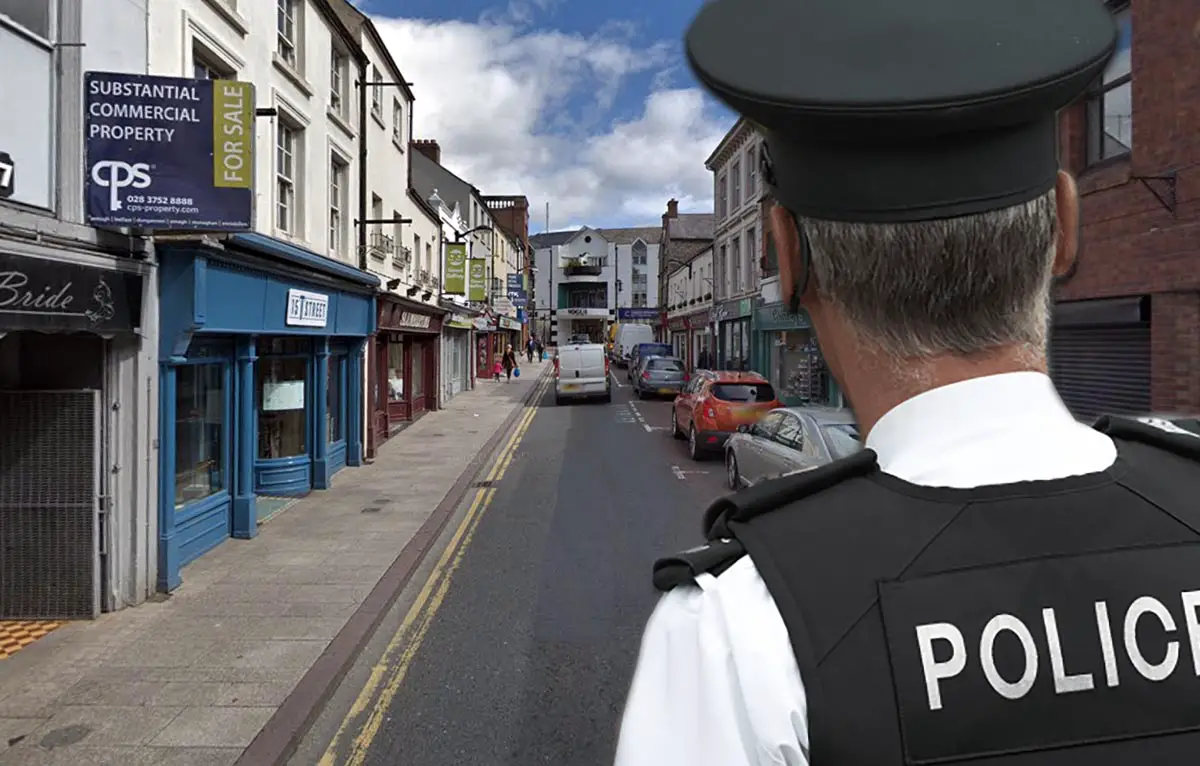 A woman who put her hands on a police officer's gun during a disturbance in Armagh has been given a suspended sentence.
Jemma Madeleine Laughlin, of Main Street, Ahoghill, appeared before Armagh Magistrates' Court, sitting in Newry.
The 27-year-old was charged with disorderly behaviour and obstructing police, offences which she had entered guilty pleas to.
The Prosecution outlined that on August 19 2021, police were dealing with a separate incident on Thomas Street, Armagh. The defendant was present and was "making efforts" to restrain the subject of that incident.
Police told the defendant on numerous occasions to step back, and at one stage, she placed "both of her hands" on a police officer's personal protection weapon, which was located on their belt.
Due to the former incident, police were unable to deal with the defendant at the time. Numerous attempts were made to caution and interview her but police were unable to conduct this.
Eventually, she was cautioned on December 10, and made no reply.
Laughlin's defence solicitor said that the defendant's partner at the time had been suffering from serious mental health issues and that the defendant had grave concerns for him.
He added that the defendant denied attempting to steal or use the officer's weapon, but admitted to getting in their way.
The court was told that the defendant had a "fairly recent" suspended sentence imposed, but these offences did not appear to be in breach of it.
Defence explained that the defendant had entered guilty pleas at the "very earliest opportunity" and that she was receiving ongoing treatment for "fairly serious mental health issues."
He added that: "There is an unfortunate background to this case that perhaps explains above and beyond the prosecution facts."
District Judge Anne Marshall, presiding, said: "You can't involve yourself in a scenario like that whenever police are trying to arrest or deal with somebody.
"According to the statement, you were told numerous times to get back for your own safety and the safety of other officers.
"To put your hands on the policeman's gun [is] very serious indeed," Judge Marshall added.
"I don't think you had any particularly malicious intent in doing that, but obviously that would cause a police officer quite a lot of concern if he felt someone putting their hands on his gun."
The Judge noted that the incident had occurred after matters for which she had been dealt with in Ballymena Court, where she received a suspended sentence. These offences stem from June 2021, before these matters in August. She also had a further offence in June of this year.
Judge Marshall imposed a sentence of one month in custody, suspended for a year. This would be an extra suspended sentence on top of the one imposed in Ballymena, meaning that if the defendant is arrested again, she would go into custody for one month for this sentence, and two months for the previous.
Judge Marshall told the defendant: "you've three months custody hanging over your head", for the next year.
"Make sure you don't get into any more trouble and that'll be the end of all of it," Judge Marshall added.
Sign Up To Our Newsletter