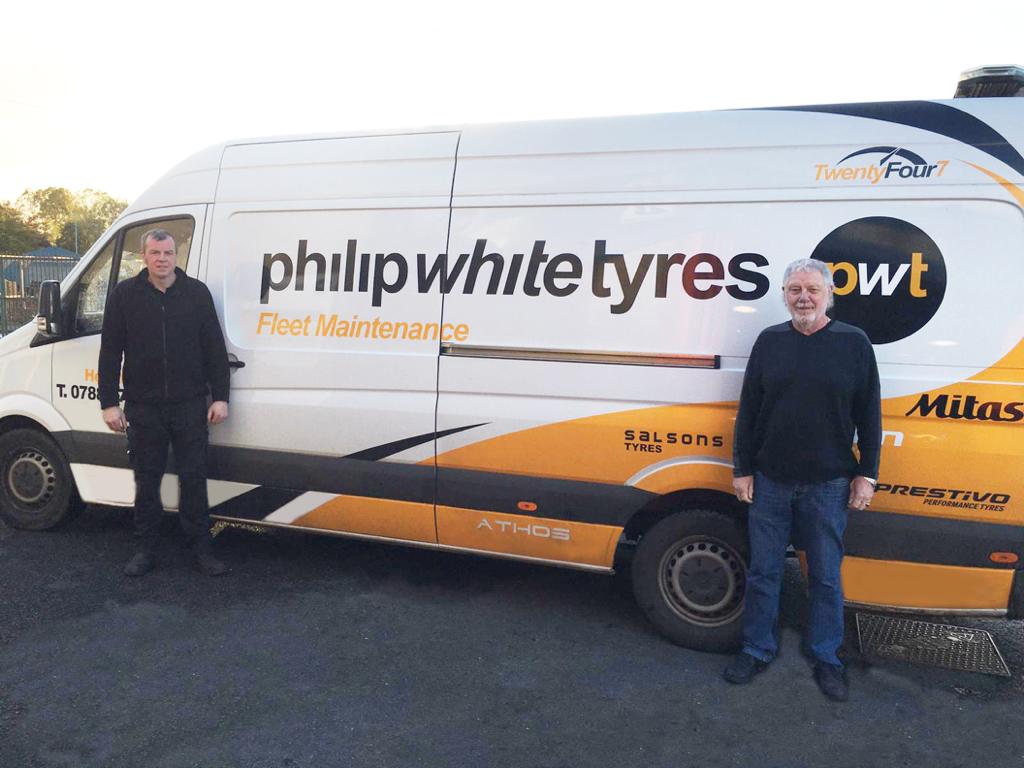 October marks tyre safety month, which highlights an aspect of car maintenance which is often overlooked by many road users.
This, despite the rubber being main point of contact between your car and the road; tyres are absolutely crucial when it comes to a vehicle's overall safety.
Dasos Michaelides of Philip White Tyres spoke to Armagh I and said the stats are "absolutely frightening" on the amount of people driving about not knowing just how bad their tyres are.
Dasos, who is also the regional chairman of the National Tyre Distributors Association (NTDA), revealed that around one in ten cars in the United Kingdom have illegal tyres.
"We estimate that around 10 million people are driving around the UK now with one or more illegal tyres," said Dasos.
"A vehicle that has an illegal tyre is six times more likely to be in an accident than a vehicle that is legal, that's in the dry, when you are in the rain that goes up to eight times".
He put this down to a "lack of understanding" from road users who rarely pay much attention to their tyres.
Another major trend is drivers not checking the pressure of the tyres on their vehicle, something Dasos says Philip White Tyres sees in about eight or nine from every ten visitors.
He said: "Tyre pressure is probably the most important thing for anyone driving a car, if you were 20% under-inflated you are going to lose 15% of the wear of those tyres.
"If 40% under-inflated you are going to lose 55% of the wear of your tyre, so your tyre's life is going to be more than halved."
Another factor in not looking after your tyres is fuel economy, which will begin to drop as your tyres begin to wear down.
Dasos referred to the example of someone cycling a bicycle with a flat back tyre – the flatter a tyre, the more energy a person would require to use in order to achieve the same speed.
However, there is one major safety issue, Dasos explained: "There is a massive difference in braking distance, the facts are 60 mph and when you brake it takes 77.7-metres with a new trye on.
"You do the same with a tyre at 3mm and you are looking at six car lengths longer to get stopped; if you were to pace that out, it would frighten you, it is so dangerous."
As regional chairman of the NTDA, Dasos says that one of thing that the association are working together to try to eradicate are part worn tyres.
He explained: "These things are incredibly dangerous, the NTDA carried out a survey and found that 97% of part worn tyres being sold in the UK were illegal.
"Why they were illegal is that if you are selling part worn tyres, you have to do an inflation test to check for cuts or abrasion and then stamp it as part worn so the customer knows but very few do that."
However, a much more shocking statistic is that 34% of part worn tyres showed "life threatening" defects.
"We are trying to discourage people from using part worn tyres; you need to be thinking 'why has someone taken that tyre off' and if it's not good enough for them why is is good enough for you," said Dasos.
It is estimated that around six million part-worn tyres are sold in the United Kingdom every year, with half of these coming from scrapped cars, or those that have been in an accident.
Dasos continued: "Some of the tyres are coming from older cars, tyres have a shelf life of around four to five years but we have had people come in with ones that are 12 or 14 years old.
"The tyre has a certain amount of natural rubber in it, so it is like a fruit or a rotten banana; they get cracked and become so hard that they don't grip the road but just run over the top of it."
Dasos claims that the price difference is a "false economy" with new tyres at 8mm – with many of these part-worn tyres coming in at 4mm.
He stated: "I mean you are buying a tyre at 4mm, you think to yourself that's okay it is only half worn but it's not really, the legal requirement is 1.8mm. It doesn't make any sense.
"People need to be checking their tyres more often, if they are ensure then you should be visiting a reputable tyre dealer for them to look at them".
Sign Up To Our Newsletter