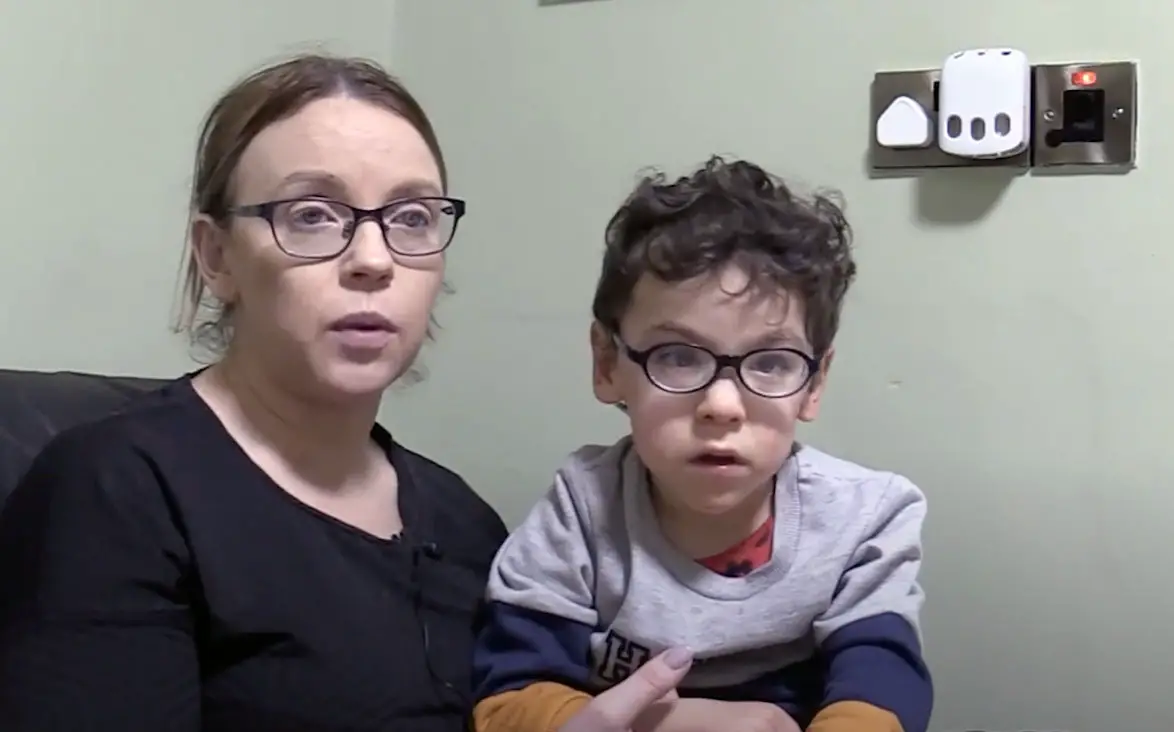 The family of a Co Armagh boy who suffers from quadriplegic cerebral palsy are set to travel to America in March for specialist treatments in a bid to help him reach his full potential.
Ballymacnab woman, Seanin Traynor, describes her son Oisín as the "most sociable boy" with the "most infectious smile".
Oisín was born at 25 weeks on May 27, 2018, weighing 950 grams, in London, after Seanin developed sepsis and was rushed for an emergency C-section.
At around two weeks old, a line delivering medicine displaced into Oisín's abdomen which caused his oxygen levels and blood pressure to drop.
Speaking to Armagh I, Seanin explained that this was not picked up for around 36 hours which meant that drains then had to applied to remove the excess medication.
"A few weeks later we were told that he developed some cysts on his brain, they linked it to the event where the line displaced as it normally occurs after a stressful event and if it had of been linked to his birth we would have seen it on his brain scans a lot earlier.
"These cysts got progressively worse over the course of six weeks, covering most of his brain….. and they questioned whether he needed a shunt put in for brain surgery."
Fortunately Oisín did not require surgery but still Seanin said they were unsure of what impact this would have on her son.
"At stages we were told to switch off the machine, we were told that he wasn't going to survive or amount to anything if he did," Seanin said, "we were told that he was at risk of cerebral palsy due to the cysts on the brain."
A scan, when Oisín was around six months old, showed that the cysts covered most of his brain and Seanin was told that it was unlikely he could carry out simple tasks.
"When we researched cerebral palsy ourselves we found that the brain is like a sponge and early intervention, anything up to the first five years, was crucial in what you could give and how you could develop him."
Seanin decided to try and sign Oisín up for every intervention possible but upon returning back to Co Armagh during lockdown she found a lack in availability of paediatric therapy, which meant having to travel for treatment.
"We set up with Just 4 Children back in April, because we were trying to source a piece of equipment from the NHS that private physios told us he was ready for but the NHS were saying that he needed to sit independently for five minutes before they would consider it.
"He may never sit for five minutes, if we look back two years ago he couldn't sit at all and we are now up to two and half minutes if we get the concentration."
Opening Oisín's Opportunities raised around £30,000 from donations alone with a further £20,000 coming from people fundraising in various ways.
Asked how the fundraising has taken off so much, Seanin said: "I think it is his face,  he is constantly smiling and waving saying hello but I think people are not seeing the back side of that…We are highlighting that yes he is a smiley child but it is not as easy for him."
Oisín is constantly going through physio work but in school and at home for ups to five or six hours a day.
The money raised has allowed the family to secure a place at the world renowned NAPA Centre in Boston for three weeks in March, something which previous seemed out of reach.
"This will be 45 hours, which is a mix physio, speech and feeding," Seanin said , "at the minute with the NHS we are getting a 45 minute session once every five-ish weeks…..that is a mix of physio, OT and speech and language which is around six or seven hours in the year.
"That 45 hours in three weeks will push him a year further down line in development."
To keep up with Oisín you check out his Facebook page or to donate visit the JustGiving page.
Sign Up To Our Newsletter