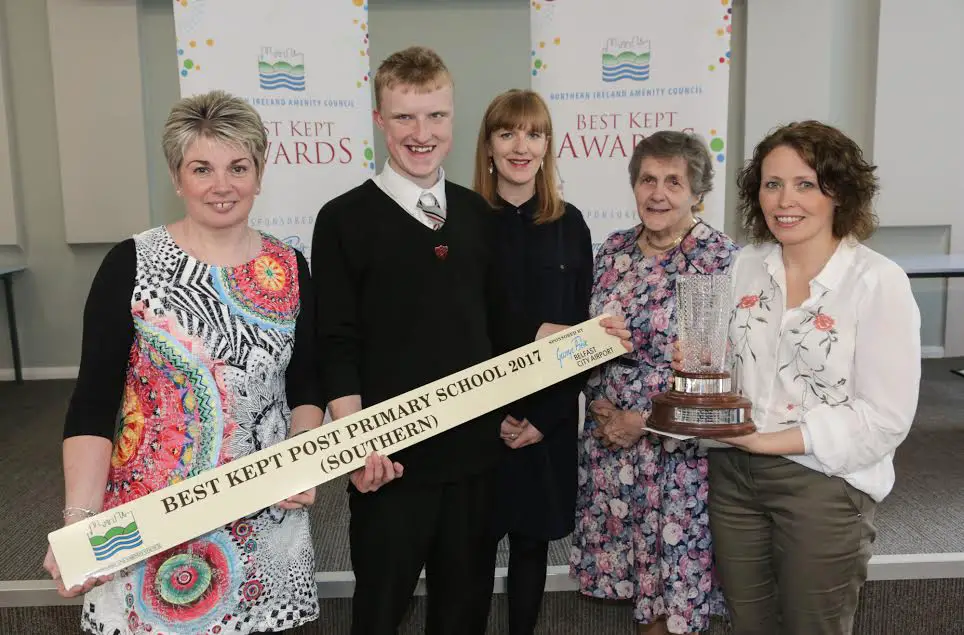 Lisanally Special School in Armagh is the 'Best Kept' post primary in the Southern Education Authority area – and they now have the award to prove it!
The school has hands down picked up the Best Kept title in the post primary category at this year's school awards, which are sponsored by George Best Belfast City Airport.
Over 100 representatives from 33 schools across Northern Ireland gathered at Stranmillis University this week for the Northern Ireland Amenity Council's Best Kept School Awards ceremony.
The Best Kept School category was first awarded in 1991, with one school winner in each of the Education Authority regions, and since has been grown with regional winners now awarded in Pre-Primary, Primary and Post-Primary categories.
Lisanally School is continuing it's winning streak after winning an award last year.
This year, the judges were impressed by the engaging of the entire school community in practical ways to make a difference to the surroundings and to empower pupils to take pride in their school and local area.
They were impressed seeing the ongoing work as well as the new fish ceramic mural at Lisanally.

Speaking at the awards, Doreen Muskett, President of the NI Amenity Council, said: "The standard of applications received from all schools this year was extremely high and, with almost 200 applications, our judges faced a difficult challenge in choosing the overall winner and regional winners.
"As the Best Kept School, Lisanally Special School displayed a fantastic example of the whole school working as a community for the benefit of the pupils, teachers, parents and the environment around them.
"The whole school got involved in the projects and activities to make the environment a more enjoyable one. The Best Kept School Awards programme is a fantastic opportunity for schools of all sizes to work with their pupils and educate them about civic pride and their environment in a practical way, and Lisanally School has demonstrated this wonderfully."
Laura Duggan, Environment Manager at Belfast City Airport, said: "On behalf of George Best Belfast City Airport, I congratulate every school that has taken part in this year's competition. The efforts from the pupils have been incredible and it's a pleasure for the airport to support the Best Kept Awards in its 60th anniversary year.
"At Belfast City Airport, we deliver an award-winning Community Commitment Plan which focuses on Community, Education, Environment and People. We also have six Adopted Schools across the greater Belfast area.
"Thanks to our school partnerships, we know how much of an impact schools working together can have. Providing pupils with information on caring for their local area, and helping to empower them by showing practical ways they can make a difference to their school and community, makes a lasting impact.
"Well done to the winners, Lisanally Special School, Armagh."
The Best Kept School Awards is part of the wider Northern Ireland Best Kept Awards initiative, now in its 60th year, which seeks to identify and celebrate Northern Ireland's best looked-after towns, villages, schools, healthcare facilities and housing areas.
First established in 1957, the competition has grown over the years and now includes 90 awards across six categories.
Sign Up To Our Newsletter