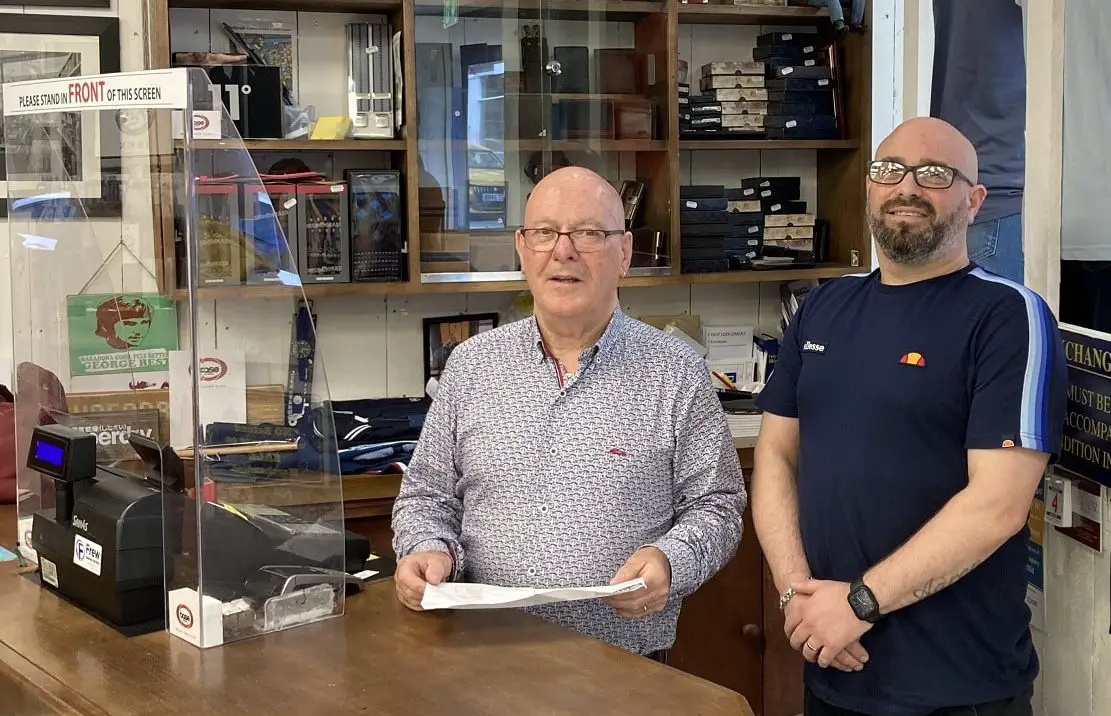 When Dessie Feeney finished school for the final time at the age of 15, he was sent out by his parents the very next day to look for a job.
It was a Thursday and having trawled the streets of Armagh, the Madden teenager was offered a job at a menswear shop and told to turn up for work on Monday.
Such was the straightforward nature of the jobs market in the 1960s. Plus, as one of nine children, he didn't have the luxury of not being gainfully employed.
But not only did the young Dessie land himself a first job, he also unwittingly found a lifelong career.
After 23 years with the same firm, learning the trade inside out, he decided to branch out on his own and in 1987 Dessie's Casual Clothing opened in English Street.
Since then, the shop has expanded several times, the most recent being four years ago when Dessie  took over the rest of the building after the closure of the adjoining Hester's cafe.
Dessie was joined in the shop by son David 25 years ago – although he had been helping his dad out since the age of eight – and together they have measured up and fitted out countless customers.
"We knew we needed the extra space," said David. "But the business we did out of that small shop was just incredible. Having the bigger space is just amazing."
Now it's August and that means one thing for dozens of children returning to the classroom in a few weeks – a trip to Dessie's for school uniform.
As stockists to 14 schools, August is the busiest time of year – even more so than Christmas – with customers coming from a wide area and the shop also running a delivery service.
Dessie and David often see customers, who had come in with their parents, returning with their own children.
This week, they had two former members of staff  shopping for school uniform with their sons.
Dessie, who is married to Bronagh and also has a daughter Maire and five grandchildren, still works six days a week.
Explaining what he loves about the job, he said: "We have made a lot of friends down the years and I enjoy meeting people and having a bit of banter. There's also the satisfaction of selling something that you bought."
Then he adds jokingly: "It's a bit like a drop-in centre here sometimes."
David added that they have also been extremely lucky with staff over the 35 years.
They have one member of staff, Patricia Gamble (née Grimley), who has been with them from the start, while another, Clodagh Doyle, left to have her family for a number of years and has since returned.
Along with them and shop assistant Oisin Richards, Dessie and David are as busy as ever, despite the challenges of Covid.
Said David: "We get a lot of people from Newry, Craigavon, Portadown, Lurgan and all over shopping here and they think Armagh is great. Sometimes we don't appreciate what we have on our own doorstep."
There's also another "regular occurrence" you won't find in a multinational but is commonplace in Dessie's, as father and son explain.
"There are people who come into town and decide they're going to go straight out for the night, so they come in here, get themselves a new outfit, leave the old one here and away they go.
"Then they'd come back in on the Monday or whatever to pick up their clothes.
"It wouldn't be the first time there's a pair of boots out there with cow dung hanging off them!"
Sign Up To Our Newsletter