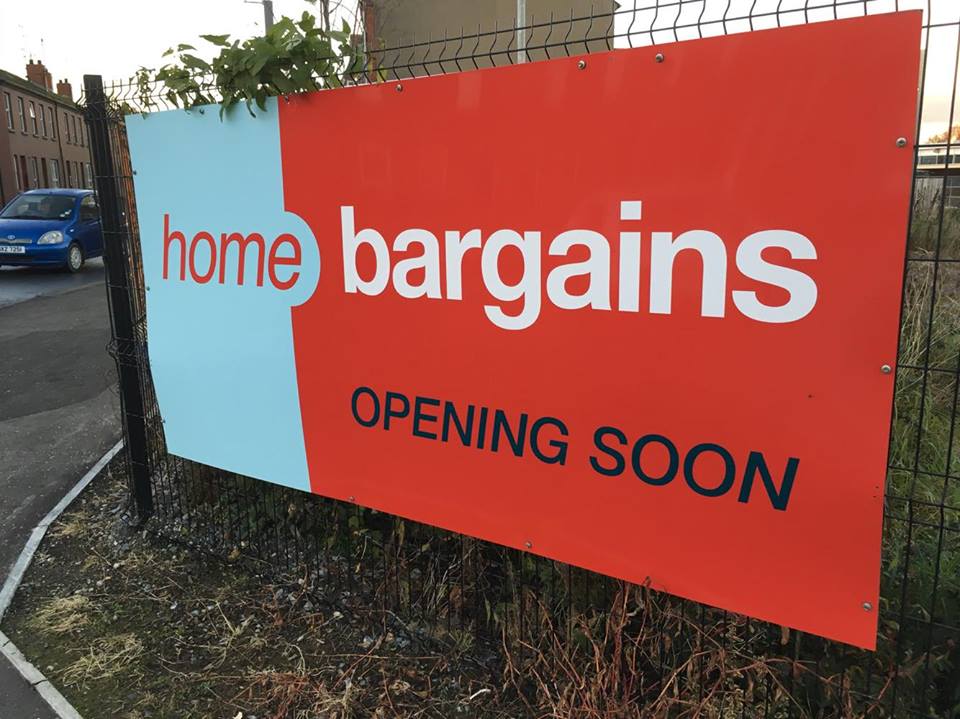 Growing doubt surrounds the future of plans for a new Home Bargains store in Armagh.
The budget retailer has refused to dismiss claims that it is not coming to the city despite revealing ambitious plans earlier this year.
Armagh I first reported confirmation by the Liverpool-based company that it was to take over the store previously earmarked for Tesco.
When Tesco pulled out of the multi-million pound development of a food superstore at Alexander Road, the property was sub-divided into four units and advertised to let as the Railway Retail Park.
Home Bargains confirmed to Armagh I in June that it had acquired the whole premises.
Planning approval was given for internal and external modifications, work which is understood to have been carried out.
Home Bargains said at the time it was hoping to create 100 jobs in Armagh.
The development was due to open, a spokesperson said last June, late this year or early next year.
Speculation has been mounting over when – or even if – the retailer is planning to open. This has been fuelled by a lack of activity at the site for some considerable time.
Many had expected and hoped the store – believed to be the biggest planned in Northern Ireland – would have been open in time for the Christmas season.
For the past month – in response to concerns from the public raised with us – Armagh I has been seeking definitive answers to specific questions in relation to the retailer's intentions for the city outlet.
Repeated attempts have been made to ascertain an opening date and to be furnished with details in terms of recruitment.
But the company is now urging people to express an interest online to be contacted "if roles become available" – not when roles become available – with no specific reference to Armagh.
No confirmation has been forthcoming from the company in relation to the city development.
Indeed, it is not even listed on the company's schedule for forthcoming stores.
Home Bargains has declined to give firm details and offer reassurances on its future plans for Armagh.
Eventually, a vague reply was provided in response to our persistent questions which failed to address any of those which we posed.
A spokesperson for Home Bargains told Armagh I : "While we don't have anything to announce at the moment, we'd encourage people to register on our careers website so we can contact them if roles become available in their region.
"As a result of our constant growth, we're always looking for new staff across the country."
The retailer already runs stores across the 'region' – which it defines as Northern Ireland – with its most recent opening being in Banbridge.
There are also further outlets at neighbouring Newry, Portadown, Craigavon and Dungannon, among others, but still no word on Armagh. Job opportunities are only available at present at Craigavon, Newry and Cookstown, in relatively close proximity to the city.
The hope remains that a firm announcement will be forthcoming in the not-too-distant future but, for now, nothing can be ruled in or out.
Read more news:
Carbon monoxide detected at house where pensioner found dead
Up to 30 teenagers involved in anti-social behaviour at Sherry's Field
Key school routes will NOT be gritted despite safety concerns
Watch Lord Mayor abseil down Armagh City Hotel for Southern Hospice
Taxi driver's terror as passengers threaten to sexually assault him in south Armagh
Mum's faith in humanity restored as treasured stolen bicycle returned to speechless son
Cast of Cinderella do Mannequin Challenge at final dress rehearsal ahead of Armagh shows
Police warn shops and public to be alert to fake bank notes circulating
Sign Up To Our Newsletter