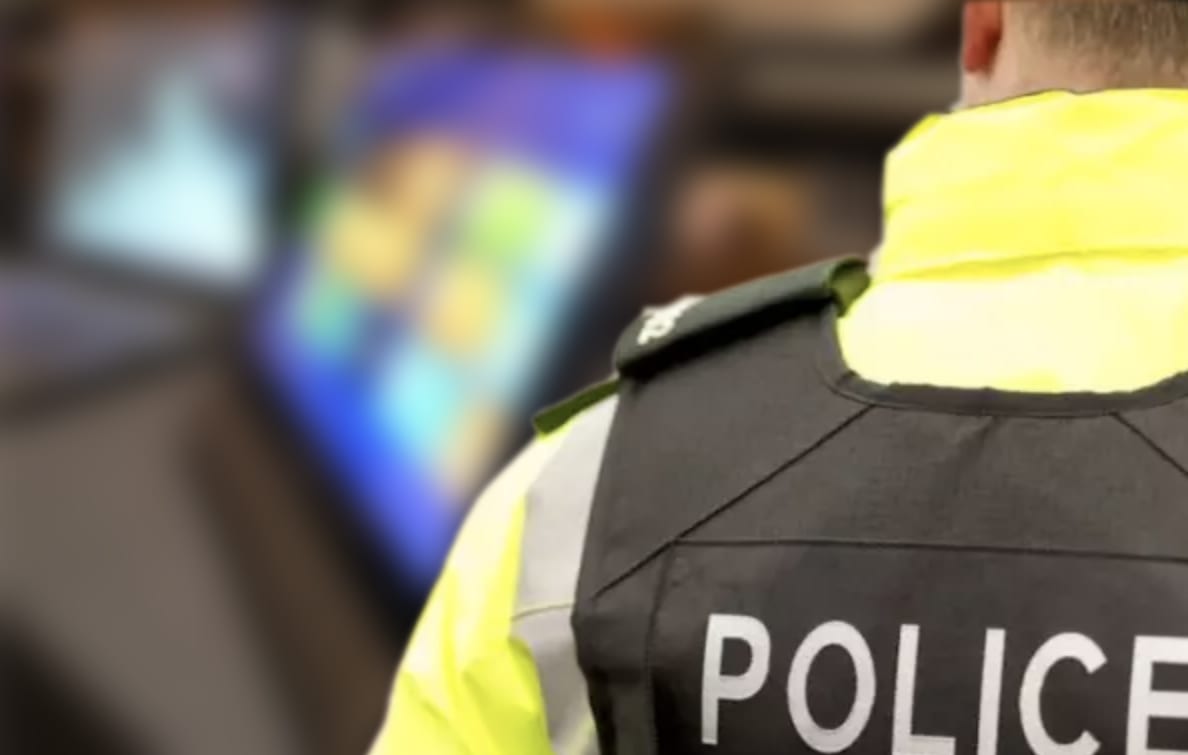 Frauds involving high-value items advertised for sale in Armagh, Tandragee, Moira and Lisburn are among the latest batch of crimes to feature in local television appeals show Crime NI tonight (Monday).
And the theft of perfumes from a chemist in Armagh, an aggravated burglary at a Banbridge bingo outlet and bird poisoning at an Armagh quarry also feature in the fifth episode of the BBC One Northern Ireland show, presented by journalists Wendy Austin and Dearbhail McDonald.
This month officers from the PSNI discuss the details of live investigations, featuring CCTV footage and appealing to the public for help in solving crimes ranging from armed robbery to fraud.
Several direct appeals on tonight's show – to go out at 10.35pn on BBC One Northern Ireland – will feature with many one name in common – Darren.
Police are investigating an incident of fraud in Druminure Road, Tandragee, in October last year.
At 4pm that day, a victim advertised a Samsung Galaxy S20 on Facebook Marketplace.
A male then messaged under the name of 'Darren Stephen McGrath' asking if the phone was still available. The victim and male then agreed to a set price of £550. The male suspect arrived at the house and stated he would send the money via bank transfer. He then showed the seller a fake app which showed a bank transfer.
The male left with the phone and no money was ever received by the seller.  Subsequently, the fake Facebook profile was deleted.
The male suspect can be described as heavy set male, 5'8, dark short hair going grey and facial stubble. He wore dark jeans, dark jacket and shirt and spoke with a southern accent.
There was a similar incident at Killuney Meadows in Armagh a week later.
On October 16, the seller of a 13″ Apple Macbook Pro on Facebook Marketplace was contacted by a male suspect, who later arrived at the seller's home. The male suspect stated that he would transfer the money via bank transfer.
The seller then put his banking details into what appeared to be a legitimate banking app on the suspect's phone, however, no money was ever received by the seller.
At Main Street, Moira, at 10:35am on October 11, an iPhone 12 was advertised for sale on Facebook Marketplace when a male messaged the seller under the false name of 'Darren Stephen McGrath' asking if the phone was still available.
They arranged to meet at 4pm that afternoon agreeing on a set price of £600, which would be sent via bank transfer. The victim handed over the phone but never received any money.
Since then the male suspect has deleted their Facebook profile and the phone numbers provided are not connecting.
At 7:03pm on November 2, a male using the name 'Darren McGrath' attended a house at Slemish Way in Lisburn, where a person selling a Samsung S20 mobile phone had advertised on Facebook Marketplace.
A price of £370 was agreed and the buyer agreed to send this via bank transfer, however the payment was never received.
The seller then messaged the suspect's Facebook page to provide proof of the payment and since then the Facebook account has been closed.
Later the same day, at Donard Way, Lisburn, there was another incident reported. At 2pm an iPhone 11 was advertised on Facebook Marketplace for £360 and the seller was then contacted by a male using the name 'Darren McGrath'.
The buyer then arrived at the seller's address and indicated that the money would be sent via bank transfer as he had left his wallet at home.
The suspect then left with the phone but never deposited the money into the seller's account. Subsequently the profile account for Darren McGrath has been deleted.
Just over two hours later and there was another incident reported at Lisburn Square.
At 4:06pm, a person selling a PlayStation 5 on Facebook Marketplace, was contacted by a male using the name 'Darren'.  A price of £590 was agreed.
The seller then met up with the suspect to sell the PlayStation, who advised the seller that the bank transfer had gone through, however, no money was ever received.
Similar descriptions have been given in all cases.
Said a PSNI spokesperson: "We are appealing to the public to be aware of these particular Fraud by False Representation scams. If you think you have been a victim of scam or fraud please contact police. For further advice and information visit www.nidirect.gov.uk/scamwiseni or the ScamwiseNI Facebook page."
Also tonight there will be an appeal from police investigating a theft from a pharmacy in Scotch Street, Armagh in November.
At approximately 5:20pm on November 5, three females and a male entered the store; CCTV shows the three females carrying pink bags and placing multiple bottles of perfumes inside. The male is not seen stealing any items, however he can be seen talking with them and is believed to be keeping watch.
All four then leave the store without paying for the goods.
The total value of the stolen perfumes was over £6,800.
A description of all four suspects have been given.
Female 1 – approx 25 years old, stocky build, 5 foot 4 inches tall, long dark hair, wearing a black coat, black leggings and carrying a baby pink bag.
Female 2- late 30's/early 40's, 5 ft 2", stocky build, short brown/red hair and had a black eye. The female was wearing a black coat, black leggings, silver slipper and was carrying a fuzzy, pink, over the shoulder bag.
Female 3 – 18/19 years old, 5 ft 2", stocky build, wearing a brown coat, black trousers and black shoes. Female had long dark hair and was also carrying a fuzzy, pink, over the shoulder bag.
Male – 25-30 years old, 6 ft 2", well built, short dark hair, wearing a black North Face coat and black trousers. The male appears to have a line of stars tattooed from behind his left ear down the back of his neck.
Police are also investigating an aggravated burglary at Boyles Bingo, Newry Street, Banbridge.
At 6:45pm on November 18, 2021, two male suspects can be seen on CCTV walking up the stairs of the bingo hall through to the arcade. They approach the counter and demand the keys to the safe. They then proceed to take approximately £2500- £2600 from the safe and exit through the front door. They are believed to have made their way to a waiting car and make off.
Again descriptions have been given.
Male 1- approximately 5ft 11", thin build, brown hair, khaki coat, dark coloured eyes, late 20's. Carrying a black back pack.
Male 2- approximately 5ft 6", dark hair, lighter coloured eyes, stocky upper build, knee length shorts, bright blue hoody and wearing a snood.
Police are appealing to anyone with information to come forward.
Today marks the commencement of the Neighbourhood Policing Week of Action. Chief Inspector Christian Bradley talks to Crime NI on the show tonight about the role of the Police Service of Northern Ireland's Neighbourhood Policing Teams and how dedicated officers are working with, and in support of, local communities.
There will also be an interview with the Police's Specialist Wildlife Liaison Officer who discusses wildlife and animal welfare issues within Northern Ireland.
Officers, investigating an incident of bird poisoning in a quarry in Armagh, will also be using this opportunity to appeal to the public for any information that may help with their investigation.
This episode is also due to be repeated on Tuesday, January 18 at 11:15pm on BBC Two NI Northern Ireland. It will also be available on BBC iPlayer for one week following transmission.
Police are continuing to encourage the public to watch the show and are emphasising the importance of coming forward with information they may have on any of the appeals featured.
The programme appeals to viewers to contact the independent charity Crimestoppers. Any details provided will be recorded 100% anonymously before being shared with the lead investigator of each case. The number to call is 0800 555 111.
Endorsing the programme Deputy Chief Constable Mark Hamilton has said: "The Crime NI programme is a great opportunity to reach a significant percentage of the population who may have new information that could support our investigations.
"We also know that there may be reasons why people have not come forward to date, including fear and coercion, and so by working in partnership with Crimestoppers we can offer the reassurance of total anonymity in reporting.
"I want to thank anyone who watches the programme who has come forward with information to date that has aided our investigations.
"As a Police Service we are committed to protecting the public, safeguarding those who are most vulnerable, and bringing offenders to justice."
CCTV used on the programme will be available for download tomorrow from the Police Service of Northern Ireland's YouTube channel.
Sign Up To Our Newsletter