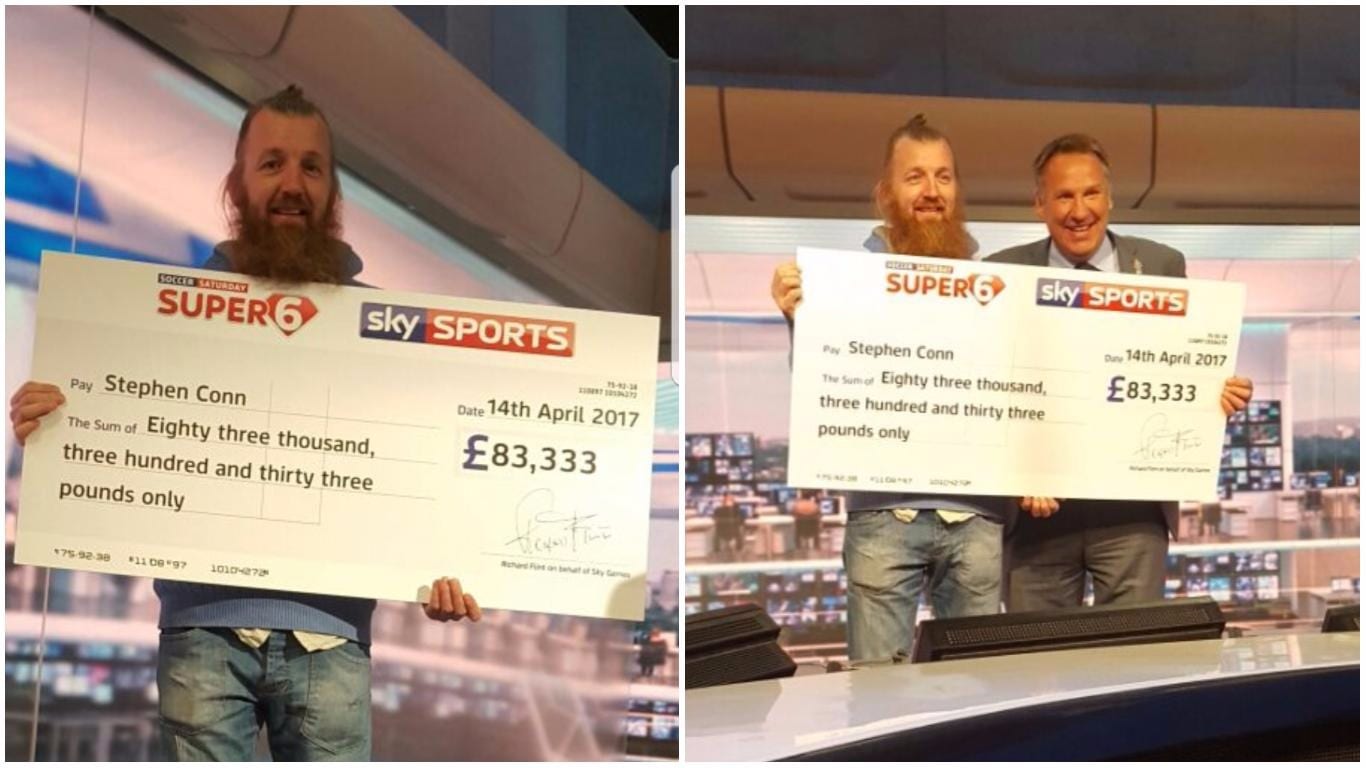 A county Armagh man who scooped a massive £83,000 on a Sky bet thought he was being scammed when he was given the news.
Stephen Conn, 41, from Newtownhamilton, correctly guessed the scores in six football games last weekend, as part of Soccer Saturday's Super 6 draw, sharing the £250,000 jackpot with two others.
However, when informed of his winnings by Sky Bet, he automatically became suspicious.
Speaking to Armagh I, Stephen explained: "To be honest, I wasn't keeping a close eye on it, I was more interested in the Grand National at the time. I didn't win anything in that though.
"Sky rang me afterwards, around 5.15pm, but I thought it was scam at first. I honestly thought it was a call centre ringing about my Sky package. They were lucky I even answered the call.
"They asked me to send some photographic ID and bank details and at this stage alarm bells started ringing for me.
"It was only after I logged into my Sky account that I knew I had won."
Stephen and his two children were whisked off to London where he was presented with his winnings by Sky pundit and former Arsenal player Paul Merson.
The NIE Meter Reader picked up the £83,333 in Sky's London HQ earlier today – a day he described as "brilliant".
"I play Super Six every week and even have a work league. I was trying to catch my boss who was out ahead of me but I never expected this."
One of those in the league is friend and colleague Robert Johnson. He says the Super 6 is all a bit of craic.
"Four of us in work have a league going for the Soccer Saturday Super 6 draw as a friendly competition and that's where it all started," he explained.
"At the start of the season we decided to do this for a bit of craic but last Saturday Stephen sent a WhatsApp message saying he just won £83,333.
"I didn't pay much attention to it at first as he always is carrying on saying things messing about. I actually thought he wrote £8,333 too.
"He then rang me and as usual I asked him was he serious? I checked his scores and realised he wasn't messing. I thought wow, eight grand is a nice lift. He said look again its £83,000."
"I near dropped. I couldnt believe it. I am real happy for him and I am glad that it was at least someone we knew who had won it. All the guys in work are delighted for him.
"He said he never had as much money in his life and he will be spending it wisely after he gets a decent car. He also said he is going to take the boys from work out for a night out on the town someday soon too.
"We are looking forward to our night out on 'Stooge' and wish him all the best in spending his big win."
Sign Up To Our Newsletter