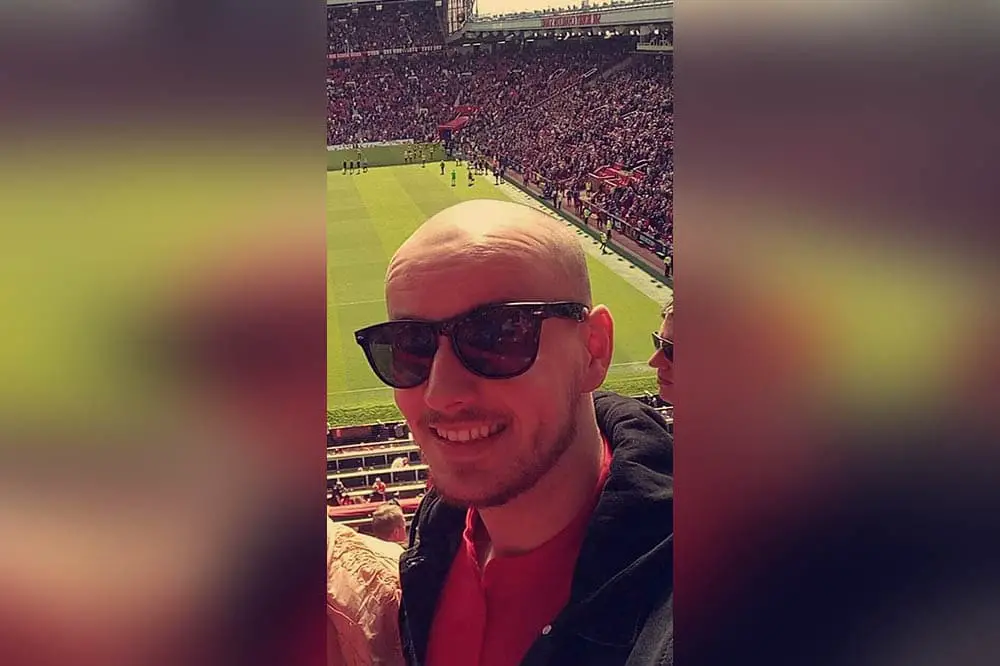 A Manchester United fan from Armagh City says he will struggle to support the team moving forward after the Club falsely accused him of being a racist.
Ryan Butler told Armagh I how he suffered months of stress as a result of a three year ban imposed by the Premier League side for supposed online racist abuse directed at an opposition player.
The 28-year-old said he received an email on the same day the Club announced it had banned six supporters following racist comments directed against Tottenham Hotspur player Heung-min Son on April 11.
Speaking to Armagh I, Ryan explained the story broke and before he knew it, he had received an email from Manchester United saying he was one of two official members – three others were season ticket holders and one on a waiting list – banned from attending games for three years.
"They emailed at 4.30pm on a Friday (April, 30). It was closed for a Bank Holiday, so I couldn't even call anyone to see what was going on," he said.
"I then rang them so many times for about a month but was basically told you can't talk to them about appeals, you have to email them, but they weren't replying to my emails, that was all a bit mad.
"I don't know how else to sort of prove it wasn't me but the appeal got rejected. Then I had to appeal again, so I sent them everything; screenshots of my social media, but this was probably going on two months at this stage.
"At the same time I was starting a new job and I was panicking about that thinking it was going to come out and I'd get in trouble.
"I was honestly really stressed, really stressed about work. It's an international company, and if that came out that I was racist I don't think they would think twice about sacking me because it would their reputation on the line."
What Ryan struggled with though was the lack of context around the issue.
Only after a GDPR request did he get to the crux of the issue – a tweet. Only, Ryan doesn't use Twitter.
"If they had have given any context from the start that it was on Twitter, I could have had it resolved much quicker," he continued.
"I didn't even watch the game on TV at the time; it was a tweet that went out after the game."
"It's honestly the worst communication I have experienced, the worst treatment of a complaint. They had their own deadlines so whenever I appealed, the first time they said they'd get back to me within a week; once that week was up I heard nothing. I started ringing and emailing and I think it was two weeks after that before I heard anything."
But why did the Club think it was Ryan?
"I'm an official member so they would have my name in whatever system they use and there was a tweet put out on Twitter that was racist; that person's handle was Butler, which is my last name, and had Irish flags attached, so I can only assume that they've gone into their system, seen Butler, that I'm based in Ireland and then went 'that's him'."
The issue was eventually resolved in August, some four months later, but for Ryan, the whole episode left a sour taste in his mouth.
Said Ryan: "Their apology didn't sit right with me; they said that they were sorry for the inconvenience but they'll never apologise for acting appropriately against racist behaviour, which I felt they were saying, 'we aren't apologising for what we've done to you'.
"I don't mind them going out and proactively going up against racism online, I'm all for that, but it was the treatment after that.
"They obviously haven't got their processes right yet but they've gone out and accused me of something and left me in the dark. It was four weeks before I actually got any answer from them and all that was was them rejecting my appeal."
For a once avid Red Devils fan, that experience of watching the team he grew up supporting has been irrevocably changed.
"I can't watch Man Utd in the same way that I did before," he admitted. "It's not because they called me racist, it's the treatment afterwards which is hard to swallow. I don't think I can really support them properly again."
For Ryan's troubles? A set of matchday tickets.
Sign Up To Our Newsletter