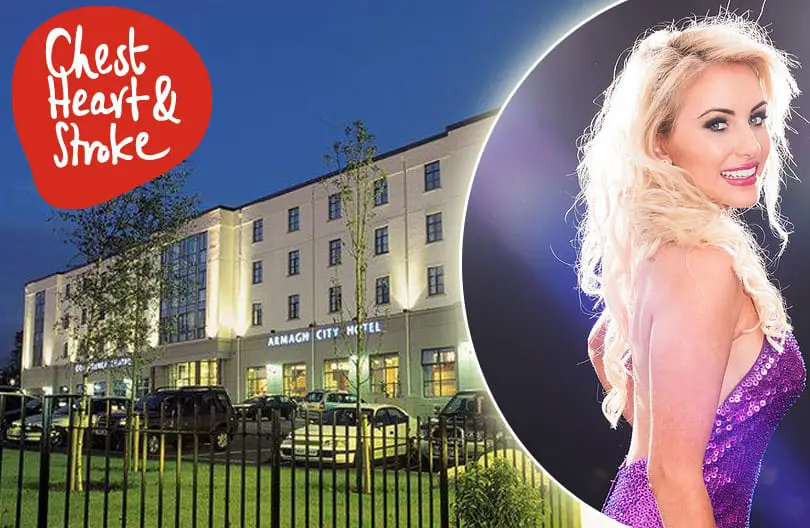 A host of country music stars from Ireland and beyond will come together at Armagh City Hotel on May 9.
The fabulous night will be hosted by Malachi Cush and Lisa McHugh, raising funds for Chest Heart and Stroke.
The tremendous line up for the evening includes special guests from Oregan to Ireland, Joni Harms and the Sheerin Family Country Band, along with Cliona Hagan, Hugo Duncan, Philomena Begley, The Ward Sisters, Barry Doyle, Aidan Quinn, Shauna McStravock, Paul Kelly, Shaun Loughrey, The Benn Sisters, Boxcar Brian, Kerry Fearon, Patricia Maguire, Justin McGurk and Lisa McCrory.
Kieran McAnallen, director of the Armagh City Hotel, was inspired to organise the night after he suffered a stroke in October 2016.
Fortunately, Kieran has made a good recovery and has been able to return to his work at the hotel. Together, with his friends NICHS Ambassador Malachi Cush, Sean Wallace, and many others who have sponsored the event, Kieran now hopes to raise awareness of the fight against stroke, along with funds to help other stroke survivors in his local community.
Kerry Anderson, NICHS's Director of Fundraising, said: "This will be a fabulous night of the best local Country Music that everyone can enjoy.
"Every day 11 people suffer a stroke in Northern Ireland and over 200,000 people are living here with long term chest, heart and stroke conditions.
"By showing your support for the concert and enjoying a great night's entertainment, you'll also be helping us raise funds that will truly change lives".
Tickets are available now and cost just £20 and can be booked online at www.armaghcityhotel.com or via Chest Heart and Stroke's Fundraising Department on 028 9032 0184.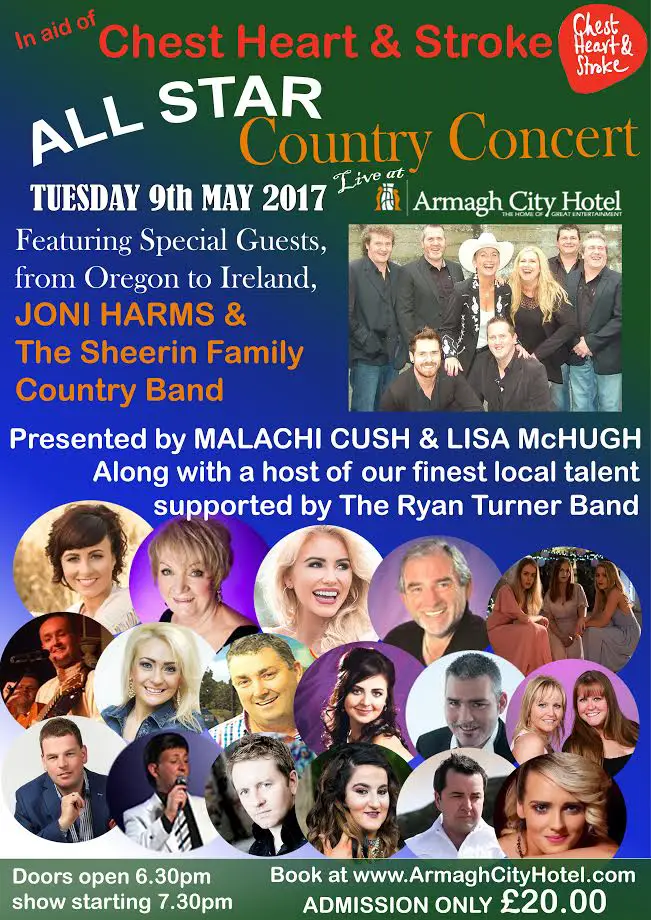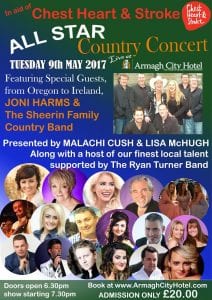 Sign Up To Our Newsletter