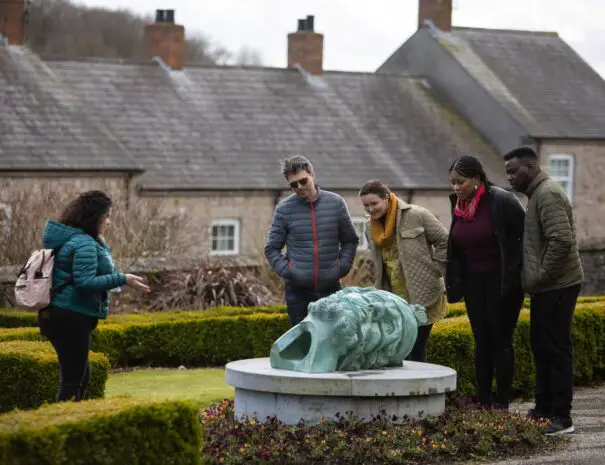 This is a 3 hour experience (including lunch and live music) which is a fusion of a city centre walking tour with visits to several locations on the Hill of Armagh – The 13th Century Crypt of St Patrick's Cathedral (Church of Ireland), the former Registry in No 5 Vicar's Hill, and concluding with lunch and entertainment by local musicians in the Shambles area of the city at Aonach Mhacha which is Armagh's new Culturlann.
During the tour, we will uncover the stories and characters associated with Macha a mythological Celtic Warrior Queen & Goddess from whom Armagh takes its name – Ard Mhacha (the height of Macha).
Throughout the experience, we will embrace panoramic views of the lush green drumlin landscape, the culture, history, myths, legends, music, and traditions of the city and surrounding area.
There are stories from the pre-Christian era waiting to be explored which abound in Ard Mhacha – the Machas and other mythological personalities such as Cu Chulainn, King Conchobar (Conor) MacNessa, King Niall of the Callan.
You will even be given the opportunity of writing your name in the ancient Ogham script.
These stories are woven into the music, dance, folklore, art and literature of this ancient spiritual city. The story will begin with the legend that Macha is buried on the "Hill of Armagh" and we will continue to delve into the story of the Machas giving an overview of why the Navan Fort is called Emain Macha "The Twins of Macha", her curse on the men of Ulster, expanding on the "superhero" mythological character Cu Chulainn who escaped the curse and went on the defend Ulster against Queen Maebh of Connaught and her army.
We will uncover other Royal links to this site such as the burial place of the High King Brian Boru and the legendary King Niall who drowned in the nearby Callan River. Visitors will be intrigued by pre-Christian statues of this area including a statue of the pagan God/King Lugh in the Cathedral crypt.
Macha is at the core of the story and the branches reaching out from her are the landscape, agriculture, the richness of the land and a wealth of mythology associated with Armagh and Ulster.
Armed with newly acquired information about Macha at the end of the experience in Armagh city participants can be offered the option of travelling the short distance (less than 2 miles) to climb to the summit of the Navan Fort and/or to visit the Navan Centre interpretive centre to delve deeper into this story.
Meeting Point for the tour outside the Marketplace Theatre & Arts Centre, 9 Market St,
Armagh BT61 7BW
Sign Up To Our Newsletter