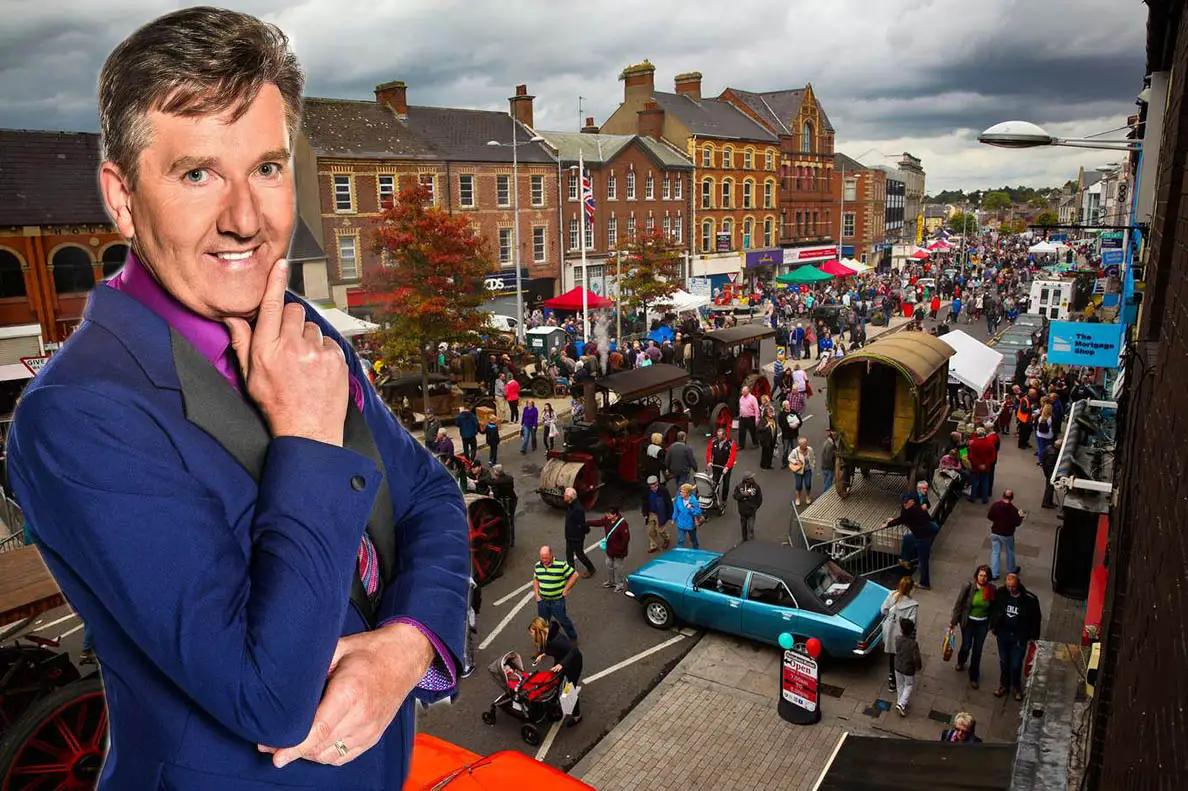 The third Saturday in September is fast approaching. And that can only mean one thing – Country Comes To Town is happening in Portadown.
And in 2019, we're aiming to make the Festival even bigger and better than ever before. Bigger Country Music Stars; bigger range of craft exhibitors in Edward Street; bigger range of vintage vehicles; bigger show of living history exhibits; bigger range of street food and a bigger variety of entertainment for both adults and kids.
That's what makes Country Comes To Town so successful, year in and year out.
There's something for everyone, whether you're eight or eighty!
It's country music everywhere!
Star of our show this year is none other that Ireland's world-famous Mr Daniel O'Donnell! Daniel will be dropping in to spend some time with us on Saturday afternoon before moving on to another event at "Storestuff" in Brownstown Business Park, just a short dander from the town centre.
Imagine – Daniel O'Donnell on two different stages in Portadown on the one afternoon. A day for fans to remember!
But country music fans are going to get an entire day of their favourite tunes. Stephen Smith and his band will be starring on our stage in the Town Plaza.
And our Country Features backing band will also be there. And on stage during the day will be Boxcar Brian; Shauna McStravick; Dervla Martin, Sinead McLaughlin; Joe E Hamilton; John Hogan and Myrtle Woodhouse.
And as if that wasn't enough, then at various venues all around the town you can listen, live, to Stephen Beckett; Wee Tom; Colin Harney; Tennessee; Malcolm Coulter; 5 Star Country Band; Simon Peters and Ina Logan!!
A world of crafts
Edward Street has become our venue for crafts exhibitors in the last few years. But in 2019. we're really going to town with both skills and craft variety. Believe it or not, in the one street you'll be able to see all the following at their specialised work: Two basket weavers; two wood turners; a felter; a blacksmith; spinners, weavers and dyers; a Carrickmacross Lace worker; a ceramics specialist, a straw worker; screen printers; a macramé worker; a saddler and a leatherworker.
We even have a curragh builder and a sculptor of bog oak! And, if our current plans come to fruition, we hope to be adding to all of the above with a silversmith; a knitting specialist, a candle-maker and a stained glass expert!
Vintage and Unusual
A major strength of the Country Comes To town festival has always been the number and range of vintage vehicles which are guaranteed to bring a flood of memories for older visitors. This year is no different.
Amongst the 300+ vehicles on show, the Austin Club are coming along and bringing some very special memories.
And anyone who owned a Vespa scooter will enjoy the selection we're hoping to get along to our show. But we have a few more specialist vehicles as well; including a 1920's steam car! That's right – not many of those around Portadown these days!
We're also lucky this year to have a selection of Robert Dunlop motorbikes on display. And when four or five of those huge traction engines come rumbling up the main street; it's enough to make the fillings in your teeth vibrate!
Johnny Fee will also be in his usual spot at the end of Mandeville Street with his horse-threshing exhibit.
With all this vintage and unusual machinery around, there will be dozens of photo opportunities.
Entertainment for Young and Old
For youngsters this year, there will be clowns, magicians, stilt-walkers, unicyclists, sideshows and amusements.
We're having a group of youngsters from around Aughnacloy whose local college is teaching them hands-on farming with the rearing of Aberdeen Angus calves.
There will also be Petting Farm visitors in the town centre and also at the front of the Meadows. And how could anyone forget those wild, hairy Vikings who turned up last year? Well, they're invading again in 2019!
For an older generation, Johnny and Mollie are back and up to their usual tricks. Our resident stick-maker will be in action. And Stonewall Jackson will join us with stories of the American Civil War. This year his focus will be on some of the medical developments of that period.
Those fragrant Victorian Ladies and their bicycles from Pedals and Petals will be coming along. And we're also expecting a couple of Edwardian ladies from 'Time Steps' to appear on our streets.
Young Donna Herron will be in the town centre, demonstrating her unique blacksmithing talents.
Competitions at Millennium Court
In 2019, we're placing more emphasis than ever on public participation in our Festival. Millennium Court Arts Centre in William Street is where you need to be to get involved in our fun competitions.
There will be flower-arranging competitions from the serious to the fun. Amongst opportunities for adults in the latter, we'll be looking for the best-decorated Wellington boot and the best-dressed up-cycled shopping bag!
Kids can get involved with photography, painting, scarecrow and floristry competitions. Entries need to be made by Friday 15 September. For more information, contact Susan 'O'Connor at Millennium Court (02838350935) or email info@countrycomestotown.co.uk
We promise each year that Country Comes To Town will have something for everyone. Something funny, entertaining, educational or nostalgic – we aim to provide it. We welcome all our visitors. Have a very memorable day!
Sign Up To Our Newsletter