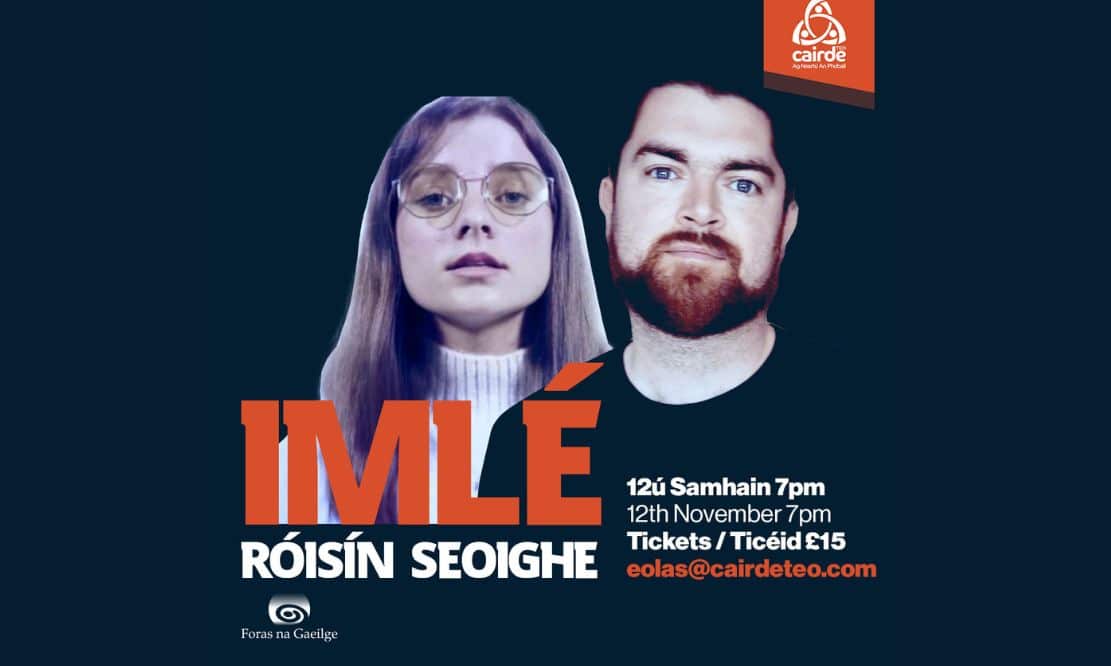 Trip-hop, rock, electronic, indie, and dance music performed through Irish by one of Ireland's most exciting and innovative music collectives!
IMLÉ are a collective of musicians under stewardship of Dublin based musician and producer Cian Mac Cárthaigh. IMLÉ mix different musical styles and artforms together in a way that has never been seen or heard before in the Irish language musical sphere.
Their second album Fáilte Isteach is available now and sees Cian MacCárthaigh working with an eclectic group of musicians, namely: Ríona Sally Hartman, Róisín Seoighe, MC Muipéad, Fergal Moloney agus Dave Hingerty, with Karl Odlum and Ross Whyte on remixing duties.
Cian Mac Cárthaigh and Róisín Seoighe will be on stage on November 12 playing songs new and old from IMLÉ's catalogue and Róisín's solo material.
Róisín Seoighe is a musician and singer from Conamara in Galway. Her music mixes different genres from pop and folk to traditional music. Róisín began her musical life as a Seán Nós singer and you can still hear traces of that in her work.
Róisín aims to mix different styles in a way that has never been heard before, especially in the Irish language. Her music and lyrics cover many different topics from language rights, our relationship with the world around us and finding hope in despair.
Aonach Mhacha
Saturday November 12, 2022
Tickets: £15.00 | 7pm
For more information click here
Sign Up To Our Newsletter