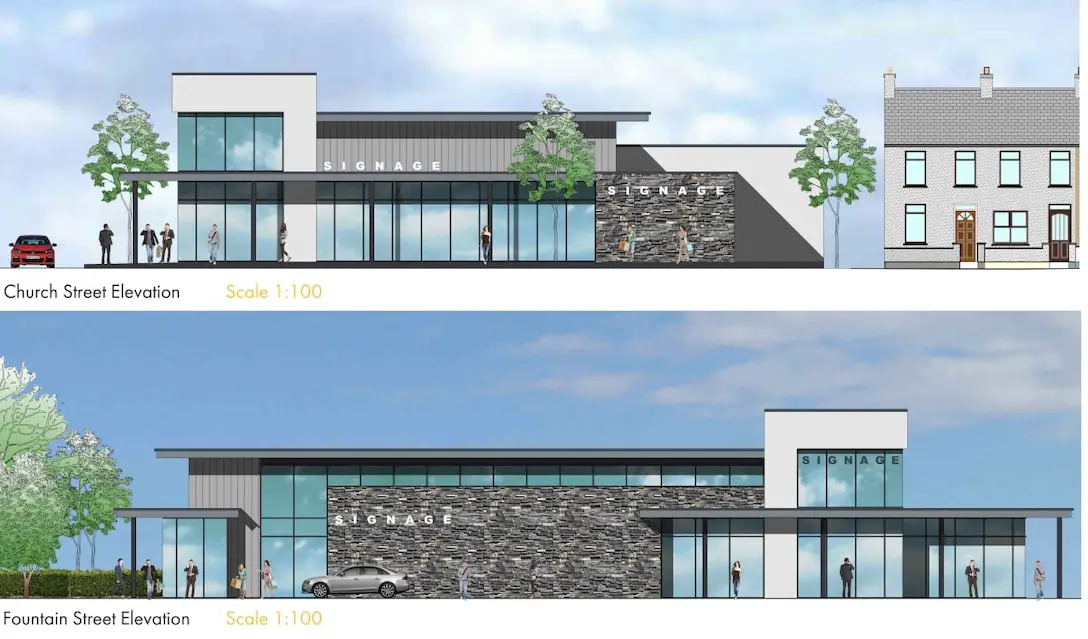 A new supermarket and petrol filling station – as well as three additional retail units – are being planned as part of a major multi-million pound development in Cookstown.
The proposals are due to be revealed to the public early next month.
The development is proposed for an expansive corner area bounded by Church Street, Fountain Road and Loran Way.
Given the scale of the intended development, a 'proposal of application notice' has been lodged with Mid-Ulster District Council.
And, if successful, it is expected that scores of new jobs will be created, both when up and running and throughout the construction stages.
The applicant in this case is Nigel McGurk, of TJ Hamilton/Mid-Ulster Cars, currently located at Dungannon Road.
The site of the planned development is listed in the submission as the "existing car showroom and surface stock car park, not demolished" in Cookstown.
The agent, Coalisland-based Clarman Partnership, will host an open day in May to outline the proposals as they stand.
A leaflet drop will also take place to all properties and premises within 90 metres of the new buildings planned on Church Street and Fountain Road.
This will include a supermarket and petrol forecourt, as well as an additional three retail units with associated car parking. There would also be underground fuel tanks and a free-standing forecourt canopy.
Public realm landscaping fronting Church Street is also planned.
And the three new retail units would be serviced with an entrance via Loran Way.
Alteration works to the proposed new site access, via Fountain Road, has previously been approved.
The supermarket boasts a floorspace of over 9,000 sq ft, the majority of which – close to 6,000 sq ft – is dedicated for sales area. The new supermarket would also include an in-store deli and seated area for dining.
It also includes toilets, stores, offices and staff facilities, among other things.
Architects' plans show three retail units side by side with a service and delivery yard to the rear. Two of these units are just in excess of 1,600 sq ft, while the third, the largest of the three, stretches to more than four times that, with a floorspace of over 7,000 sq ft.
There are no details at this stage of any proposed tenants.
The covered petrol forecourt – with multiple petrol and diesel pumps – sits equal distance between the new supermarket and retail units development.
There is also plenty of parking available, with around 60 car spaces, as well as disabled bays and cycle park facilities too. In addition, there would be four charging point bays for electric vehicles.
More detailed information will be provided at the public open day in May and it will also be made available at that time online.
Taking on board public views expressed, a full application will follow in due course in the hope of generating jobs and much-needed facilities through a very significant investment.
Sign Up To Our Newsletter