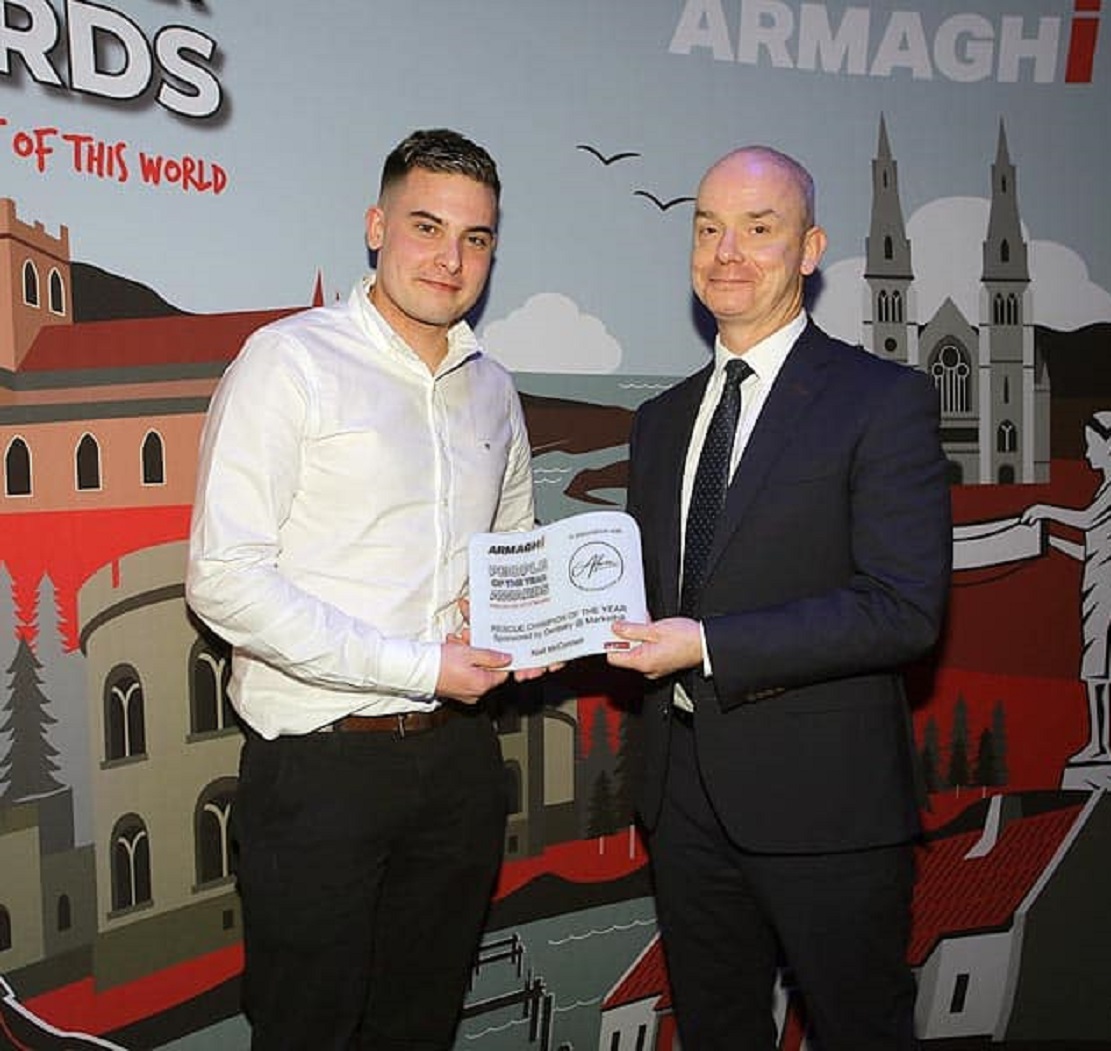 None of us knows what we would do when faced with an emergency but in the case of a Co Tyrone man, he kept a cool head and saved a life.
Niall McConnell, who is from Clogher, was working as a construction plant apprentice on a site in Carrickfergus several months ago when he had to perform CPR (cardiopulmonary resuscitation) on a lorry driver who had suffered a cardiac arrest.
Niall, who won Rescue Champion of the Year Award at Armagh I's annual awards, was taking a short break from work when he noticed a lorry rolling across the yard.
The 21-year-old initially thought the driver had left the handbrake off but when he reached the lorry he got the "shock of my life".
"There was a man lying unconscious across the steering wheel and he had his hand up on the handbrake," he explained.
"I listened and he wasn't breathing so I shouted over to the other lad I was working with to come over quickly.
"We got up into the cab of the lorry to shake the man, to see if he was alright, but he wasn't.
"I knew we had to get him out of this lorry. So we rang 999 and I was talking to the fella on the other end of the phone and he asked me about the frequency of his breathing – it was every 30 seconds – and he told me the man was having a cardiac arrest and needed to get CPR straight away."
The pair managed to get the man out of the lorry and Niall began resuscitation, despite never having been taught it.
"I shouted to the site manager to go and get a defib and I kept the CPR going until the ambulance arrived 10 minutes later," he said.
"The paramedics took over and put the defib on him and he came back. He let one breath out of him and it was relief because he had gone from a man that was completely gone to coming back alive.
"It took me a while to get over it. The emergency services said the man wouldn't had made it if I hadn't done the CPR."
The patient was taken to the Royal Victoria Hospital and had surgery on his arteries before going on to make a full recovery.
"I went to the RVH to visit him and he was very grateful," said Niall. "We keep in touch now. I am very thankful for the help of everybody that day.
"It's a thing you'll never forget in your life."
Niall, who has applied to become a part-time firefighter, said the experience had highlighted for him the importance of knowing basic First Aid.
The Rescue Champion of the Year category, sponsored by Dentistry@Markethill, recognises those from charitable and emergency organisations, alongside members of the public who have embarked on a rescue mission.
Sign Up To Our Newsletter