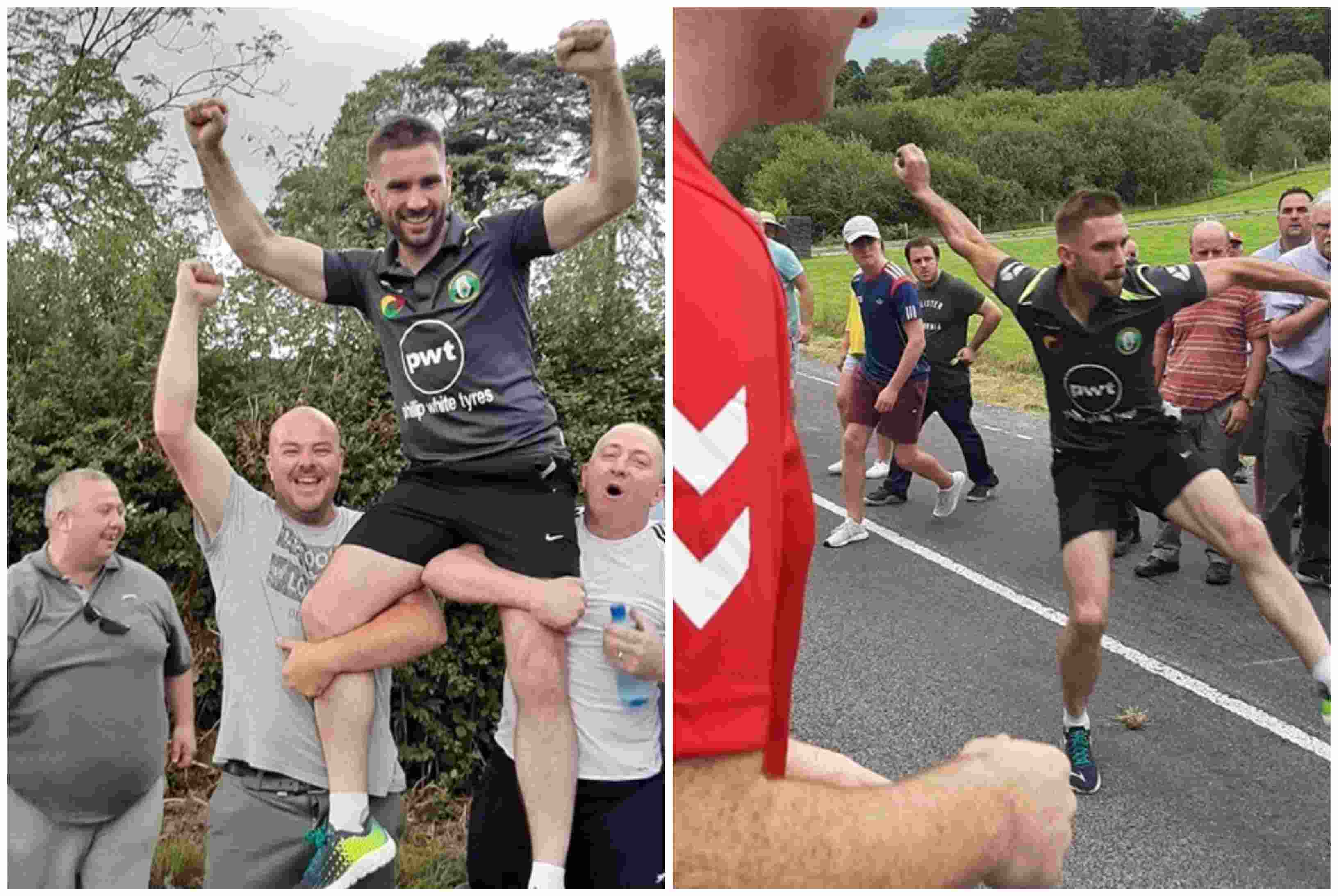 Last weekend saw the first heat of the All-Ireland Finals held in Ballyvourney, which was situated outside Killarney, Co Kerry.
The All-Ireland Finals captivate the attention of bowling calendar.
Here in Ballyvourney, in the Heartland of the Muskerry Gaelltacth, last weekend was no exception when it came to the bowling.
When the Moy Road Armagh hosted the inaugural All-Ireland Senior Final between Danny McParland and Derry Kenny on the August weekend 1963 it set in train a championship series that, over the years, has blossomed and grown beyond all expectations.
This year's Championships in Ballyvourney coincide with the Founding 50 years ago of the IBA (International) Bowl Playing Association.
Toal Lifts Men's Intermediate All-Ireland Title
Armagh man Paedar Toal, who ten years ago captured his All-Ireland Title in the Men's Intermediate was certainly up to the task when he met Michael Bohane from the Carbery Division Cork in this year's final.
Toal won the toss of the coin bowled first and immediately left the crowd stunned, not only with the speed of the bowl, but were it ended up such a first shot.
Bohane could not get in reach any where near the tip. Again Toal blasted another Shot known as a Miler Bohane yet again was losing ground at this early stage.
The Armagh supporters themselves could not believe in what was happening around them as it is along time since we witnessed such bowling.
Toal again obliged with another super shot that went that far no once could see the marking sign on the road.
Now Toal had a comfortable lead; a full bowl with odds. The Cork challenger hadn't done anything wrong as his throwing was of a very high standard but he just couldn't match Toal's speed.
Bohane battled away and at the half way stage past Hearly's Hill the bowl still separated the two men.
The margin between the players was to continue towards the Council Grounds, such a score of bullets to be part of.
Toal was not for catching shot after shot seen himself extend his lead even further and now was two bowls in front, absolute record throwing.
Bohane knew he was competing against an athlete in Toal and could not make any ground to pressure him in anyway.
The writing was on the wall with only three shots remaining, so the white flag was up Toal was crowned All-Ireland Champion and now will surely target any senior out there.
The North Branch Bol Chumann would like to congratulate Peader on his win, a title which will be talked about for a long time.
Mallon loses out
Dervla Mallon/Toal had certainly a task on her hands when she met Carmel Carey in the women's Senior All-Ireland Final.
Both women who have won multiple All-Irelands in this grade and had the making of a cracking final.
When the score was in progress the women could not be separated with the lead changing hands every couple of shots.
Heading towards Seanie's Wall, Mallon started to get away from her opponent with two brilliant shots.
As we headed towards the CCouncil grounds, Carey found herself in trouble and soon was a full bowl behind.
Toal was indeed in a great position at this stage. The deficit between the girls remained to the Piggery corner until Mallon misplayed, leaving an opportunity for Carey to get back in the score and indeed the score was level in no time.
Carey was to take the lead after producing two outstanding shots. Mallon was to lose ground and with four shots remaining seen herself now a bowl out.
Carey left no room for error with perfect bowling down to the finishing line to lift the Senior Title. Hard luck Dervla – a gallant runner up.
No Joy for McVeigh
​Up and coming Bowler Eugene McVeigh from the Eglish club Co (Tyrone) came up against a very experienced opponent from Clonakilty, Cork in the shape of Wayne Parks.
The score had started McVeigh took the first shot and was leading by 10 yards. Parkes second bowl seen the lead change hands.
This score proved very exciting, not just for the bowlers but the crowd too as the support shown for the Eglish man was brilliant in every way.
Parkes had luck on his side with receiving a lucky rub with his sixth shot and now was to hold a valuable lead.
McVeigh responded with some great throws but it was Parkes who now was to rise a bowl on his tenth shot.
The Armagh lad was losing ground and in fairness the display that Parkes gave on the road would have seen anyone in trouble.
Parkes went on to take the boy's Under 18 title. Hard Luck Eugene, who will certainly take it on the chin as it will not be long to your name is on an All-Ireland Cup.
Donnelly close but not to Be
Shaun Donnelly who also represents the Eglish Club was to meet Billy Mc Auliffe in this year's Men's Intermediate All-Ireland Final.
McAuliffe went straight into a 30-yard lead with his first shot and still had advantage with his second.
Donnelly put in a brilliant third shot surely this was his lead but no McAuliffe quickly beat the tip.
Again another close score Donnelly bowled away and after five shots seen himself front bowl.
Unfortunately the Armagh man let his next bowl over the road giving the lead back to Cork. This score was tight with only yards separating the pair.
Donnelly bowled some great shots and with the lead changing hands multiple times the score could go anyway.
McAuliffe now had hit an outstanding shot in which seen the lead to extend by almost a bowl.
Donnelly now new this score was slipping away but did not give up by all means. Shaun produced four outstanding shots to have the finish line in site but still trailed by 70 yards as cork just kept producing.
One last ditch attempt from Donnelly gave his opponent a shot to beat but once again McAuliffe was not for missing and went on to take the honours. Hard luck to runner-up Shaun Donnelly who put in such a gutsy performance.
Maguire Out Battled
Cathal Maguire boys under 14 finalist from the Madden club came across a very strong opponent in Tom O'Sullivan.
O'Sullivan, who comes from south west division in Cork made an instant impression by taking control at this very early stage.
Maguire played his bowls but the speed difference between the lads was the difference in the score.
O'Sullivan was to rise a bowl after six shots and again extend further as the score got further.
Maguire who is highly regarded and a great bowler could not make up any ground on O'Sullivan as he was in a different league.
Don't be disheartened Cathal, on the day that lad could throw under-18 level. You will be in the winning enclosure soon.
​Shannon Maguire just loses out
Shannon Maguire, last year's All-Ireland winner was yet again to face Hannah Sexton in this year's Girls' Under 18 All Ireland Final.
Sexton was to rise a full bowl of odds after the first shot as Maguire misplayed two bowls.
But not to worry she was soon to make amends with a brilliant third shot followed by another and soon was front bowl.
Both girls bowled with determination, but again Maguire lost her way on a few shots and now trailing by a bowl of odds.
With the heat over 25 degrees the weather was just outstanding but you could see the effect on the bowlers.
Sexton still held her advantage with a full shot in hand.
Maguire kept plugging away and with three shots to go put in a shot that surely would change the score.
Sexton was not for breaking and beat the tip. Maguire put two more to the scoring line but it just wasn't to be.
Sexton, a worthy winner in every way, and I'm sure the rematch will be on the cards soon. Hard Luck to Shannon and the Maguire family but to have brother and sister competing in the All-Ireland weekend is some achievement for the household.
Next weeks Fixture's
Tullysaran
ULSTER FINALS WEEKEND:
FRIDAY 19th JULY:
Chapel, 7.15pm: Ladies Intermediate Final: Lorraine Mackle v Aoife Trainor (Ref John McKenna/ Mkrs: Teresa, Vera and Mickey Dougan)
Church, 8pm: Boys U16 Final: Eugene McVeigh v Aaron Hughes (Ref: Paddy O/ Mkrs: Stephen McGurk and Martin Mullen)
SATURDAY 20th JULY:
Chapel, 2.30pm: Veterans Final: Joe Shortt v Paul McVeigh (Ref: Maurice/ Mkrs: Patrick Tierney, Sean McArdle and Frank Donnelly)
O'Neill's, 3.30pm: Girls U16 Final: Shannon McGuire v Caoimhe Rafferty (Ref: John McKenna/ Mkrs: Elaine McGrady and Kevin Conlon)
SUNDAY 21st JULY:
Chapel, 11am: Junior B Final: Mickey Rafferty v Shane Feighan (Ref: Frank Donnelly/ Mkrs: Gavin Rooney, Shane McKenna and Conor O'Neill)
O'Neill's, 12noon: Boys U12 Final: Ethan Hughes v Oisin Gribben (Ref: Maurice / Mkrs: Austin Sheeran and Brian Conlon)
Chapel, 3pm: Men's Senior Final: Paul O'Reilly v Cathal Toal (Ref: Paddy O / Mkrs: JK, Cormac Conlon, Frank Donnelly, Kevin Conlon, Billy Rooney, Mickey Dougan and Maurice Rooney
Bol Chumann Na Mierlach
Fixtures
Challenge scores
Tuesday 16th July
6:30 Paul Murphy and Shorty John Grimley v Paul Grimley and Maurice Cullen
7:00 Bilko Quigley and Barry Corr v Roberto and Hugh Mc Sorley
Thursday 18th July
6:30 Ryan Gamble and Paul Murphy v Joe Shortt and Shane Feighan
7::00 Michael Hughes and Paul Hughes v Nico Kelly and Stephen Doran
Meeting after the scores on Thursday night at the bridge to discuss state of the road and how to proceed with tournaments all members asked to come and give there opinion.
No scores on Sunday due to Ulster finals @ Tullysarn, good luck to Joe Shortt from all the boys in the veterans final, we hope as many members as possible go out and support their club man.
Finally well done to club man Sean Hughes on winning the Novice 2 Final in New York. The Allistragh man has been in the US for the last couple of years and we would like to wish him all the best and keep on bowling.
Sign Up To Our Newsletter