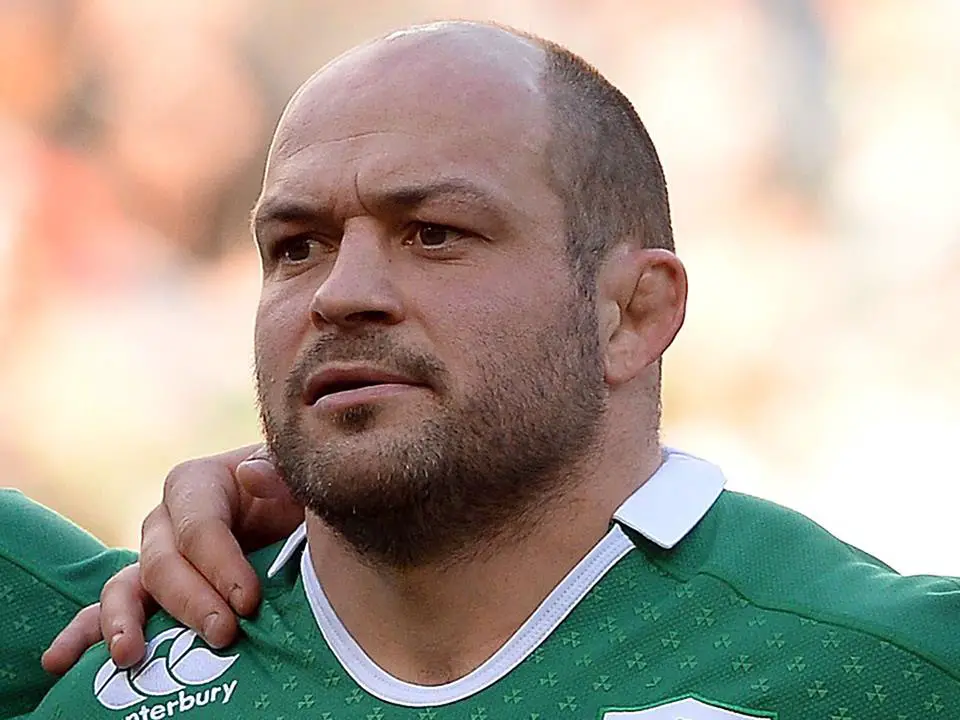 By Richard Bullick
Ireland are already assured of the Nat West Six Nations title but skipper Rory Best is still fully focused on leading his men in green to Grand Slam glory in London on St Patrick's Day.
Victory over England in their own Twickenham backyard on Saturday (2.45pm) would secure only the third Grand Slam in Irish history and give Poyntzpass sportsman Best automatic membership of an exclusive captains' club which currently includes only Karl Mullen and Brian O'Driscoll along with women's skipper Fiona Coghlan from 2013.
Thanks to the respective results of these two teams in the penultimate round of matches at the weekend, Ireland will be officially crowned champions no matter what happens at Twickenham, but being presented with the trophy on the back of a defeat would be an anti-climax.
That happened England last year when they came to Dublin for the final fixture with the title already wrapped up only for Ireland to poop the party, and now the men in green don't want the boot to be on the other foot.
A third bonus point win in a row against Scotland last Saturday afternoon followed by England's failure to replicate that achievement against France in Paris that evening means Best's boys can't be caught at the top of the table.
But only a clean sweep will truly satisfy local hero Rory, who is one of just two survivors in the squad which won Ireland's last Grand Slam back in 2009, along with last Saturday's Man of the Match Rob Kearney.
"It's nice to have the title wrapped up, so that's a bonus, but now we've put ourselves in a position to do something special by achieving a Grand Slam and these chances haven't come around too often for Irish rugby," reflects Rory, who needed stitches under his chin after the Scottish clash.
"Every time you have the honour of pulling on the green jersey, it's a big game, but this time we're playing for the ultimate prize in this great championship and that makes it our biggest game so far under (coach) Joe (Schmidt).
"That said, in many ways we must approach it like any other game. This squad has gone through this Six Nations not getting too far ahead of ourselves, respecting each game as it has come and that's how and why we've got to this point.
"We chopped off each task as it came, including getting maximum points against Scotland today. If we hadn't taken care of business in the four matches so far, we wouldn't have such a big game to look forward to next weekend.
"We've tried to improve week by week and, although it sounds like a cliche, it's fair to think that we'll need to have saved our best until last because that's what it will take. England at home are always tough to beat and they'll want to bounce back from a couple of defeats.
"England haven't lost at Twickenham under Eddie Jones so as well as it being a huge game for us because of what's at stake, we're under no illusions about how big the challenge will be on the field.
"But it's important that we look after ourselves; we know what works for us and our aim will be to be in a good place by Wednesday night in terms of having gone through our preparations. Then get to Twickenham on Saturday and leave everything out there on the field."
Asked what leading Ireland to what would only be their third ever Grand Slam would mean to him personally, good team man Best deflects the element of personal glory.
"I think achieving a Grand Slam would be special for all 30-odd players who have been involved in our campaign. It's a squad game and everyone has made a contribution. Joe has touched on the role of the guys coming off the bench and rightly so.
"I'm the one lucky enough to be captain, and that's a great honour obviously, but thankfully we've lots of big leaders in this group and that should hopefully stand to us in a game of this magnitude in which we'll undoubtedly have to dig deep," insists Best.
Having got their campaign underway with a rare victory over France in Paris courtesy of a drop goal from vice-captain Johnny Sexton, Ireland have since reeled off a hat-trick of convincing victories with four-try bonus points at home to Italy, Wales and Scotland.
Young winger Jacob Stockdale, Best's only Ulster colleague in the starting team, got two touchdowns against the Scots to take his tally to 10 in eight Tests, and Ireland won 28-8, although the visitors will rue not making more of the try-scoring chances they created.
The win was a relief for Ireland given that Scotland are a dangerous side and were coming off the back of a deserved victory over England which ended the possibility of both teams being in the hunt for a Grand Slam this Saturday.
On the back of Ireland's bonus point win over Scotland, England needed to score four tries in beating France in Paris later in the day but their indiscipline proved costly and the visitors slipped to a 22-16 defeat.
This is the first time Ireland have ever clinched the title with a game to spare and they have now been crowned champions in three of the past five seasons since Schmidt took the helm, an unprecedented run of success.
Beating Scotland preserved their unbeaten record in home matches in the Six Nations under the meticulous Kiwi coach, who has also steered Ireland to a first ever victory over the New Zealand All Blacks.
An Ireland win at Twickenham would complete Ireland's first Grand Slam since their dramatic away win over Wales in Cardiff in 2009 when Best came off the bench to play an important part in a nail-biting game.
Since then the hooker has gone on to become Ireland's third most capped player of all-time with 110 Test appearances ahead of this weekend, and captain his country with distinction since replacing Paul O'Connell after the 2015 World Cup.
Leinster's Brian O'Driscoll, the last Grand Slam skipper, and Munsterman O'Connell captained Ireland to their two title triumphs earlier this decade and it is fitting for outstanding Ulsterman Best to have joined that roll of honour.
The 35-year-old Ireland captain revealed ahead of the game that he is on the verge of signing a new contract with the IRFU which would see him play on until after next year's World Cup in Japan.
Having already clinched the title eases the pressure on the men in green going into the Twickenham clash but, with the Grand Slam such a precious prize and so rare in Irish history, Best's boys will have no difficulty refocusing for this final fling as they aim for the ultimate St Patrick's Day celebration.
Sign Up To Our Newsletter