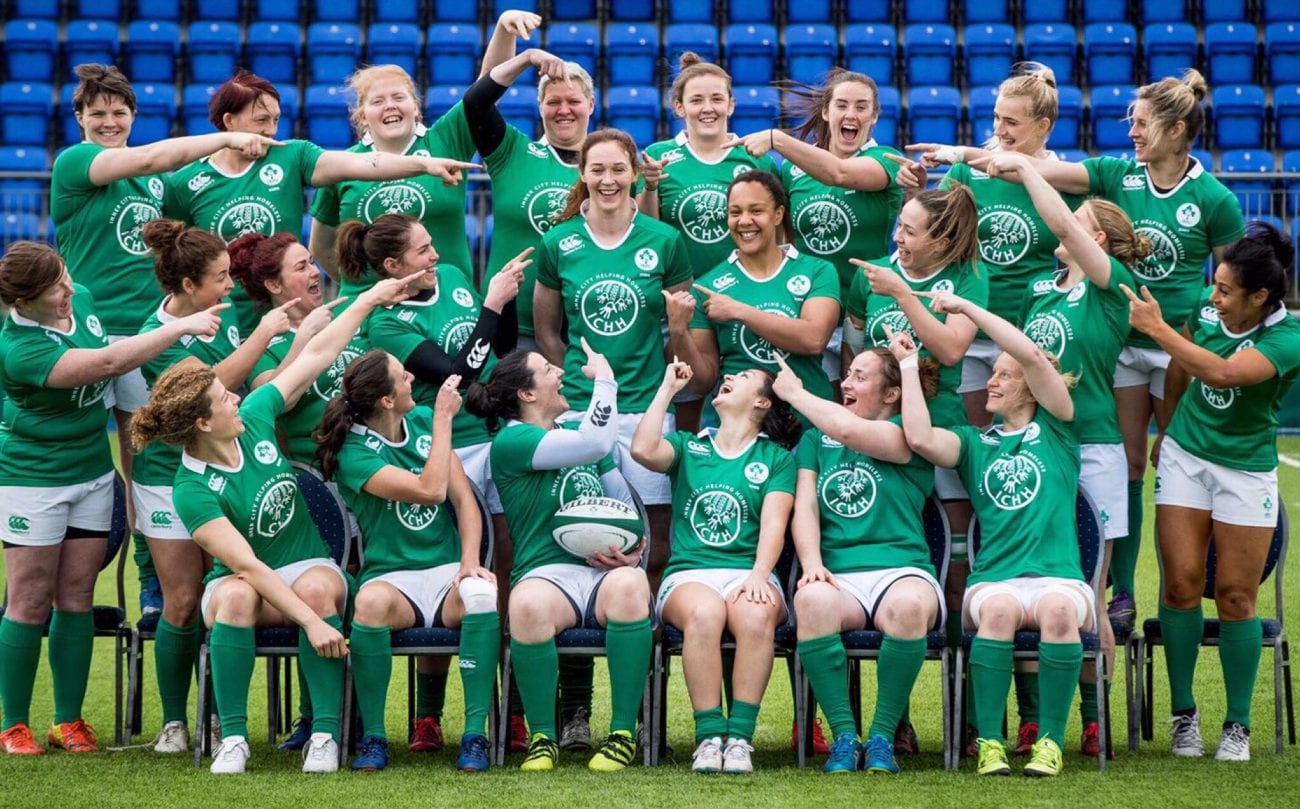 By Richard Bullick
The most prestigious international sporting event for females ever held in Ireland gets underway tonight (Wednesday) when the 2017 Women's Rugby World Cup kicks off in Dublin.
Ireland's three group games at UCD Bowl are all sellouts but there are still tickets available for the second phase fixtures at Belfast's Kingspan Stadium, including the World Cup final on August 26.
The entire tournament is being broadcast by ITV4 and eir-Sport, with the host nation's matches also televised live on RTE2.
Ireland face Rio Olympics sevens champions Australia at UCD Bowl tonight (7pm) in their opening game of Pool C in which they will also tackle emerging Japan (Sun, 5.15pm) and formidable France (next Thur, 7.45pm).
The then hosts France beat Ireland in the fourth place play-off at the last tournament and, with only one team from this tough group likely to make the semi-finals, that already looks like a crunch clash providing the girls in green have already defeated dangerous Australia.
That 2014 World Cup will forever be remembered for Ireland's famous upset of a seemingly invincible New Zealand team which hadn't been beaten in a World Cup match since the inaugural tournament way back in 1991.
Ireland came from 8-0 down to win 17-14 in Marcoussis with tries from No 8 Heather O'Brien and winger Alison Miller, supplemented by the booming boot of Niamh Briggs, who landed the clinching penalty.
A combination of those heroics last time and home advantage here had fuelled dreams that hosts Ireland could go all the way to a fairytale ending of Niamh Briggs lifting the trophy at the former Ravenhill on the last Saturday in August.
However Ireland's hopes have suffered a savage setback coming into the tournament with iconic captain, prolific place-kicker, world-class fullback and overall best player Briggs being ruled out through injury.
The 32-year-old Limerick-based policewoman had just got back in time to prove her fitness for the World Cup after tearing her hamstring off the bone at the start of last season, but badly damaged her achilles in Ireland's last training camp down in Cork 10 days before the opening game.
This fresh injury is cruel luck for Waterford woman Briggs herself and an incalculable blow for Ireland which gives coach Tom Tierney the headache of finding satisfactory replacements for his absent skipper in each of her roles.
One former Galway gaelic footballer, flanker Claire Molloy, has been appointed replacement captain and another, Mairead Coyne, appears the best bet to deputise in the No 15 jersey but Ireland's loss of Briggs will place claustrophobic pressure on Ulsterwoman Nora Stapleton.
The 34-year-old former Donegal ladies footballer is an accomplished playmaker at outhalf who has great vision, varies the game well, orchestrates superbly, provides a real running threat herself and the experienced campaigner is a decent tactical kicker.
However the Buncrana native attracted criticism for a couple of kicks out on the full and a penalty to touch which went the wrong side of the corner flag in March's Grand Slam showdown with England at windy Donnybrook and will be under close scrutiny at this World Cup.
She'd had to take the shots at goal too with Briggs sidelined during the Six Nations but would have expected to hand back the place-kicking responsibilities for this tournament to a fit-again skipper who has a longer range and historically higher success ratio.
Now with Briggs gone again it will fall to Stapleton to take all the penalties, out of hand and off the floor, and the recent medial ligament damage sustained by her fellow Ulsterwoman Nikki Caughey means there is no other specialist outhalf in the Irish squad.
First choice inside centre Sene Naoupu, a Kiwi who came to Ireland when husband George signed for Connacht, may well have covered outhalf in the matchday squad anyway with Bushmills-born, Belfast-based doctor Claire McLaughlin preferred to Caughey for the No 22 jersey.
Before the Briggs bombshell, things had looked remarkably bright for Ireland on the injury front with the inspirational skipper, another former World Player of the Year nominee Sophie Spence – Tyneside-born but whose mum Myrtle came from Lisburn – and barnstorming centre Jenny Murphy all back following lengthy lay-offs during the past 12 months.
Murphy and experienced prop Ailis Egan had overcome more recent injury issues which had curtailed them for part of the World Cup build-up period and, until Caughey got crocked in July, Tierney had a full deck to pick from.
With Ireland dangerously over-reliant on their frontliners, avoiding injuries is of critical importance, though the lack of proven depth is a significant concern going into a tournament taking place in the heat of August with an intense schedule of five fixtures in 17 days and the highest age profile among all the squads.
At 29.6, the Ireland squad's average age is six years older than Japan's and even with Coyne coming in for Briggs, more than half the first choice line-up will be over 30.
Before Briggs got injured, Ireland's starting team effectively picked itself with the only realistic competition coming at hooker where fit-again Cliodhna Moloney could challenge Leah Lyons who however was a real revelation as a Six Nations newcomer.
One of the Marcoussis heroes O'Brien has been brought back into the squad after a lengthy absence but it seems unlikely she will push Ireland's Six Nations skipper Paula Fitzpatrick back to the flank at the expense of Ciara Griffin.
In spite of frequent chopping and changing of personnel over the past couple of years, Tierney has ended up picking several very inexperienced players in his squad who are really unknown quantities at this level and others who haven't featured for a prolonged period.
With three of the top six in the world rankings in Ireland's group – the hosts sit between France and Australia – plus dark horses Japan, and losing not an option, there is little wriggle-room so Tierney will have to keep putting his best foot forward in spite of the danger of fatigue.
Ireland's strongest side has some superb units including the dynamic centre combination of Naoupu and Murphy, who are real assets both in attack and defence with their hungry physicality and deft feet.
This tournament's packed crowds will really respond to the team's iconic cult heroes Spence and Murphy who are famed for their huge hits as well as being big ball-carriers who can get Ireland over the gainline and on the front foot.
In a world-class second row pairing, the imposing Spence is the perfect foil for Old Belvedere clubmate Marie-Louise Reilly, an athletic lock in the Malcolm O'Kelly mould, who like Briggs was selected in the 2014 World Cup Team of the Tournament.
Standing just half a centimetre short of 6'5", Reilly – who by remarkable coincidence comes from the same Meath village as fellow Irish rugby giant Devin Toner – is a delightful human being who maybe more than anyone embodies the special bond between this team and their ever-expanding base of enthusiastic supporters.
The easily-lifted Reilly's peerless lineout jumping means she is an indispensable player for Ireland who has to go the full 80 minutes in most matches and, although the oldest squad member at 37, that shouldn't be a problem based on her high tackle count in the last quarter of February's valiant victory over France.
A late starter in the sport, Reilly hadn't played a World Cup before the age of 30 but now, with Briggs ruled out, joins Stapleton and Molloy as one of only three Irish women who will be appearing in their third tournament and each have very important roles.
Reilly and Stapleton have both led Leinster and Old Belvedere to the highest honours at provincial and club level but in light of their respective responsibilities for running the lineout and kicking the goals, going for Molloy as replacement captain probably makes most sense.
Now the most capped player in the squad in Briggs' absence, Cardiff-based doctor Molloy is one of Ireland's all-time greats who will lead by tireless, fearless example alongside previous stand-in skipper Fitzpatrick and Tralee farmer Griffin in the back row.
Stapleton and fellow Donegal girl Larissa Muldoon are an established halfback pairing who are guaranteed to start the tournament in harness after Tierney suprisingly left the other two scrumhalves who featured in the 2017 Six Nations, Mary Healy and Ailsa Hughes, out of his squad in favour of the uncapped Nicole Cronin.
The two wingers are among seven likely starters from Old Belvedere with the evergreen Miller, whose hat-trick against England paved the way for the historic 2013 Grand Slam, on the left and tall former Dublin gaelic footballer Hannah Tyrrell, scorer of that length-of-the-field bonus point try against Italy in February from Stapleton's cross-kick, on the right.
Coyne's probable promotion to the No 15 jersey to fill the void left by Briggs could open up a bench berth for the inexperienced Eimear Considine, a fine athlete who has played both ladies football and camogie for Clare.
Ex-Kerry gaelic footballer Louise Galvin got the call-up when Briggs withdrew rather than former Dublin corner forward Kim Flood, who was Ireland's last line of defence in March's Grand Slam decider.
The other backs available to Tierney are rookies Katie Fitzhenry and Jamie Deacon, both from Blackrock and somewhat surprising picks when the final squad was announced last month.
The likely front row features loosehead Lindsay Peat, whose recent conversion from All Ireland winning gaelic forward with Dublin to dynamic prop in a green jersey has been an absolute bonus, 16-stone hooker Lyons and the experienced Egan.
A real street-fighter with blacksmith forearms but also a neat turn of pace, Peat emphatically makes up for giving away a few penalties and was named Ireland Player of the Season just ended.
Ulster's enormous South African Ilse van Staden surprisingly missed out on a squad spot so, with only six front-rowers selected, the bench back-up will be veteran Ruth O'Reilly, Moloney and Connacht's Ciara O'Connor.
Specialist locks Orla Fitzsimons and Elaine Anthony have been omitted in favour of a sixth loose forward in Anna Caplice, which seems strange considering Spence can cover the back row.  Ciara Cooney is the only recognised second row reserve.
Sevens star Ashleigh Baxter from Castlewellan, one of only two Ulster players selected along with McLaughlin, was on the wing against New Zealand at the last World Cup but this time will provide openside cover for Molloy as a wildcard impact player.
Some pundits dispute claims that this is Ireland's best prepared squad ever for, while there has been a lengthy and well-resourced build-up programme featuring 48 players, sevens commitments have proved disruptive.
Wider depth doesn't extend to serious competition for starting spots and, while Ireland have dipped into their pool of sevens specialists for good athletes in selecting this squad, other countries are considerably better at the abbreviated form on the game, notably Australia.
Although whitewashed, the Aussies should be battle-hardened from facing the world's top three teams – England, New Zealand and Canada – in a summer series so Ireland will need to make their greater 15-a-side experience count to get off to a winning start.
Victory over Japan would then set up the expected showdown with familiar rivals France, who Ireland edged 13-10 in last season's Six Nations, for one place in the semi-final line-up.
The three group winners and best runner-up progress to the World Cup semi-finals but all 12 teams are guaranteed five fixtures as they play off for specific placings when the action switches to Kingspan Stadium and Queen's University's sports complex at The Dub.
Ironically the best chance of fans seeing Ireland winning games in Belfast would be them missing out on the semi-final line-up, going into the middle pot and finishing fifth courtesy of two victories rather than the alternative of likely losses to either England or New Zealand and then Canada in the bronze medal match.
Without Briggs it is much harder to see Ireland eclipsing any of the sport's top three here but players and fans alike would regard a dauntingly tough finish as an acceptable price to pay for the girls in green reaching Ravenhill still in World Cup contention.
Going beyond the semi-finals would have been very difficult even with Briggs on board so one small silver lining is that her absence may dampen down some of the unhelpful hype around Ireland actually winning the tournament before they've even set foot on the field.
Briggs herself did boldly assert in an interview a few weeks ago that Ireland were aiming to win the tournament, one of several parallels with the Ireland men's ill-fated World Cup campaign 10 years ago which may make those with long memories and nervous dispositions uneasy.
Back then Eddie O'Sullivan's has his side were harbouring the theory that they were realistic contenders whose objective was to go all the way but they didn't deliver in a tournament where Ireland were heavily reliant on their frontline XV and had only one outhalf on the squad so hopefully history doesn't repeat itself.
Tierney appears to have unexpectedly taken a big gamble for the opening game against Australia by holding three frontline forwards, notably Sophie Spence, in reserve on the bench presumably to try and manage workload given that punishing schedule, but unless Ireland can win each group game they won't need to worry about being fresh for a semi-final.
Sign Up To Our Newsletter