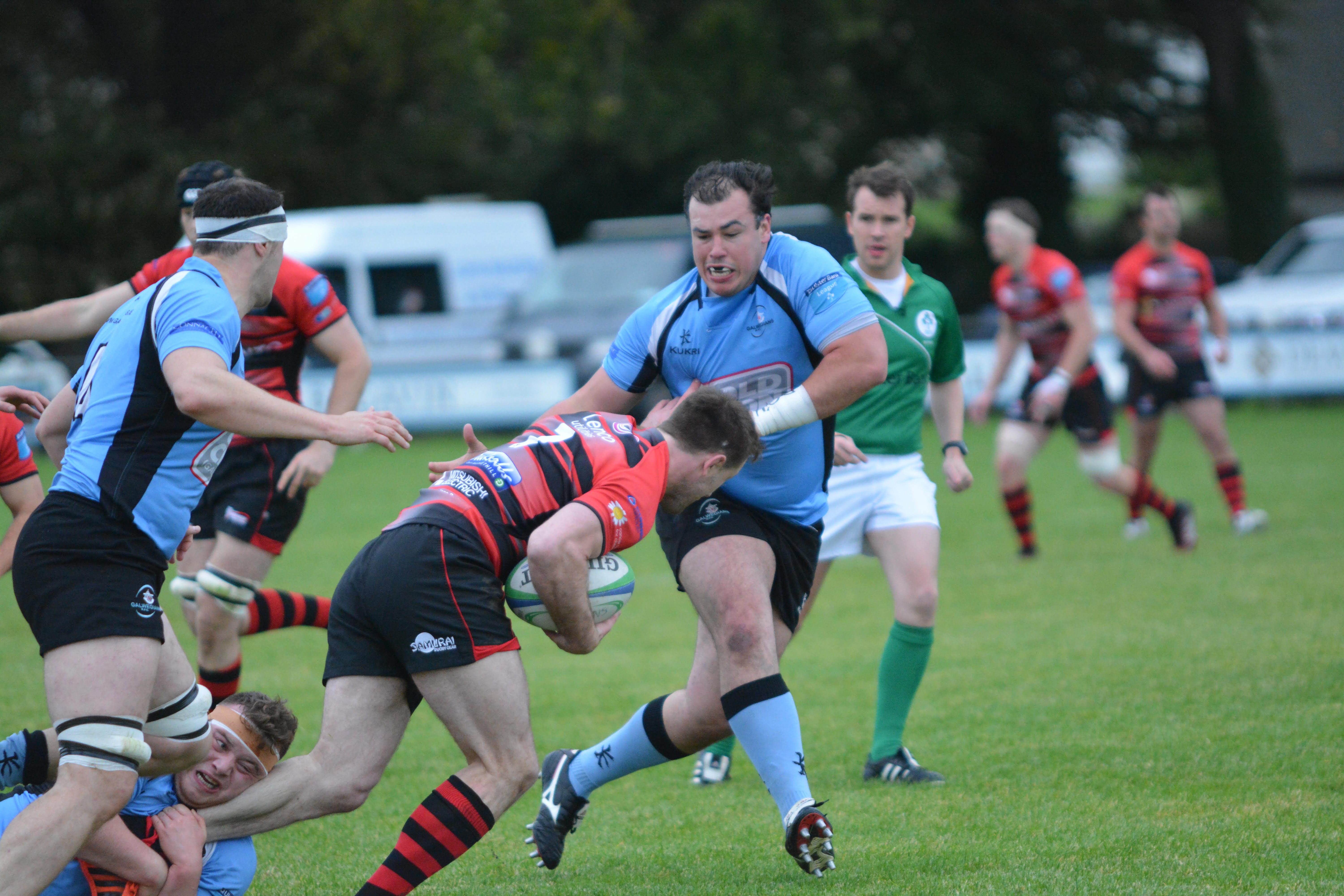 City of Armagh travelled to Galway on Saturday to play their second fixture in the Ulster Bank All-Ireland League.
Having narrowly won at home against Greystones, they faced a tough task to secure a win against formidable opposition who had come down from Division 1B.
Galwegians kicked-off playing into the wind and it was clear that the fierce wind would play a major role in the game. Straight from the kick-off Armagh's captain, Ali Birch, made a strong break down the centre of the field to bring play deep into the home 22.
From the following ruck, the home forwards were penalised and outhalf, Cormac Fox stepped up to land a difficult kick to open the scoring at 0-3. With the wind at their backs, Armagh took full advantage and pinned the home team back in their own half for most of the first quarter.
After 21 minutes play, Armagh launched a rolling maul from a lineout to bring play right up to the Galwegians' line and second row, Peter Starrett forced his way over to score in the right corner.
The conversion was unsuccessful but the visitors now led 0-8. The Armagh side appeared to be the more adventurous and were taking full advantage of the difficult conditions. Galwegians however did put the visiting team under pressure when they gained territory though a number of penalties but the Armagh defence held firm.
A handling error robbed Galwegians of a certain try and Armagh were able to relieve the pressure from the heavier home pack. Indeed the home side were further punished when a further infringement saw the referee award Armagh a penalty for Fox to convert, which stretched their lead to 0-11.
A good first half performance from the visitors was rewarded just before the break when winger Andrew Willis forced his way round his opposite number and touched down at the posts. A successful conversion from Fox brought the halftime score to 0-18.
The large contingent of Armagh supporters knew that the wind would now be at the backs of the Galwegians team and wondered if 18 points be enough to secure the game.
From the restart, Galwegians out-half, Morgan Codyre, immediately took advantage of worsening conditions with wind and driving rain and repeatedly landed touch kicks deep into Armagh's 22.
The home pack then used this possession effectively to pin Armagh back and threaten the visitor's line.
A knock on close to the line ruled out a try for the home team but they got on the scoreboard when Codyre converted a penalty to make the score 3-18.
This was cancelled out however when a rare Armagh attack led to another Fox penalty and Armagh's lead was now 3-21. Directly from the re-start the home side continued to exert pressure on the Armagh line. This was interrupted when, following some neat off-loading, Andrew Willis made a break up the right wing to score his second try of the match.
Despite the conditions, Fox landed the conversion for a comfortable 3-26 lead for Armagh.
As the final whistle approached, Galwegians finally breeched the Armagh defence when centre Murphy touched down and Codyre's successful conversion brought the final scoreline to 10-26.
A dogged performance in difficult conditions from City of Armagh pleased the coaching team, and Willie Faloon, awarded his man-of-the-match award to Robert Whitten for his strong defensive play.
Armagh Seconds
The Seconds travelled to Belmont on Saturday to play CIYMS in another Conference League  One game with an unbeaten record to date this season.
CI would have been aware of Armagh's form and it was a strong home side which took the field.
Playing into the strong wind and up the slope the visitors were soon defending their 22 with the big CI forwards taking the ball on and asking questions of the Armagh defence. With the ball moving from left to right several times a loose CI pass was collected by Misi Bogitini who took off up the pitch to touch down at the posts for Chris Cousins to convert into the gale, 7-0 to Armagh against the run of play.
CI hit back with a penalty and a try in the corner to take the lead, 8-7. On 18 minutes the CI backline continued to look sharp running in another unconverted try to make it 13-7 with Armagh still trying to find some rhythm to their play. Making their way up the pitch into the CI 22, Misi beat his man in very little space and off loaded back inside to Kyle Faloon for another unconverted try, 13-12 to CI.
The back row of Barry Finn, Gareth McNeice and Josh Kennedy were beginning to get into their stride with Holden and Cousins distributing quick ball which released centres Evin Crummie who was making his debut and John Faloon into space.
On 25 minutes a Cousins' break led to an offload for Kennedy to run in from 30 metres for a converted try, 19-13 to Armagh. Shortly after, some great back play from turnover ball on the half way line led to James Hanna breaking clear for a run to the posts. With Cousins converting the try, CI added a penalty just on halftime for a score of Armagh 26 CIYMS 16.
The front row of Michael Hoey, Jonathan Morton and Eoghan O'Hagan were competing well with Stephen Morton and Hanna providing the power from the second row and as a result the scrums were steady throughout. Pau Gimeno came on for the competitive Shane Mckeever and quickly picked off a CI pass for an intercept try at the posts to leave a simple conversion for Cousins, 33-16 after 43 minutes.
Making good use of the wind at their backs, the backline attacked the home 22 for John Faloon to slip a tackle and touch down for another converted try, 40-16.
CI continued to play an expansive game and soon found their way deep into Armagh's 22.
When turnover ball was moved to Kyle Faloon, he set off on a weaving run beating several CI defenders on his way to the CI line. CI added another try and with Crummie making a break to the CI line, he off loaded to John Faloon for his second try.
The final score was Armagh 54, CIYMS 21.
This was a very entertaining game of rugby with Armagh excelling with backs and forwards contributing to the high tempo game which is a trademark for Armagh teams this season.
Armagh Thirds
Armagh Thirds continued their winning run by defeating a strong 3rd XV at a blustery Ballymena on Saturday.
Thursday night training is certainly paying off and it was a well prepared team that took to the field with both forwards and backs displaying some excellent handling skills and rugged determination.
It only took five minutes for Armagh wing, Jeff Dougan to out-manoeuvre the Ballymena defence for the first try. 0-5.
Ballymena struck back five minutes later with a push over converted try for a 7-5 lead. Five minutes later a kick ahead from Luke Crozier ultimately ended with David Bingham crossing the whitewash under the posts and with the conversion by Andrew Knipe Armagh took a lead which they never relinquished. 7-12.
A kick ahead from No8 Bingham on 26 minutes was taken up by the backs and after some slick handling Knipe scored and converted Armagh's third try. 7-19. Another converted try by Ballymena, as a result of another Armagh penalty, brought the sides closer together but was followed on 35 minutes by a phase of play that would do credit to even a provincial side.
A perfectly timed kick ahead by Glenn Falloon was collected cleanly by Crozier under intense Ballymena pressure and, showing a clean pair of heels to the Ballymena defence, was touched down under the posts for the bonus point. With the conversion by Knipe and despite Ballymena scoring another try, Armagh were worthy half time leaders. 19-26.
Ballymena tired in the second half allowing Ruari Karlsen to run up the left wing for his first try of the season. Andy Brady, who had just come onto the field was sin binned for a high tackle but rugged Armagh defence kept Ballymena out for the 10minutes until Brady returned.
A second unconverted try by Crozier on 26 minutes was followed five minutes later by a penetrating run down the wing by Karlsen allowed sub John Johnston in for a try, Armagh's 7th. The conversion by Glen Falloon meant that, at the final whistle, Armagh were worthy full-time winners.
A great team performance means that the thirds can travel to Randalstown next Saturday brimming with confidence.
Armagh 1-15. Neil Lutton (capt), Jack Sleator, Paddy Chapman, Jordan Faloon, Jack Gilpin, Jake Sloan, Connor Simms, David Bingham, Trevor Girvan, Glen Faloon, Luke Crozier, Andrew Knipe, Andrew Winder, Jeffrey Dougan, Ruari Karlsen. Replacements, James Rolston, John Johnston, Andrew Brady.
Sign Up To Our Newsletter