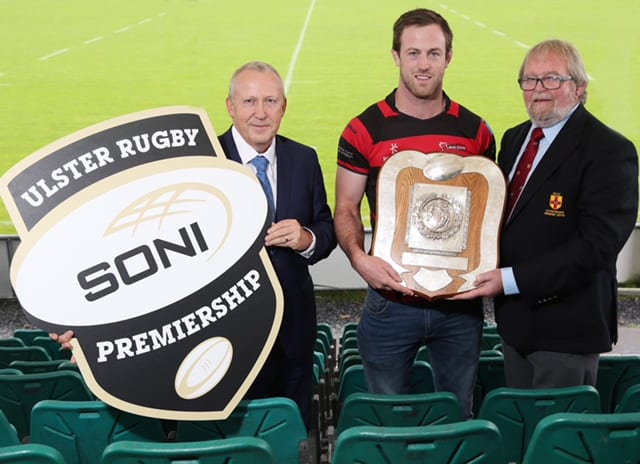 Players from all 12 senior rugby teams from across the province were in Belfast recently to attend the launch of the 2017/18 SONI Ulster Rugby Premiership.
SONI also used the event to announce its Team of the Round initiative, which will see a team chosen at each set of SONI Ulster Rugby Premiership fixture weekends and rewarded for best team performance.
Chosen by a panel of judges each team will receive a nominated prize fund and teams can win multiple times throughout the season.
The SONI Ulster Rugby Premiership encompasses all 12 senior clubs in Ulster who play in the All Ireland League.
As a result of the success of Omagh RFC gaining promotion to the All-Ireland League at the end of last season, this year The Premiership will be split into two equal divisions of six with the winners of Division 1 being awarded the prestigious Stevenson Shield.
SONI (System Operator for Northern Ireland) announced its title sponsorship of the league in 2015.
Commenting on the sponsorship Nick Fullerton, Director of SONI said he was really looking forward to another exciting season of rugby.
He said: "SONI is delighted to again lend our support to the premership. Club Rugby at a grassroots level plays an important part of community life and benefits so many people positively so it's a natural fit for SONI which is responsible for the safe, secure and reliable supply of electricity into the heart of communities in Northern Ireland.
"New for this year is our Team of the Year initiative which will recognise and reward teams which show outstanding talent and perseverance during matches. I am very much looking forward to the season ahead and witnessing City of Armagh RFC defending the title they won in such dramatic fashion at the end of last season. Let the games begin."
Chris Webster, Domestic Rugby Manager at Ulster Rugby said: "SONI is an important supporter of club domestic rugby and we are delighted to have its continued backing. Awareness of the SONI Ulster Rugby Premiership has risen substantially over the past two years and we're looking forward to taking this even further during the forthcoming season with SONI's new Team of The Round Initiative."
For more information visit and www.ulsterrugby.com
Newsletter
Sign up for our weekly newsletter here.