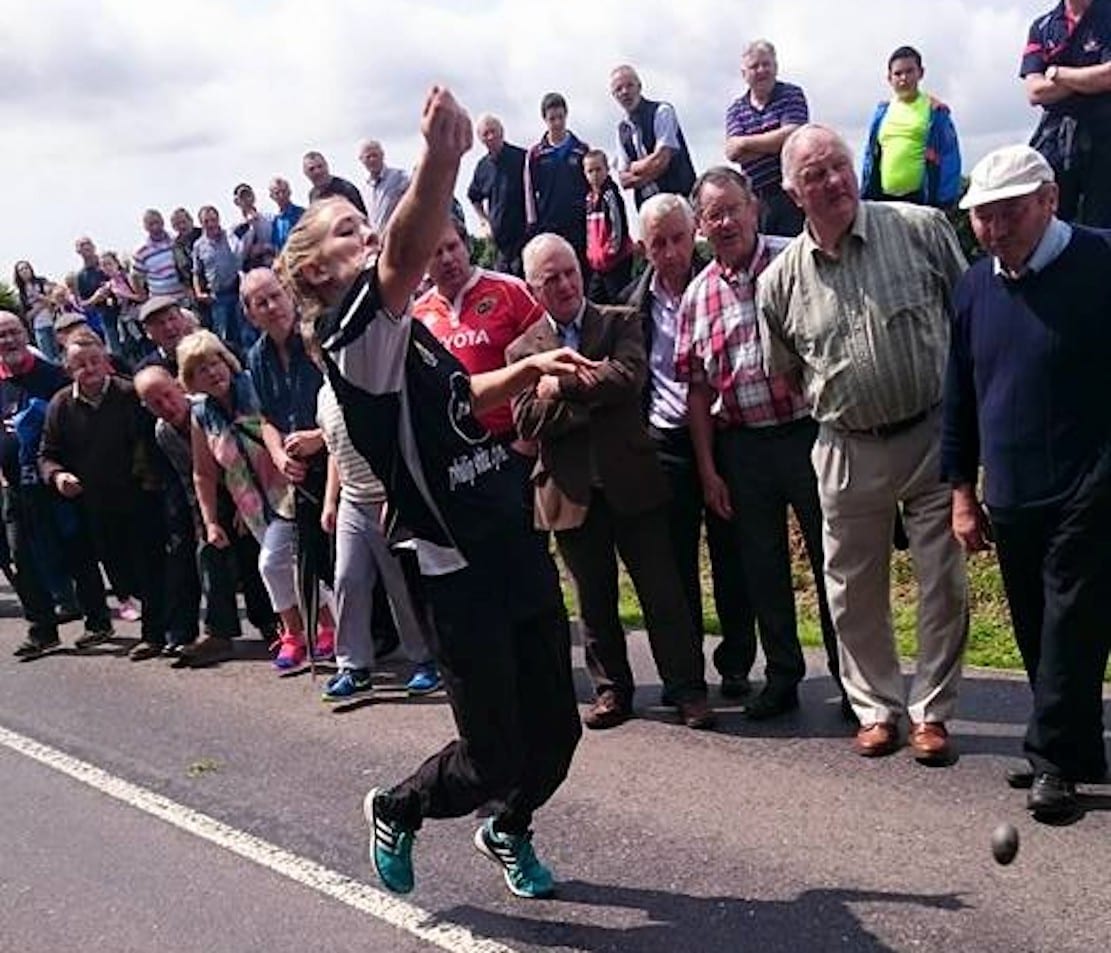 The introduction of the new Girls Under-14 Ulster Championship kicked off for the first time.
Niall Smith from the Navan Road Bowls Club had seen, over the last few years, The Philip White youth grow in numbers and that it was just a matter of time before the girls provided, not only Ulster Titles for the future, but All Ireland title too.
Philip White Youth is all about promoting these youngsters into future champions, and with over 28 entrants entering the Under- 14 championships, it's just remarkable.
A big thank-you to The Lappin and McGleenan families for giving their full support in helping Niall behind the scenes.
When the draws were revealed, to make sure the girls would keep throwing bullets, it was decided that any loser in any round will get into the backdoor system and throwing in the Philip White youth tournament, which will be starting shortly.
The McGleenan Family have put up the John McGleenan Memorial Cup, sponsored by West Armagh Consortium, so hopefully this legacy will continue for many years ahead.
Philip White Tyre's Ulster Championships
Carson Reaches Ulster Final
In the first semi-final of the girls Under 14 Ulster Championship last Thursday Night on the Navan Road, it was Shannon Smith vs Eleanor Sweeney vs Anna Carson.
After the first shot from the trio only 20 yards separated the girls. This score could not be separated in any way with the lead changing hands with every shot.
Smith played a poor 3rd bowl leaving both the opposition throwing their lead at the Ring Corner. Smith then produced a massive shot from the corner to almost reach Crosses Lane.
Carson fell behind Smith's Tip and now a big chance from Sweeney as she was throwing her lead from the big tree.
Sweeney caught her bowl and now the score was level again with only 5 yards between all. Sweeney misplayed her next bowl. Smith again hit a great bowl over the hill but it soon was followed by Carson. Sweeney was in trouble with yet another Misplayed shot and her chance had slipped away.
The score now was nail-biting with smith and Carson fighting out to see who was going to reach the Ulster Final.
Smith played a great last shot but was unlucky as her bowl fell short off the line. Carson then produced the perfect shot to score the line and to be the first recipient to reach the girl's Under 14 Ulster Final. Hard luck to Runner up's Shannon smith and Eleanor Sweeney. Next Tuesday night at 6.30pm we will see who meets Anna in the Ulster Final. Michaela Greene, Ellie May Carr and Lilly O'Rourke will battle it out.
Local Schools Come Together
It was that time again when our local schools came together, and this time Sherry's Field was the venue on the astro Turf, last Friday, starting at 10am.
This was open to both boys and girls at primary age. School's taking part were Madden with 14 kids; St Patrick's Loughall Road with 26 kids; Mt St Catherine's Armagh with 33 kids; and Keady with 23 kids.
All children were introduced to our sport of road bowling in a safe zone. Sinead Kiernan, Rosin Mackle, Cathal Toal, Niall Smith – all former All Ireland Champions were their to show their support.
The Children were bowling on the Astro Turf using cones as target's. Then the longest shot was the main event. The children after an hour of bowling looked like professionals and are ready for local clubs to join them up.
A special thanks to volunteer's on the day; Gerry Boylan, Dominic Morgan, and Dinny Lappin, as events like this wouldn't happen without great sportsmen like yourselves. The schools must be congratulated, for not only taking part, but the children involved are just a credit to your schools as their behaviour and willing to learn was second to none.
Next Meeting will take place Tuesday 24th Sept 8.30pm venue Charlemont
King And Queen Off The Roads
2019 and we are now almost at the end of a busy year of road bowling but we can save the best to last as The King and Queen off the Roads is next on the cards this weekend.
Cathal Toal, this year's Senior Ulster Champion, will have his sights on being crowned King off the road Champion for the first time.
Thomas Mackle who has an unbelievable record at this event has won four consecutive King of the Roads, an unreal achievement and now going for another.
Dervla Mallon, girls Senior Ulster Champion, will certainly be in with every chance to be crowned queen also Kelly Mallon who lost out in the Ulster Championships to Dervla has now qualified leaving herself back in with a winning shout.
Peader Toal, a very impressive All Ireland Intermediate Champion, will also have every chance Sunday Morning .
Michael Rafferty will have a rematch of his All-Ireland Final when he throws Vincent Kiely and Sean Donnelly will throw Mick Hurley.
This weekend is about the top bowlers that our sport can provide. From Armagh, Cork, Holland and Germany – a weekend not to be missed.
Fixtures Next weekend Cork
King & Queen of the Roads 2019
Clár na Féile
Friday September 27th
10 am—Global Catering Queen of the Roads—Semi-final I
Carmel Carey (Ireland) v Kelly Mallon (Ireland) v Mairéad O'Driscoll (Ireland)
12.30 pm– Jim O'Driscoll Cup – Cork Final
Michael Bohane v Seán Murphy v John O'Rourke
3 pm—Global Catering Queen of the Roads—Semi-final II
Anke Klöpper (FKV Germany) v Dervla Mallon (Ireland) v Silke Tulk (Netherlands)
Saturday September 28th
10 am–Hurley's of Midleton King of the Roads—Semi-final I
Thomas Mackle (Ireland) v Aidan Murphy (Ireland) v William Hobbelink (NKB Netherlands)
11.30 am–Charlie McCarthy Cup (McCarthy Insurance Group)
Mick Hurley v Seán Donnelly
1.30 pm–Hurley's of Midleton King of the Roads—Semi-final II
Cathal Toal (Ireland) v Gary Daly (Ireland) v Ralf Klingenberg (FKV Germany)
3 pm—East Cork Oil Trophy
Vincent Kiely v Michael Rafferty
Sunday September 29th
10 am–Final Jim O'Driscoll Cup
Peadar Toal v Cork Final Winner
11.30 am–Proto-Mark Technologies Youth International Triple Crown
Wayne Parkes/Hannah Sexton (Ireland) v
Mirco Breuker/Suzan Zieverink (Netherlands) v
Marian Jahnke/Mayra Petersen (Germany)
1.30 pm–Final Hurley's of Midleton King of the Roads
3 pm–Final Global Catering Queen of the Roads
Next weeks Fixture's Around the Local Clubs
Portmor Road Bowls
Fixtures Sunday 29th September
Currans 10.30am Barney Lavery Cup
Seamus Conlon and Joby Donnelly v Gareth Lavery and John Dynes
McGrails 11.15am Novice 4 Championship
Brian O'Rourke v Jim McLoughlin
Village 12 noon Novice 4 Championship
Patrick Tierney v Roberto O'Driscoll
McGrails 12.30pm Novice 4 Championship
Damien Smyth v Maurice Cullen
Semi finals draw will be made after last score.
Results
Paul Dobbin 2019 Overall Final
Sponsored by Chris Traynor and T Met
The destination of this year's Paul Dobbin Trophy was decided on the Blackwatertown Road last Sunday morning between Grade winner's Martin Toal, Andrew O'Hagan and Damien Quinn.
Quinn who was very impressive in his march through Grade Three found the going in the final much harder and after a poor start his challenge was over by the halfway stage.
Toal and O'Hagan on the other hand were enjoying the challenge and with O'Hagan a bowl in front at McCuskers Corner the scene was set for a grandstand finish.
Toal levelled the final at Callans and when he lead by 20 metres for the last shots to Connollys he was a strong favourite.
O'Hagan had other ideas and a tremendous bowl well over the line turned out to be enough to lift the silverware as Toals reply came up just short.
There was another close finish in the Novice 4 Qty Final back to the Village when Michael Dougan had less than a metre to spare over fellow Tullysaran clubmate Shane McKenna in a thrilling contest that could have gone either way.
Tullysaran Fixture's
Anne Marie Smyth Cup: (Entry fee £4.00)
Sat 28th Sept:
Point Road, 3pm: Claire McGee v Rebecca Fields (Mkrs: Teresa and Anna)
O'Neill's, 3.45pm: Lorraine Mackle v Laura Kelly
Sunday 29th Sept: Sam Rooney Cup:
Chapel, 11am: Brian Conlon and Ciaran Mullen v Paul Corrigan and Mark McSorley (Mkr: Michael Dougan)
Knipe's, 11.45am: Padraig Mallon and Matthew Killen v Chris Fields and Conor Carlisle
We would like to offer our sympathy to Vera McGee and the entire Jordan connection on the recent passing of Brian Jordan. May he rest in peace.
There will be a presentation and light supper on Sat 5th October at 8pm in the Bottle of Benburb to celebrate Chris's All Ireland win. Everyone welcome.
Bol Chumann Na Mierleach
Fixtures Novice 3 Ulster Championship
Sunday 29th September
11:00 Ciaran Mullan v Wayne Creaney
11:30 Killian Mallon v Pete Carr Senior
Sunday 6th October
11:00 Novice 3 Frank Donnelly v Neil McLoughlan
11:30 Novice 3 Ike Gribben v Declan Toal
Sunday 13th
Novice 3 Semi finals
Sunday 20th
Novice 3 final on Drumcairn
Novice 3 Scores can't be cancelled due to time constraints will have to be played on the stated weekends possibly for throwing on the Saturdays only if the other thrower agrees.
Newtown Fixture's
Results NTH BOWLS
Monday 16/9/19
Benny Davidson vs Barry mc kenna
Benny won
Saturday 21/9/19
First score (2:45)
Daire connolly vs John Garvey
John won no show from daire
Second score (3:30)
Sean Hughes vs Enda smith
Enda won
Third score (5:00)
Mickey hannaway vs Eddie connolly
Mickey won
Sunday 22/9/19
First score (10:45)
Ciaran savage vs John Garvey
Ciaran won
Fixtures NTH RD
Saturday 28/9/19
(4:00)
Benny Davidson vs Enda smith
Second score (4:45)
Michael Nugnet vs Gary smith
Third score (5:30)
Mickey hannaway vs Nico kelly
Sunday 28/9/19
(11:00) semifinal
Benny Davidson our enda smith vs
Mickey hannaway our Nico kelly
Saturday 5/10/19 semifinal
(5:00)
Ciaran savage plays the winner of
Michael Nugnet vs Gary smith
Sunday 6/10/19 final
(11:00)
Note to all clubs and thrower's these are the deadlines there are no exceptions or delays
Navan Road Bowls
Philip White Tyres Ulster Championships
Tuesday 24th 6.30pm
Semi Final Girls Under 14 Ulster Championships
Sponsored By west Armagh Consortium John Mc Gleenan Memorial Cup
Ellie May Carr vs Lilly O Rourke vs Michaela Greene
Sunday 29th Haulier's Cup sponsored by Garvey Transport
11.15am Austin Mc Keown vs Ruairi Hughes
11.45pm John Quigley vs Barry Mallon
12.15 pm Finton Daly vs Oliver kearney
12.45pm Flash plus a bowl vs Barry Daly
Madden Fixture's
Fixtures for Sunday 29th September
Hughes 11:30am tournment sponsored by madden social club Sean Rafferty v Danny Kiernan
Low line 12:30pm grade 2 Shane feighan v Shea mullan
Message To all Clubs Meeting this Tuesday Night 8.30pm venue Charlemont all clubs must be represented thank you
Sign Up To Our Newsletter