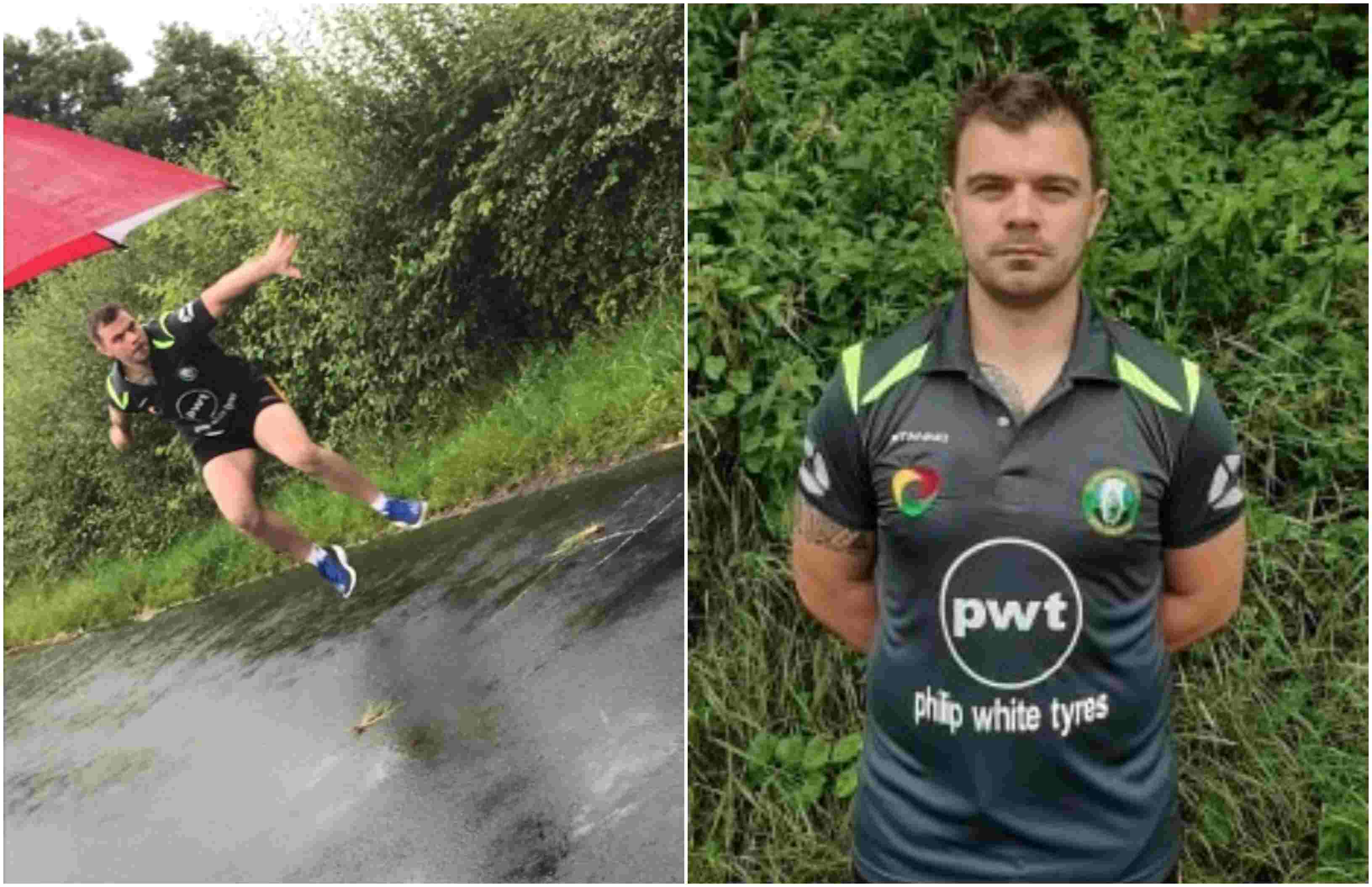 Last Friday night saw The Ulster Finals in progress leading up to the All-Ireland weekend in August.
First up was Boy's Under 18 ulster Champion and runner up in the All Ireland Final last weekend in cork Eugene Mc Veigh from the Eglish club co (Tyrone) Mc Veigh Now seeking yet another Ulster Title this time in the under 16 against Navan Lad Aaron Hughes. Hughes took the opening throw but it was Mc Veigh who lead with his second shot. Again the lead changed Hands Hughes front Bowl by 40 yards. This Continued to the cap bowl Area but it was here that Mc Veigh produced the goods with two massive shots to beat the Farm yard 60 Yards. Hughes Misplayed leaving a full bowl in the score. Mc Veigh yet again was not for catching and put his next bowl around the Hall and now was in the driving seat. Hughes plugged on but couldn't gain any ground on Mc Veigh so the Double was Secured Mc Veigh now holds the Boys under 16 Ulster Title along with the Under 18 a tremendous Achievement in one Year. Hard Luck To Runner up Aaron Hughes who this year has Progressed into the Lime Light and reaching his first ever Ulster Final, Im Sure it wont be long until he goes a step further and claims a Title Congratulation's Eugene who im sure will be well supported In The All Ireland Final.
Toal's Impressive Victory
Cathal Toal and Paul O'Reilly was the Big score Sunday Past in Mens Senior Ulster Final Unfortunately The weather was not in anyone's Favour but regardless the weather the score commenced. Toal immediately impressed the Crowd with a great first shot to reach the opening of the Housing estate. O Reilly Trailed 50 yards . Toal again hit the sap another Gallant effort and a Brilliant lead at this early Stage. O'Reilly unlucky with his second bowl fell behind the bus shelter and would need the perfect shot to reach Mary Anns but unfortunately failed to do so. Toal made no mistake almost a bowl up after 3 great shots. O'Reilly was not making any ground and now was behind a full bowl plus odds at the hall. Luck was on Toal's side with his next throw to beat the farm yard 50 yards 6 massive shots from the break off.
O Reilly put two Great shots to the cap bowl Area but with Toal on fire followed what was put in front off him. O 'Reilly made a bad mistake with his first standing shot and now trailed by two bowls. Paul did not make the same mistake with his next throw and knocked the deficit off two shots. Toal misplayed but hit a pile driver past Paddy O Neils with his next and to surprise crowd opened the top corner leaving three shots in the score. O 'Reilly was not for giving up by all means and battled away bringing the score back to two bowls at the cross roads. Toal had done enough at this stage to take the Ulster Title that was on his plan sheet from the Championships started. Cathal will now have the rematch off the All Ireland Final against Aiden Murphy after toal lost out to him in White Church 2014 . We all know Toal will certainly have every chance on becoming the Senior All Ireland Champion 2019 good luck Cathal. Hard luck to Paul O Reilly Runner up who is a big name in our sport off Bowling.
Hughes Claims Ulster Title
Boys Under 12 Ulster Final this year had two outstanding Bowler's going head to head in this Years Decider Ethan Hughes Portmor vs Oisin Gribben (rock road) both lads who started out in the qualifying rounds up the Navan road could easily have been picked out an an early stage that one off them was going to lift silver ware. The Score began and Gribben grabbed an early lead by 30 yards. Hughes hit a great second throw and after gribben let hid third shot over the road seen a bowl off odds in the score. that was not going to annoy Gribben as he hit an outstanding shot to beat the cap bowl area back in the score surely. Hughes Misplayed and with his next seen Gribben back in front. Hughes bowled two great shots to beat the farm yard and quickly Followed by Gribben such throwing by both lads with only 5 yards separating this ulster final. Hughes then got the perfect touch around the Hall to reach half way down the hill and seen yet again the lead change hands by 50 yards. Gribben let his next over the road and soon found himself a bowl behind but courage from the young lad made up from his mistake knocked the bowl at Mary Ann's Corner. Hughes throwing his lead heading towards the line was enough at this stage he held his nerve and delivered the perfect bowl but unfortunately touched the kirb and went over the road. Gribben trailed but didn't give up he threw a great shot but just failed to score the Line. Hughes went on to take the Honour's and with sure delight he is now the Ulster Champion in which he was searching for the past two years'. With great relationships i have with the two bowler;s it has to be said unfortunately their had to be a loser in a great battle off bullets hard luck Oisin a great achievement at this young age. Good Luck Ethan in the All Ireland Final and keep Rambo in Shape it's paying off.
Trainor secures Intermediate Title
Aoife Trainor was to meet Lorraine Mackle in this years decider off the ladies Intermediate Ulster Final. Traioner was to lead after her first shot by a small Margin. Mackle played a great second shot and followed up by reaching Mary Anns with her Next shot . Trainor still holding her lead by a mere 5 Yards.Mackle let her next two bowls over the road giving Trainor every chance to to extend her lead and indeed she obliged . Trainor put in two brilliant efforts from Mary Anns corner to more than half way up the hill again made no mistake with her next bowl cutting the corner and now finding herself a full bowl plus odds in front. Mackle from the farm yard found a second gear and was bowling well but it was the Tullysaran Native Trainor hitting every shot and was not for Catching. Mackle simply had no answer to the outstanding bowling from her opponent on the Night. Trainor was up at the finish line in 13 great shots and now is crowned the Intermediate Ulster Champion 2019. Hard Luck Lorraine a gallant runner up. Good Luck Aoife in the All Ireland final im sure you will keep the flag flying for your local Supporter's.
Back To Back Titles For Shortt
Joe Shortt who certainly needs no Introduction in our sport off bowling was to meet Paul Mc Veigh in this years Men's Veterans Ulster Final. Both Men certainly deserved their place in the final after qualifying from the rock road no easy task for any off them. Only 20 Yards seperated the men after their first throw. Shortt hit a gem off a second shot leaving himself a chance to rise a bowl at Mary Anns However shortt let his third bowl over the road leaving the score level after 4 shots each. Mc Veigh then was to pull away from joe and hold a very well earned Lead going up the hill. Shortt who lost his way for a few shots was always Trailing behind Mc Veigh. By the farm Yard Mc Veigh hit two great shots to beat the point road Surely to rise a bowl, But it was shortt who not only followed the big bowling beat the tips well. Mc Veigh Now was throwing his lead around the bends but only delivered an average shot a chance for shortt to get Back Level. Shortt making a mistake with his standing shot seen Himself a bowl out. Mc Veigh held his bowl to O Neils house but suddenly misplayed his next two shots leaving only 30 yards between the men with two shots to go. Shortt who is well known for his finishing shots put his next two efforts to beat the crossroads Mc Veigh had no answer at this stage and lost out on the last shot. Shortt last years All Ireland Champion has now secured Back To Back Ulster Titles and has every chance in the All Ireland Final. Hard Luck Paul you had an outstanding year a worthy runner up.
Maguire secures yet another Ulster Title
Shannon Maguire Last years All Ireland Champion is certainly making a name for her self after securing the Girls under 18 ulster Championship last month. Maguire now is hoping for the famous double in the Girls Under 16 but had to clash with Caoimhe Rafferty the pair also met in the under 18 final so both competitors new what was ahead off themselves a cracking Ulster Final. Rafferty took the opening throw by 50 yards. Maguire closed the deficit to 10 yards after her second shot. Past the cap bowl area Rafferty now was to extend her lead by 40 yards . Maguire then produced a brilliant shot towards the farm yard.
Such a shot under pressure. Rafferty unfortunately caught her next shot. Maguire now in position and it wasn't long before she found herself a full bowl up. Rafferty played two great shots Towards the hall but it was Maguire who gained even more ground with another fantastic shot to cut the corner at the hall and go half way down the hill. Rafferty couldn;t Match the form off Maguire on the day and lost out to a very experienced opponent in Shannon Maguire Now celebrating two Ulster Titles under 18 and now under 16. Not only shannon but the silver ware in the house will look well as shannon's brother Cathal also won ulster in the boys under 14 New Dresser required Toby. Hard Luck To caoimhe such a great year im sure you will be in the winning enclosure soon only 14 years old great achievement .
Rafferty Rolls Back the Years
Michael Rafferty Former All Ireland champion at under age level was also to meet former All Ireland Champion Shane Feighan in this years Final of the Men's Junior B. On a betting front it was the flip of a coin both men were well matched. Rafferty lead after Feighan misplayed. Rafferty extended his lead and was in position to open Marys Anns with his Third bowl but failed leaving the score almost level only 50 yards between the men. Feighan produced two great shots and when they reached the Hall rafferty only 10 yards front great throwing at this stage. A chance now for Rafferty as feighan failed to reach the farm yard with the bowl not getting a touch from the bank. Rafferty cut the corner too much once again leaving the score level. This Continued to the Cap bowl area no man was for breaking at this point . Feighan Got a valuable touch coming out off the bad corners leading by 50 yards at O Neils House. Rafferty again produced the goods with another brilliant shot pressure on Feighan and it wasn't long before Rafferty was back in front after a missplayed bowl. It went to the last Shot this score could go any way. Feighan bowled first the perfect shot but unfortunately hop the kerp half way down the hill towards the cross roads. Rafferty then beat the tip and now is the new Mens Ulster Junior B Ulster Champion. Hard Luck Shane im sure it wont belong till a title is in your hands . Michael Rafferty former 3 times All Ireland Champion boys under 14 1987 under 16 1989 boys under 18 1991 and last success came in the Mens Junior A in 1998 when he lost out to Denis Cooney in lyre cork. So Michael will have every success in lifting another Big Title good luck in you All Ireland Final Michael.
All Ireland Fixtures Tullysaran
Throwers, Refs and Markers as follows:
SAT 3rd AUGUST:
Chapel, 11am: Ladies Intermediate: Aoife Trainor v Maria Nagle (Ref & Markers: Madden)
Church, 12.30pm: Boys U16: Eugene McVeigh v Darragh Dempsey (Ref & Markers: Rock Road)
Chapel, 3.30pm: Junior B: Mickey Rafferty v Cork (Ref & Markers: Newtown)
O'Neill's, 5pm: Girls U16: Shannon McGuire v Margaret Sexton (Ref & Markers: Portmor)
SUNDAY 4th AUGUST:
Chapel, 11am: Veterans: Joe Shortt v Cork (Ref & Markers: Navan & Tieve Tara)
O'Neill's, 12noon: Boys U12: Ethan Hughes v Cork (Ref & Markers: Keady & Tassagh)
Chapel, 3.30pm: Men's Senior: Cathal Toal v Aidan Murphy (Ref & Markers: Tullysaran)
Good luck to all the Ulster Champions especially our local contender, Aoife Trainor!
Looking forward to the weekend!
Please note: there will be a Turkey + Ham dinner and bar available, both Saturday and Sunday this weekend, with the presentation at 9.30pm on Sunday. All welcome, the more the merrier!!
The Northern Branch Bol Chumann wish all our throwers every Success this weekend in their All Ireland Finals in Tullysaran.
Madden road bowls
Fixtures for Tuesday 6th August novice championship sponsored by Philip white tyres
Hughes 7pm Niall Smith v padraig gribben.
7:30pm challenge score next round draws will be made
Saturday 10th August low line
Low line 2pm novice 1
Colin Mallon v stevie Oneill
Fixtures for 11th August novice 1 sponsored by Philip white tyres Hughes 11:30 TBA
Novice 1
12:30 Ryan fay v Conor Oneill
Best of luck to Micheal Rafferty and Shannon maguire in this weekends all Ireland's at Tullysaran. Micheal who has had alot of success in his bowling career will be looking to add to his collection when he competes in the Junior B
Shannon will be looking to get back to winning ways after an unlucky defeat in cork a few weeks ago, the young madden girl will be wanting to retain her U16 title and win back to back all Ireland championships.
Hard luck to Paul Oreilly and Caoimhe rafferty who were defeated in their ulster finals last weekend
Portmor Road Bowls
Fixtures
Sunday 4th August
No bowls on the Blackwatertown Road due to All Ireland Finals at Tullysaran. The Portmor Club are refereeing and marking the girls U16 Final on the Saturday at 4.30pm
On the Sunday Portmor's Ethan Hughes is in action in the Boy's U12 Final and the club would like to wish Ethan every success. He has certainly put in the hard work and an All Ireland title would be a just reward.
Sunday 11th August
Ulster Novice Four Championship
McGrails 11.15am
Harry Smith(Portmor) v Ryan Waters(Rock)
McGrails 12.30pm
Andrew O'Hagan(Portmor) v Martin Cullinane(Moy Rd)
Results
Two Paul Dobbin Trophy Grade One A Semi finals took place last Sunday morning where their were wins for Ronan Toal over Odhran Rafferty and for Martin Toal over Mark Toal to set up what should be an interesting final.
In Grade Two P D Donnelly booked his place in the Semi Finals when he proved to strong for John Dynes down to the Village. In a good contest also down the road Michael Kelly had a last shot victory over Pat Lennon in Grade Three
John Mc Gleenan Memorial Cup
West Armagh Consordium
Girls Under 12 Ulster Championship
Earl Davidson vs Nicole O Reilly
Lauren Mackle vs Megan O Reilly
Blathnaid Boylan vs Michelle Green
Elenor Sweeney vs Kayla Clarke
Ana Green vs Catlin Lappin
Earl Gallagher vs Megan Green
Julie Green vs UGNE Cem
Shannon smith vs Sarah Mc Veigh
Ellie May Carr vs Megan gallagher
Courtney Green vs Niamh Kelly
Navan 7pm Thursday 1st August
Earl Davidson vs Nicole Rafferty
7.30pm Teds Lane
Lauren Mackle vs Megan O Reilly
8pm Navan Blathnaid Boylan vs Michelle Green
8.30pm Teds Lane Elenor Sweeney vs Kayla Clarke
Sign Up To Our Newsletter