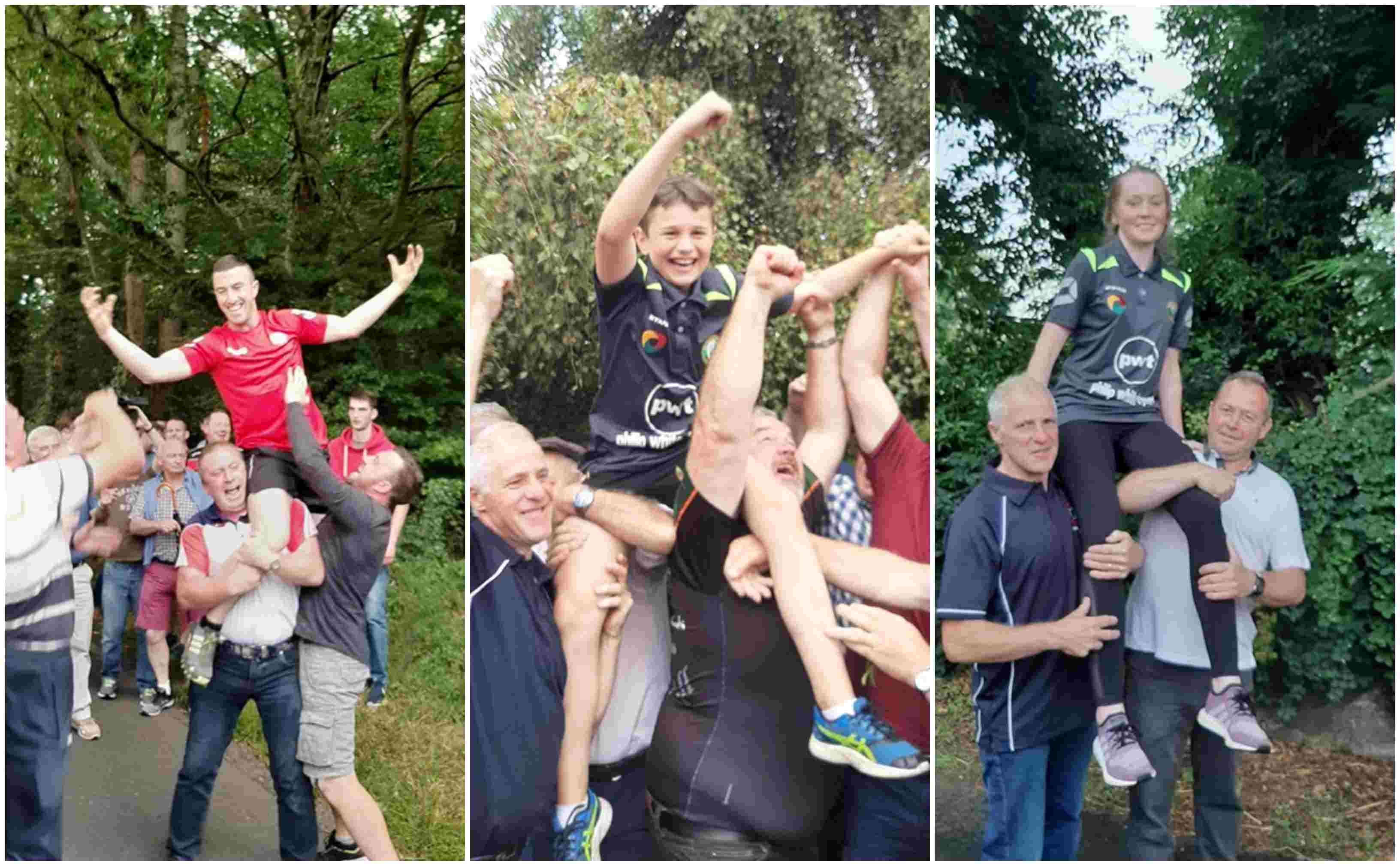 Nagle lifts Ladies Intermediate Title
To kick-off the All-Ireland Final weekend first up was the ladies Intermediate Maria Nagle Cork vs Tullysaran Native Aoife Trainor.
Nothing separated The Girls after 3 shots a piece. Both Girls level at Mary Ann's Corner. Trainor let her bowl over the road giving Nagle a valuable lead going up the hill towards the Hall.
Trainor then made sure with her next two shots beating the farm Yard by over a hundred Yards surely back in the score but it was Nagle who got stronger as the score was to progress.
Nagle from the Farm Yard hit an outstanding shot to reach the Cap Bowl Area.
Trainor battled back with another Gallant effort but soon found herself a full bowl behind. Nagle then extended her lead around the double corner to almost two bowls.
Trainor new at this stage that the bowling Nagle has Produced would have took some beating. Nagle was up at the line in 11 throws simply a Brilliant display off bowling which deserved the All Ireland Title.
Hard Luck to runner Up Aoife Trainor who is a Great competitor and a brilliant sportswomen to our sport of Bowling. Well Done Maria an outstanding score and a well deserved All Ireland Title.
Dempsey Claims Under 16 All Ireland
Boys Under 16 Got under way and this year's finalists were Cork's Darragh Dempsey vs Eglish native Eugene Mc Veigh and on a betting front this was going to be hard to call from the very start.
Cork took the opening throw and almost opened the corner, Mc Veigh done very well to get within 20 yards of the Tip.
Mc Veigh played his next bowl perfect to cut the corner and go half way down the hill. Dempsey had a great Chance throwing this Lead but only beat the tip 10 yards.
Past O Neil's House Dempsey extended his lead and was in position at this early stage too possibly rise a bowl.
Mc Veigh then threw a great shot to cut the corner past the cap to go 80 yards up the straight.
Dempsey let his next bowl over the road to see Armagh front for the first time. Dempsey was not for making the same mistake twice he delivered a fantastic throw to beat the farm yard by 40 yards.
Pressure now back on after Mc Veigh failed to reach the tip and now was trailing in the score.
Mc Veigh put in a great effort With his next shot giving himself a good chance to level the score at the hall.
Mc Veigh badly misplayed missing the corner giving a cracking opportunity for Dempsey and indeed he obliged such a lead at this crucial stage.
Dempsey again delivered another Brilliant shot to almost reach Mary Ann's a full bowl in front. Mc Veigh plugged on but Dempsey proved too good on the day and went on to take the All Ireland Crown.
Hard Luck to runner-up Eugene Mc Veigh and well done to Darragh Dempsey who put in a great display off bowling.
Kiely wins Mens Junior B
Mens Junior B All Ireland Final was between two old rivals Vincent Kiely Cork vs Madden's Michael Rafferty both these men had met in the under age almost 30 years ago with Rafferty getting the better off Kiely.
The score was to begin and Rafferty took the opening shot ny 20 yards. Kiely hit a Brilliant second shot past the housing estate but Rafferty followed the tip.
Both men flew into Mary Ann's Corner score Level. Rafferty was to lead again after Kiely let his 4th bowl over the road. The Cork Native then stepped up a gear with an outstanding shot go three quarters way up the hill. Rafferty beat the tip and now 10 yards separated the men.
Kiely lofted his next bowl and had sight of the farm yard great shot. Rafferty threw his shot really well but now trailed by 50 yards and with no luck again Rafferty failed to beat the farm yard.
Kiely now was in control and delivered the perfect shot which seen almost a full bowl in the score.
Rafferty who is well known for the play off the bowl beat the cap bowl area but soon followed by his cork Opponent. Kiely then had produced an outstanding bowl to sweep around the double corner .
Rafferty unlucky not to reach the tip seen the lead extend further. Rafferty dug deep and opened the top corner in three more shots but with Kiely missing nothing the bowl was just to much for Rafferty to pull back.
Kiely now was the Junior B All Ireland Champion. Hard Luck to runner Up Michael who had threw an excellent score to be beat on the day. Congratulations Vincent I'm sure the rematch will soon be on the cards .
Maguire wins Back To Back All Ireland's
Shannon Maguire who Represents the Madden Club Armagh was to meet Margaret Sexton in this years Girls under 16 All Ireland Final.
Maguire wasn't for slacking in any way from the start and took the opening throw by 30 yards.
Sexton misplayed her second shot in which Maguire took full advantage and seen herself rise a bowl of odds.
Heading by the Bridges and to the cap bowl Area Maguire still a bowl in front. Sexton then put in three great shots and was able to knock the bowl by the Farm yard.
Maguire who has shown her Talent in what she can achieve then hit two Brilliant Shots to find the Margin extend by two bowls at the point road at the foot off the hill.
This Score was alway's In Maguire's favour from the start and yet again the Madden Native opened Mary Ann's in two more efforts, Now the writing was on the wall Back to Back All Ireland Titles for Shannon in the under 16 Championships.
Sexton by no means will surely be popular in the near future after all the sexton Family hold numerous Big Titles.
Congratulations to the Madden club as their dedication to the Maguire Family has paid off . Shannon has proven now she will be around for a long time yet and it's only a matter of time before she reaches Senior Level.
Hard luck to Margaret who on the day only 14 years old put in a great Performance.
Shorten Wins Men's Veterans
Joe Shortt was to meet Joe Shorten in this years Mens Veteran's All Ireland Final .
As the score wast to start the betting proved this was a fifty fifty score. after three shots each to Marry Ann's Corner only 2 yards separated the tips.
Both men misplayed their next shot and failed to reach the point road. Shorten then was to produce a Great shot to to reach three quarter's way up the hill and seen a forty yard lead.
Short next bowl was lofted looked perfect to cut the corner and reached this side of the farm Yard. Shorten then beat the tip but score was still level bar 10 yards.
Short misplayed and with Shorten reaching the cap bowl Area with two great shots seen Short a bowl out. The Margin between the men remained by Paddy O Neils house.
Shorten at this stage took full advantage and seen the top corner opened in two more shot's leaving Shortt couldn't make up any ground.
Shorten now had taken the honours and now crowned All Ireland Champion. Hard luck Runner up Joe Shortt who held the Title from last year and I'm sure will be eager for one more. Congratulations To Joe Shorten a well deserved win.
Hughes digs deep and secures All Ireland success
Conor Creedon Cork was to Face Ethan Hughes Armagh in this years boys under 12 All Ireland Final. With the large Crowd gathered the score commenced.
Hughes took the opening throw by 20 yards and with his second throw again still front bowl. Creedon hit a great third shot now only 5 yards separated the lads.
Creedon then was to go front bowl after Hughes let his bowl over the road and now trailed 30 yards. Again Hughes same as the last shot seen Creedon extend his lead in the score.
Hughes was behind the farm Yard 60 yards and needed to find his form quickly. This is were the score was to please the crowd off supporters on both sides .
Hughes played the perfect bowl with accuracy and speed and now only trailed by 10 yards. Ethan then took a deep breath and delivered another pile driver not only to reach the corner at the Hall but to reach the point road at the foot of the hill simply outstanding you could have heard the cheers five mile away.
Creedon reached the corner but now trailed by almost a bowl. Creedon then let fly a great shot down the hill and in position to open Mary Ann's with his next throw.
Hughes now throwing his lead but unfortunately Misplayed . Yet again score was certainly wide open to any of the lads. Creedon reach Mary Ann's Not a full corner but just enough to pile the pressure on his opponent.
Hughes now had to produce and with pure determination delivered the perfect shot full corner and a lead off 40 yards.
The atmosphere was electric from both sides such a score between two great bowlers. Creedon then let his bowl over the road giving a golden opportunity for Hughes to grab a good lead with the line insight.
With Ethan's Grandad at the helm he new if Ethan wanted a Title so bad he must Deliver and indeed their never was A Doubt Hughes grabbed the opportunity with both hands and put his shot 20 yards off the finish line.
Creedon to his full credit was 80 yards behind so he delivered his last shot and went on to score the line by 40 yards.
Hughes who battled his heart out in this score left no room for error he beat the tip well the cheers again was to bring the Tullysaran road to life just never ending as the support shown for these bowlers was unreal.
Hard luck to Conor Creedon a gallant runner up and congratulations to Ethan his dad Philip and Grandad Pat Lennon.
Murphy takes Senior Crown
This year's senior All Ireland Final between Aiden Murphy Cork & Cathal Toal Armagh had been the main focus of this week end.
Murphy set sail with his first shot by beating the new housing estate entrance by 30 yards such an opening throw. Toal trailed but was very unlucky with his second shot as it was capped.
Murphy piled the pressure on another great bowl to be sure off Mary Ann's Corner in three. Toal had sight off the corner but played his shot tight to the kerb and fell short of the corner.
Murphy flew into Mary Anns a valuable lead at this stage. Toal cut the corner to almost reach the rise of the hill. It was here the score was to change Murphy put in a great shot to beat the point road 60 yards. Toal caught his next left hind bowl and a full shot out.
This score now was well in Murphy's favour as Toal slipped on his next effort leaving a very short shot. Murphy then delivered another perfect bowl to see the lead extend two bowls in front.
This continued by the farm yard as Toal could not make up any ground against his opponent. The cap bowl Area yet again both men were not for missing so the deficit remained.
As both men were well matched going up the hill the score had a twist to come. At the top corner Murphy let his bowl over the road this is were Toal had a chance to make up ground and thats what happened Toal almost reached the cross roads leaving only a bowl in the score.
Murphy unlucky with his next effort fell short and now odds was in the score. By the cross roads Murphy's Lead was 80 yards such a turn around at this crucial stage .
Toal now had a chance to beat Murphys tip well but unlucky the bowl wouldn't settle and caught right. Murphy stepped up another great shot surely a full bowl in front. Toal not only followed the mark but he beat the tipp 20 yards .
Murphy was not for lying down he just kept producing right down to the last shot and went on to claim the All Ireland Title. Hard luck Cathal and well done Aiden A great achievement Enjoy your success.
Fixtures Around the local Clubs
Portmor Fixture's
Paul Dobbin Trophy and Ulster Novice 4 Championship
Sunday 11th August
Currans 10.30am
Oisin Campbell v Rhys Daly
McGrails 11.15am Novice 4
Harry Smyth(PM) v Ryan Waters(Rock)
Currans 12 noon
Joby Donnelly v Paddy Donnelly
McGrails 12.30pm Novice 4
Brian Conlon(T's) v Maurice Cullen(BCM)
Thursday 15th August
Ulster Novice 4
Village 7.00pm
John Kernan(T's) v Damien Smyth(T's)
McGrails 7.30pm
Stephen McGurk(T's) v Roberto O'Driscoll(BCM)
Sunday 18th August
Currans 10.30am
Neil McLoughlin v Andrew O'Hagan
McGrails 11.15am Novice 4
Jim McLoughlin(PM) v Tony McKee(Rock)
Currans 12 noon
Martin Toal v Ronan Toal
McGrails 12.30pm Novice 4
Barry Corr(BCM) v Patrick Tierney(T's)
No Cancellation's. No exception's.
Madden road bowls
Fixtures for Tuesday 6th August novice championship sponsored by Philip white tyres
Hughes 7pmNiall Smith v padraig gribben.
7:30pm challenge score next round draws will be made.
Fixtures for 11th August novice 1 sponsored by Philip white tyres Hughes 11:30 TBA
Novice 1
12:30 Ryan fay v Conor Oneill
Well done to Shannon Maguire  on winning her second girls U16 all Ireland title, also hard luck to Micky Rafferty who was beat in his junior B all Ireland final.
Bowl Chumann Na Mierleach
Thursday 8th August
6:30 Felons grade 2 semifinal Ryan Quigley v Michael Hughes
7::00 Novice 3 Gerard Rafferty v Martin Mullan
Sunday 11th August
11:00 Felons Grade 1 Bryán OREILLY v Adrian OReilly
11:30 Novice 3 Frank Donnelly v Peter McClelland
Meeting after scores in Mick McGleenans house for the Stephen Donnelly Draw and to organise Shorty Reid Cup and Dessie Fields cup
Tuesday 13th August
6:30 Felons Grade 1 Malachy Lappin v Patrick Hughes
7:00 Novice 3 Ciaran Mullan v Damian Duffy
Eglish Fixtures
Novice 2 Quarter finals:
Sunday 18th August
11am – Moy Point
Danny Carragher v Ryan Quigley
11.45am – Crewe Lane
Enda Mallon v Martin Feighan
1.30pm – Moy Point
Dermot Grimley v Fintan Daly
Semi Final draw afterwards
Results:
Martin Feighan beat Hugh McSorley
Dermot Grimley beat Fergal Davidson
Fintan Daly beat Paul Hughes
Ryan Quigley beat Martin McGaughey
Kevin Cullen beat Enda O'Leary
Tieve Tara Fixtures
Mens Junior B Ulster Championships
11am Johnny Kelly vs Joe Shortt
12pm James Devlin vs Cormac Gribben
2pm Brendan Rafferty vs Eoin Hughes
3pm Challange
Navan Fixtures
John Mc Gleenan Memorial
west Armagh consordium
Girls Under 12 Championships
Thursday 8TH aUGUST
7pm Earl Gallagher vs Megan Green
7.30pm Julie Green vs Ugne Cem
8pm  Ellie May carr vs Megan Gallagher
8.30pm Shannon Smith vs Sarah Mc Veigh
please note 24 hours must be given in Ulster Championship
Fixtures for Sunday 11th August
Hauliers Cup kindly Sponsored by Garvey Transport
11:15: James Devlin vs Cormac Garvey
11:45: Gavin Hannaway vs Ethan Hughes
12:15: Hugh McCoy vs David Devlin
12:45: Conor McCreesh vs Conal Gribben
24 Hours notice must be given to cancel a score! £10 entrance fee U16s £5
Sign Up To Our Newsletter