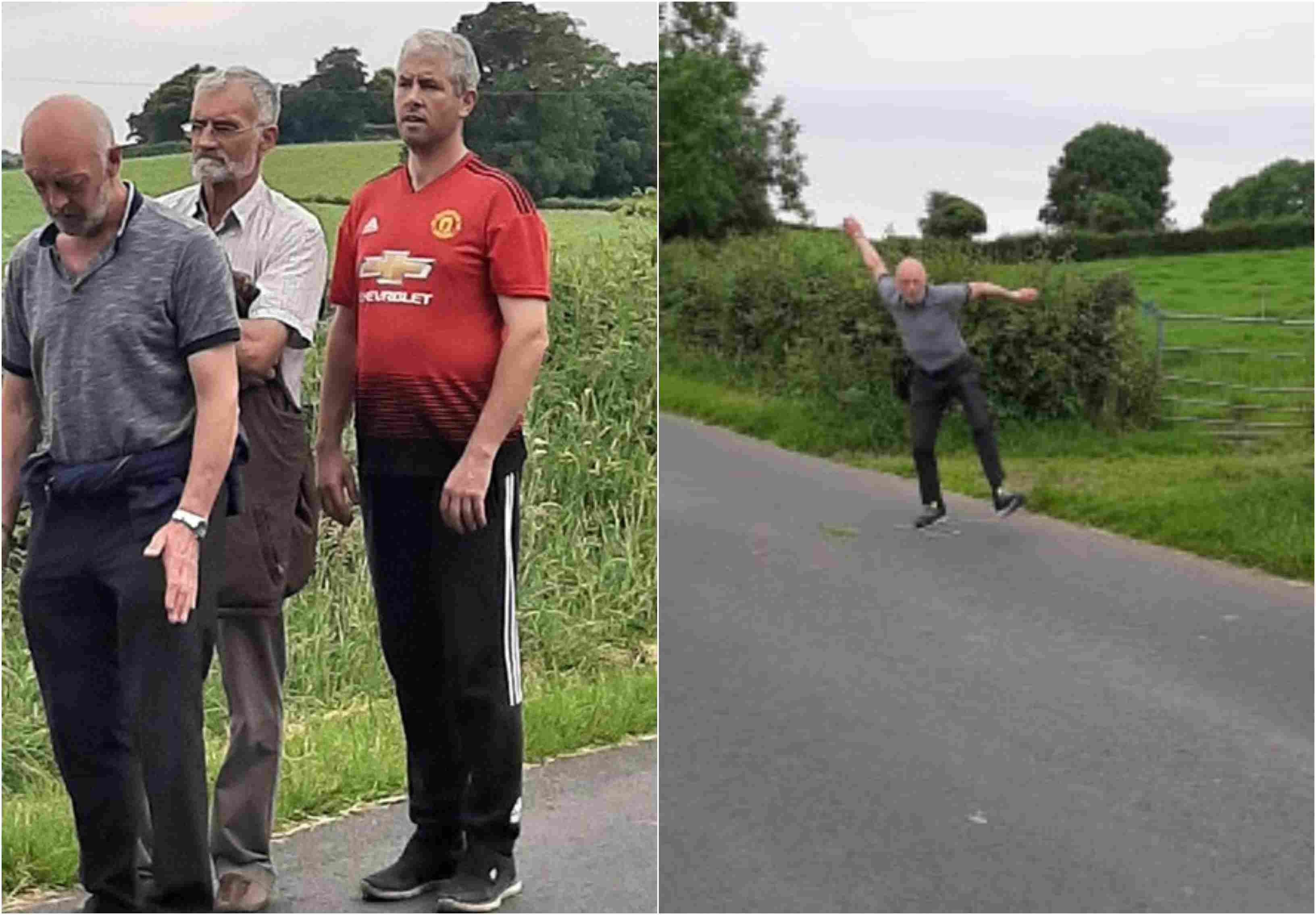 Paul O'Reilly in this year's Semi Final of the Mens Senior was to meet Martin Toal on the Tullysaran Road on Sunday Past.
Toal former runner-up in the All-Ireland Final against willie O'Donovan back in 2009 has been a senior bowler ever since and is always a threat in this grade.
O'Reilly who won the Mens intermediate All Ireland after beating Michael Bohane in Lyre 2015 stepped up to Senior Grade and was only a matter of time before he can grab yet another title.
As the score started between the men O'Reilly took the opening throw by 20 yards. Toal still trailed after two shots but failed to reach Mary Ann's with his next.
O'Reilly, who is well known for the play of a bowl, had never a doubt in opening the corner with his third shot.
A bowl now separated the men. Again Toal was not making any Headway up the hill as O'Reilly was playing the perfect Bowl. The full Shot remained by the farm yard and was to Extend by the bridge.
Toal fought back by the church but the inform O'Reilly was not for catching. Paul went on to win by almost two bowls and now will play Cathal Toal in the Ulster Final. Hard luck to runner up Martin Toal.
Shortt in Ulster Final for the second consecutive year
Joe Shortt holder of the Men's Veteran's All Ireland Title Last year has yet again reached the Ulster final.Paul Grimley from the Moy Road was to meet Shortt last Friday Night over the Tullysaran course.
Shortt immediately took the opening throw with a massive first shot. Grimleymaisplayed his second throw giving Shortt full advantage and indeed Joe obliged.Shortt opened Mary Anns Corner with three great throws while Grimley just couldn't find his form and was trailing by almost two shots.
Shortt continued to take full control by reaching the farm yard in six.Grimley started to find his form but it was Shortt who took the honour's and won by over a bowl off odds.
This year's Veteran's Ulster final is Joe Shortt vs Paul Mc Veigh good luck to both Men.
Mc Veigh Books His Ulster Final Place
Eglish rising star Eugene McVeigh has book his place in this years Boy's Under 16 Ulster Final. Eugene was to clash with Madden's Very own Cathal Maguire.
McVeigh who also is in the boys under 18 final started warm favourite and made no mistake grabbing an early Lead. Maguire put two great shots to almost reach O Neils house but misplayed his next bowl to see himself trail by a bowl off odds.
McVeigh from this point was to dominate and produce some big shots and proved an easy winner. Maguire has lost nothing in defeat as he also is in the Boys Under 14 Ulster final against Niall Stevenson. Well Done Eugene and good luck to both lads in the Final's
Shannon Maguire Keeps The flag Flying for Madden
​Shannon Maguire Last year's All Ireland Champion in Grenagh co cork in the girls under 16 has went one step further by reaching the girls under 18 Ulster Final. Caoimhe Rafferty lined up last week in the semi final to throw Maguire over the Madden course.
Rafferty trailed by 20 yards after the first shot but was to hit a massive second throw to find her self front.
Rafferty was to produce another three brilliant shots to reach the bus shelter Maguire now trailed by over a bowl.
This looked like an upset was on the cards and rightly so as Rafferty was to almost rise two bowls by Sweeney's corner.
Unfortunately Rafferty's bowl jumped over the kerb to leave almost a shot in the score. Maguire then reached the corner past the housing estate with two good shots Rafferty misplayed to find only to be yards in front.
Again Rafferty caught her next shot leaving Maguire to score the line and reach the Ulster Final hard luck Caoimhe it wont be long before you will be in the winning enclosure.
Mallon in Top Form
Dervla Mallon former Multiple senior All Ireland Champion in the women's Senior had no easy task in this years semi final as she was to meet 8 Times All Ireland Champion Kelly Mallon on the Newtown road last Saturday.
Dervla put her stamp on the score by reaching the Quarry in four outstanding shots Mallon was trailing by almost a bowl. Dervla left an opportunity for Kelly as she misplayed but Mallon did not take advantage.
Dervla then just kept producing shot after shot not leaving any room for era and went on to score the line in 13 shots, so as you can see Kelly Mallon could not this time follow that throwing.
Well Done Derval who every year has give it her all and a well deserved win Dervla won the Senior Ladies All-Ireland Titles in 2004 2005 2008 2009 and has every chance 10 years later on. Hard luck Kelly who no doubt will come back fighting as strong as ever. Dervla now will face Siobhan Mackle in this year's Ulster Final good luck ladies
Feighan in mens Junior B Ulster Final
Shane Feighan was to throw Adrian O Reilly in the Mens Junior B Semi Final over the Tullysaran road on saturday Past.
Feighan started the slight favourite and went straight into a lead after the first throw.
O Reilly played the perfect second shot to beat the bus shelter by 80 yards leaving himself in position to open Mary Anns Corner in 3.
Feighan did not hesitate in any way and beat the Tip great shot. O Reilly failed to open the corner giving the first opportunity of the score to Feighan.
No it wasn't to be as he also missed the corner. from here on in nothing separated the pair as the lead was to change hands several times.
The tricky Corner was to come and it was O Reilly who played the perfect shot to have full sight going up the hill by Paddy O Neils House.
Feighan now trailed and looked like trailing by almost a bowl.
Feighan cut the corner and beat O'Neill's house by 80 yards. O Reilly again produced the goods and extended his lead. Feighan looked out of the score but O'Reilly missed the corner giving yet another chance for Feighan to get right back in their and thats just what Happened Feighan had a big corner so it was down to O'Reilly who had a bare corner with the line insight.
O'Reilly let his bowl go left leaving both men on the last shot. Feighan Bowled first and with luck on his side put the bowl to the cross roads. O Reilly played the perfect bowl only to fall short by 10 inches.
Well done Shane and Hard Luck To Gallant runner up Adrain. Shane will now meet Michael Rafferty in this year's Ulster Final. Good luck Michael and Shane the makings of a great final.
Eglish Hold the Aces in the boys under 18
Local Star Eugene Mc Veigh Who reached the under 16 ulster final has to be held at high regard as he is crowned Ulster Champion in the boys under 18. Mc Veigh was to clash with former All Ireland Champion Ruairi Hughes from The Navan Club. Mc Veigh took the opening throw by a good margin after Hughes Misplayed.
Hughes closed the gap and had a small chance to level the score in the first Corner but failed to get full sight. Mc Veigh who is a confident lad by all means was to rise a bowl off odds towards the farm house.
Hughes misplayed his next but made up for it by reaching the corner to pressure Mc Veigh but wasn't to be Mc Veigh beat the tip and went on to take the Honour.s by over a bowl off odds. Eugene will now face Wayne Parks in this years All Ireland Final in cork. Hard Luck To Runner Up Ruairi Hughes.
Trip To Tipp
Last Years Ulster novice 4 Winner Michael Daly and club mate Paddy Donnelly who represented the portmor club travelled down to Thurles Last Saturday To Contest in the Popular Sports event that has been Held over the last 6 years. Unfortunately Armagh were up against it but it is such a great event to be involved in. thanks to the Portmor club in taking time out and travelling to Thurles
Tullysaran Fixture's
Mon 1st July: TeMac Cup:
Chapel, 6.45pm: Laura Kelly v Vera McGee (M Anna and Teresa)
Hall, 7.15pm: Francis Kelly v Anna Rooney
Tues 2nd July:
Chapel, 6.45pm: Ladies Intermediate semi final: Aoife Trainor v Elaine McGrady (Ref: Maurice Mkrs: Anna, Vera and Teresa)
O'Neill's, 8pm: Girls U16 semi final: Sarah McVeigh v Caoimhe Rafferty
Thurs 4th July:
Chapel, 7pm: Ladies Intermediate semi final: Lorraine Mackle v Gemma McCann (Ref: John, Mkrs: Anna and Teresa)
O'Neill's, 7.45pm: Girls U16 semi final: Shannon Maguire v Aine McVeigh
GOOD LUCK in your intermediate final JAMES OLIVER, see you in Tieve Tara next Sunday, 11am!
(No bullets on Tullysaran Road next weekend)
Madden Fixtures
Tuesday 2nd July 7pm Boy's Under 14 Ulster Final
Hughes Line
Niall Stevenson vs Cathal Maguire
Newtown Fixture's
Friday 5th 7pm womens Senior Ulster Final
Dervla Toal vs Siobhan Mackle
EGLISH ROAD BOWLS
Novice 2 Fixtures
Wednesday 3rd July
7pm – Moy Point
Kevin Cullen v Adrian Rafferty
7.45pm – Crewe Lane
Enda Mallon v Frances Oliver
Saturday 6th July
4pm – Moy Point
Danny Carragher v Mark O'Rourke
4.45pm – Crewe Lane
Conor Daly v Martin McGaughey
Sunday 7th July
1.30pm – Crewe Lane
Enda O'Leary v Conor Grimley
Tuesday 9th July
7pm – Moy Point
Fergal Davidson v Dermot Grimley
Under 18 Ulster Final
In a pulsating score last year's U18 runner up Eugene McVeigh faced former U16 champion Ruairi Hughes. Gene opened up the score with two massive bowls yo forge a big lead, but didn't get fully around McNallys Corner to put a bowl in the score. When Ruairi failed to opened McGraths corner Gene wasn't gonna let a second chance go a miss and got full site this time to put himself a shot in front. From here to McKennas corner it was shit for shot, but from around McKennas Gene throw a mighty bowl to get fully around the well corner and looking down the home straight to put the score beyond doubt. Gene has proved to be the top underage thrower as last couple of years in Ulster and can hopefully take home an All Ireland down in cork in the U18 and in Armagh in the U16. Best of luck Gene.
In a hard fought score Shaun Donnelly progressed against accomplished opponent Malachy Lappin to win the Ulster Junior A title for the second year running. Shaun will now compete for the All Ireland title in cork over the 12th weekend. Best of luck Shaun.
Results:
Boys U18
Ruairi Hughes w/o Patrick Carr
Eugene McVeigh beat Ruairi Hughes
Novice 2
Fintan Daly beat Tadgh Hayes
Adrian Rafferty w/o Patrick Conlon
Conor Grimley beat Barry Conlon
Fergal Davidson beat Chris McCann
Martin Feighan beat Barry Mallon
Well done to Eglish throwers Gene McVeigh winning his Under 16 semi final and Under 18 final at the weekend. Paul McVeigh making a comeback to reach the veteran final, and Shaun Donnelly who won the Junior A Ulster title for the second year running.
Scores will only be postponed in exceptional circumstances with 24 hours minimum notice. Any issues contact Fintan on 07483852584
Portmor Road Bowls Fixtures
Sunday 7th July
Currans 10.30am
Adrian Daly v Oisin Campbell
McGrails 11.15am
Rhys Daly v Jim McLoughlin
Currans 12 noon
Joby Donnelly v Gareth Lavery
McGrails 12.30pm
Philip Hughes v Damien Quinn
Results
In a good Grade One B contest Gabriel Mc eIlvanna came from a bowl down against Martin Donnelly at Connollys to fight back to win by a bowl of odds.
In a terrific Grade Three contest back down the road the in form Ethan Hughes had to be on top of his game to fend of a determined challenge from Karol Donnelly.
Congratulations to Portmor's Michael Daly and Paddy Donnelly who put in a huge effort against Cork opposition in Thurles Co Tipperary only to come up short in the latter stages.
There were six teams in the John Enright Shield back in the road and although the team of Kevin Daly, Kieran Gormley and Jim McLoughlin got of to the worst possible start they battled back to be just pipped on the line by a strong Munster team.
Bol Chumann Na Mierleach Fixtures
Challenge scores on Mullinure Road till Moy Road suitable to throw
Tuesday 2nd July
6:30 Paul Grimley and Nico v Paul Murphy and Paul Hughes
7:00 Micky Hughes and Maurice Cullen v Barry Corr and Shorty Grimley
Thursday 4th July
6:30 Ryan Gamble and Malachy Quigley v Shea Gamble and Bilko
7::00 Roberto and Marty Cullinane v Erin and Eamon Connolly
Tieve Tara Fixture's
Sunday 7th July 11am Mens Intermediate Ulster Final
Jamsie Oliver vs Peader Toal ref Eglish
Sign Up To Our Newsletter