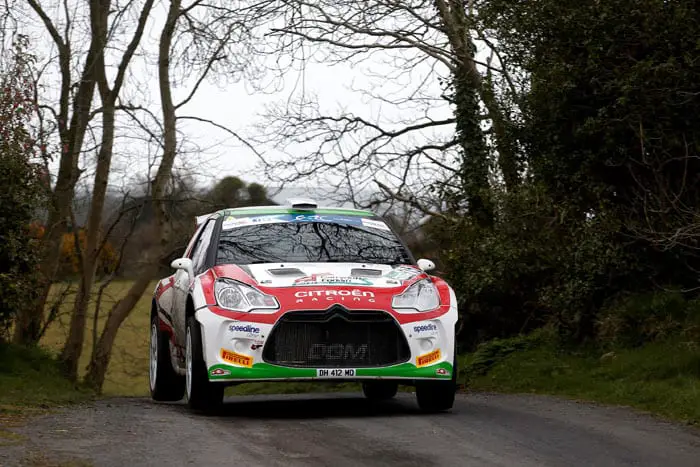 Top rally drivers from as far afield as China and Australia are gearing up for this year's 85th Circuit of Ireland Rally which takes place 7-9 April.
Organisers of the Circuit are looking forward to an even bigger and better event when this year's international rally rolls into Belfast and other spectacular locations throughout Northern Ireland. Belfast will host the Rally HQ and Service Park with the King's Hall complex welcoming competitors, team personnel, fans and visitors from over 20 nations from Wednesday 6th April.
Fans will have several opportunities to see the rally action from Thursday 7th to Saturday 9th April. The Qualifying Stage of the rally will be based at Antrim Castle Gardens on Thursday 7th April in the afternoon, followed by a Ceremonial Start outside the Irish Linen Centre and Lisburn Museum from 6.30pm with special guest Louis Walsh. Entertainment in Lisburn City Centre in the evening includes a free concert from 8.30pm with local star singer Flash Harry.
Friday 8th April features rural stages close to Larne and Ballymena and includes a refuel halt at the famous Ballymena Showgrounds. Friday's route includes stunning stages in the Causeway Coast and Glens region encompassing Torr Head and Glendun as well as a passage control at the Dark Hedges and a regroup at Bushmills Distillery.
A special Ards TT Stage will take place in Newtownards town centre on Friday evening 8th April. Competitive rallying on the Saturday will include stages close to Banbridge, Ballynahinch and Dromore with town centre regroups in Downpatrick and Banbridge.
The rally will finish back in Belfast on the evening of Saturday April 9th and will culminate in a special closing ceremony outside Queen's University when the 2016 winners will be presented with the famous historic Circuit of Ireland trophy.
2015 was a hugely successful year with spectator numbers increasing by 7% to 78,000 and organisers anticipate another fabulous event with 2016 marking the 85th year of this iconic and popular family motorsport festival.
Event director Bobby Willis said, "Last year 40 million viewers across the world watched our fabulous scenery on Eurosport. It's incredible how the rally has grown over the past decade to become one of the iconic events of Europe again.
"I'm especially thrilled with the strength and breadth of this year's entry which includes last year's winner Waterford's Craig Breen back to defend his title. It's fantastic exposure for Northern Ireland and we're looking forward to an exceptional competitor line-up on 7-9 April."
Also competing are, reigning European champion Kajetan Kajetanowicz, Alexey Lukyanuk, leader of this year's ERC series, as well as the leaders of the British and Irish Tarmac championships, Elfyn Evans and Keith Cronin.
The Circuit of Ireland is the second of 10 rounds in the 2016 FIA European Rally Championship (ERC) and is also a counting round of the 2016 British Rally Championship (BRC) the Irish Tarmac Championship and is a counting round of the Northern Ireland Championship.
For more information on the 2016 Circuit of Ireland Rally visit www.circuitofireland.net or follow on facebook and twitter @CircuitIreland.
Information regarding this year's Circuit of Ireland Rally
Approximate times shown below are for the first car due. The convoy then takes around 2½ hours, with cars passing roughly every minute.
Thursday 7th April
10.00 – 12.30       Free practice of FIA ERC priority drivers at Tardree, Antrim
12.00 – 12.30          Assembly of ERC priority drivers and invited drivers in Clotworthy House, Antrim
12.51                        Start of Qualifying Stage for ERC Priority drivers, Tardree
1430 – 16.00           Optional Shakedown for remaining for non-priority cars at Croft Hill,  Tardree
18.30 – 21.00          Ceremonial Start in Lisburn (Irish Linen Centre) attended by Louie Walsh, including the Start Order Selection, followed by Flash Harry Concert
Friday 8th April

09.00                         Service out – cars leave King's Hall, Belfast
09.50 – 10.45       Stages at Cairncastle (near Larne), Knockboy (North of Broughshane)
11.00                     Refuel – Ballymena Showgrounds
11.45                         The Glens stage (31 Km, including Glendun and Torr Head Stages)
12.50                         The Dark Hedges Passage Control
13.15                         Regroup – Bushmills Distillery (here for 20 minutes)
13.55                         Joey Dunlop Centre Remote Service (Cars here for 15 minutes)
15.00 – 16.05         Stages – Knockboy and Glendun
18.00                         Service Area at King's Hall
19.50                         Newtownards TT Stage starts
2030                          Overnight Halt at Kings Hall, Belfast
Saturday 9th April

08.00                         Service out – cars Leave King's Hall
09.00                         Downpatrick podium start
09.20 – 10.50          Stages – Bucks Head and Hamilton's Folly and Bulls Brook
11.25                     Banbridge Regroup in 'The Cutts', followed by Banbridge stage
13.20                         Service Park – King's Hall (cars here 30 minutes)
14.15 -16.45         Stages- Bucks head, Hamiltons Folly, Bucks Head and Banbridge
18.10                         Finish ceremony and champagne spraying outside Queen's University Belfast
Circuit of Ireland Rally – Key Facts
7th – 9th April 2016
Celebrating its 85th Year
Involves up to 600 volunteers.
78,000 spectators in 2015
The Circuit of Ireland is one of 10 rallies in the prestigious FIA European Rally Championship calendar and will be the only round of the ERC in the UK and Ireland. For the first time in almost a decade it will also be part of the British Rally Championship (BRC). The Circuit is also counting rounds of the Irish Tarmac Championship and the Northern Ireland Championship.
This year, the Circuit of Ireland Rally announced its first female Chief Scrutineer, Gillian Magee from Larne.
Organisers anticipate the three day festival will this year attract over 80,000 visitors and spectators from countries worldwide.
The event will be broadcast on Discovery, Eurosport and global partners, BT Sport, Channel 4 and Irish networks to over 40 million viewers across the world.
First held in 1931 and is one of world's oldest rallies after Rallye Monte-Carlo
For up to date details visit circuitofireland.net
Over 130 cars anticipated to start the rally
The Circuit features the FIA ERC International Rally as well as the National Rally
Manufacturers represented will include Peugeot, Ford, Skoda, Citroen, Renault teams plus privateer entries
Qualifying Stage takes place in Antrim
Louis Walsh will be a special guest at this year's Ceremonial Start in Lisburn on Thursday 7th April
Become a member
Support local, independent businesses by becoming an independent member.
Become a member