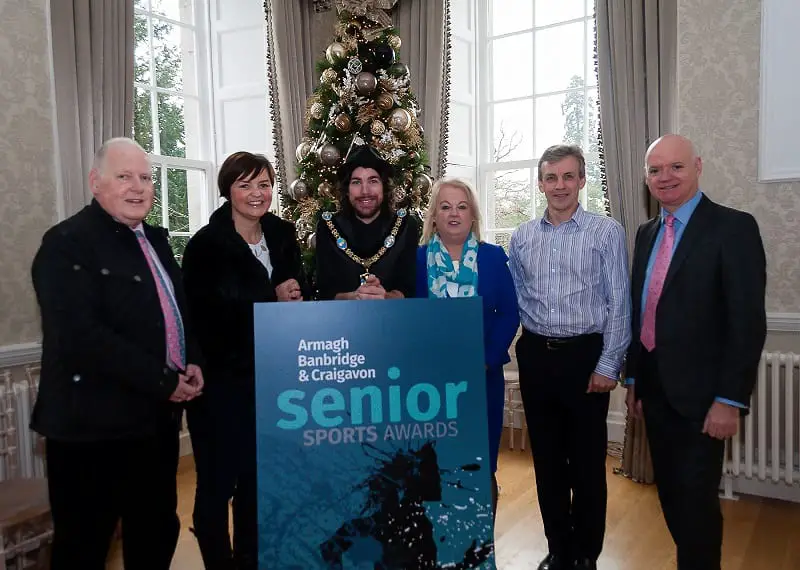 The search is on to find the borough's sporting elite as nominations are now being accepted for the Armagh City, Banbridge and Craigavon Borough Council Senior Sports Awards.
Organised by the newly formed Armagh, Banbridge and Craigavon Sports Forum in association with Armagh City, Banbridge and Craigavon Borough Council, these awards recognise the wealth of sporting talent in the borough and celebrate the achievements of those who have excelled in their chosen sport.
The awards were recently launched at the Palace Demesne, Armagh by the Lord Mayor of Armagh Banbridge and Craigavon, Councillor Garath Keating, Martin Walsh from Rushmere Shopping Centre, along with representatives from the Sports Forum and Denise Watson from UTV Sport and U105, who will compere the awards evening on Thursday 30 March 2017 in Craigavon Civic and Conference Centre.
Speaking at the launch the Lord Mayor commented "I am delighted to officially launch the second Senior Sports Awards for the Armagh City, Banbridge and Craigavon Borough. This celebratory event is a fantastic opportunity for us as a council to acknowledge and congratulate the success of our senior talented athletes, clubs and volunteers who deserve the recognition for all their hard work and dedication. I am also pleased to welcome Rushmere on board again as headline sponsor."
Martin Walsh, Manager of Rushmere Shopping Centre said 'As a community-focused business located in the heart of an area well known for its passion and prowess in sport, we are very proud to sponsor the Senior Sports Awards 2017. We firmly believe that participation in sport at every level creates a multitude of benefits and by sharing our success stories and recognising the achievements of those who dedicate so much of their lives to sport, these awards can help to encourage others to follow in their footsteps. Well done to everyone involved.'
Nominations are sought in the ten categories of Sports Person with a Disability, Sportswoman, Sportsman, Senior Team, Community Coach, Performance Coach, Service to Sport, Volunteer and Club Innovation Award. Nominees should be competing at County/Regional level or above for achievements between January – December 2016 and must be over 18 at the 1 January 2016. Specific details for each category can be found on the nomination form.
Nomination forms are now available from all council leisure and community facilities across the Armagh City, Banbridge and Craigavon Borough Council area. The nomination form can also be downloaded from the council website at www.armaghbanbridgecraigavon.gov.uk
Completed forms must be returned to Anne Benson, Senior Sports Awards, Lough Neagh Discovery Centre, Oxford Island National Nature Reserve, Lurgan BT66 6NJ before 12 noon on Friday 6 January 2017.
Read more news:
Armagh set for brand new police station on Gough Barracks site
Three men arrested after petrol bomb attack on Tandragee home
Misery for Armagh businesses as phone line damage wreaks havoc
Tributes paid to former Ulster GAA secretary Danny Murphy
Phone lines down across Armagh following late night fire in city
Con artists bid to lure bank details from online Christmas shoppers
Almost 8,000 street lights broken and Southern Area waits longest for repairs
Parrot on the loose after escaping from home in Armagh
Sign Up To Our Newsletter