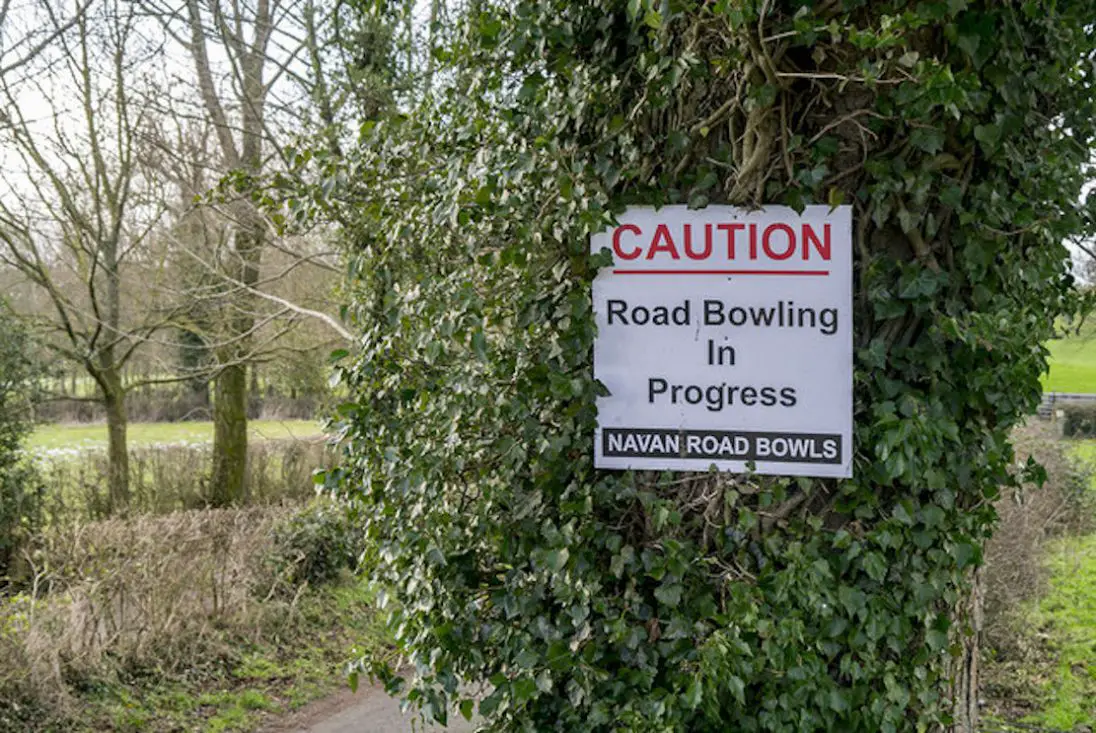 Portmor Road Bowls
Fixtures
Sunday 13th October
Novice 4 Ulster Championship Sponsored by Philip White Tyres
Final
Village 12 noon
Maurice Cullen v Michael Duggan
Barney Lavery Cup
Currans 10.30am
Michael Daly and Conall Gribben v Frank Oliver and Mickey Donnelly
McGrails 11.15am
John Lennon and Harry Smyth v Adrian Daly and Kieran Gormley
Results
Novice 4 Championship Semi finals
Maurice Cullen bt Roberto O'Driscoll 1 bwl
Michael Duggan bt Brian O'Rourke 2 bwls
Barney Lavery Cup
Oisin Campbell and Philip Conlon bt Malachy Lennon and Gavin McArdle 2 bwls
The line up for the Novice Four Ulster Championship at Portmor will feature Bol Chumann Na Meirleach's Maurice Cullen and Tullysaran's Michael Duggan after both came through their respective Semi finals last Sunday morning on the Blackwatertown Road.
Cullen was pushed all the way by clubmate Roberto O'Driscoll and had to mount a strong finish to get over the line.
In the contest back to the Village the Navans Brian O'Rourke picked up an injury in the early stages of his challenge with Michael Duggan but take nothing away from Duggan he bowled a great score and is very much deserving of his place in the final. Good luck to both throwers.
Last weeks Lotto winner was Mickey Kelly with number 11.
Tieve Tara Fixture's
Sunday 13th Oct
11am Duffy Cup
Barry Duffy vs Paul Mc Viegh
Damian Daly vs Kieth Campbell
2pm Joe Shortt vs Colly Doran
3pm Paddy digby vs Shortie Grimley
All Scores Must Take Place
Madden Fixture's
Madden road bowls
Fixtures 13th October
Tournament sponsored by madden social club.
Hughes 11:30am grade 3 Hugh Mc Cann v Johnny Moore
Low line 12:30pm grade 1 Bryan Oreilly v mick Oneill.
Bol Chumann Na Mierleach
Novice 3 Results
Pete Carr Beat Cillian Mallon
Declan Toal beat Ike Gribben
Frank Donnelly beat Niall McLoughlin
Fixtures Novice 3 Ulster Championship
Saturday 12th October
2:30 Stephen Donnelly grade 1 Ryan Gamble v Paul Doran
3:00 pm Semi Final Pete Carr V Wayne Creaney.
Sunday 13th October
Note early start time
10:30 Novice 3 Semi Final Frank Donnelly v Brian Carthey
11:00 Novice 3 Semi Final Niall O'Rourke v Declan Toal
Sunday 20th
Novice 3 final on Drumcairn
Sunday 27th
Overall Novice 3 Final Newtown.
Novice 3 Scores can't be cancelled due to time constraints will have to be played on the stated weekends
Newtown Fixture's
results
Saturday 5/10/19 (12:00)
Michael Nugent vs Gary smith
Michael won
Sunday 6/10/19 (11:00)
Ciaran savage vs Michael Nugent (baller)
Ciaran won
Another great semi final today two men were shot for shot at the start, Ciaran had a small lead at the quarry then a miler from baller put him back into the lead going down the hill. At Murphys ciaran took the lead again with two well placed bowl past murphys baller fell behind and went a shot out, the baller battled on but was not his day and the newtown man claimed his spot in the final of the road . Well done savo hard luck baller . No dout you will be back again
The final will be between two friends; the Clady man and the Newtown man, but like all big rivilrys there will be no friends on the day . Bragging rights will be on the line once again date and time will be posted on Facebook. Best of luck to both men
Keady Tassagh Fixture's
Carr Construction Tournament Oct 13 11o'clock score Paul o Reilly-1 v Kevin Mc Quaide
12o clock Martin Mc Gaughey v Barry O Reilly
Navan Fixture's
Hauliers Cup sponsored By Garvey Transport
11.15am Eoin Hughes vs Niall Smith
11.45am Caolan Smith vs Ciaran Corrigan
12.15 James Devlin vs David Devlin
Aaron Hughes vs Martin Hughes
Rock Road Fixtures
Sunday 13th oct
11AM Ryan Fay & Eoin Mc Veigh vs Niall Stevenson vs Darragh Gribben
12 Noon Raymond Finnegan & Oliver Gribben vs Seamus O Neil & Paddy Cullan
Message To All Clubs
Note to all. The Lord mayor Mealla Campbell is hosting a photo shoot in the palace main building on Wednesday 9th Oct at 8 pm sharp all clubs are invited at least 1 from each club. This is a unique opportunity to thank all clubs for their support and fundraising for team Emily before she travels to America next week.
Philip White Youth has taken yet Another Step Forward with Thanks to Bolchumann Northern Branch. From next Tuesday Night 7pm all youth are welcome to Sherry's Field Complex to take part in road Bowling on the Astro Turf . This Is Open to both boy's and Girls from 14 years and younger. We welcome any newcomer to our sport as this will continue every Tuesday Night in our winter Months. So come along and further your skills . All Clubs are invited any helpers Available please come along. 7pm this Tuesday night
The Bol Chumann Northern branch would like to Congratulate Michael Dougan in reaching the Novice 4 Ulster Final after Defeating Brian O Rourke in the Semi Final held on the Black Water road Last Sunday.
Sign Up To Our Newsletter