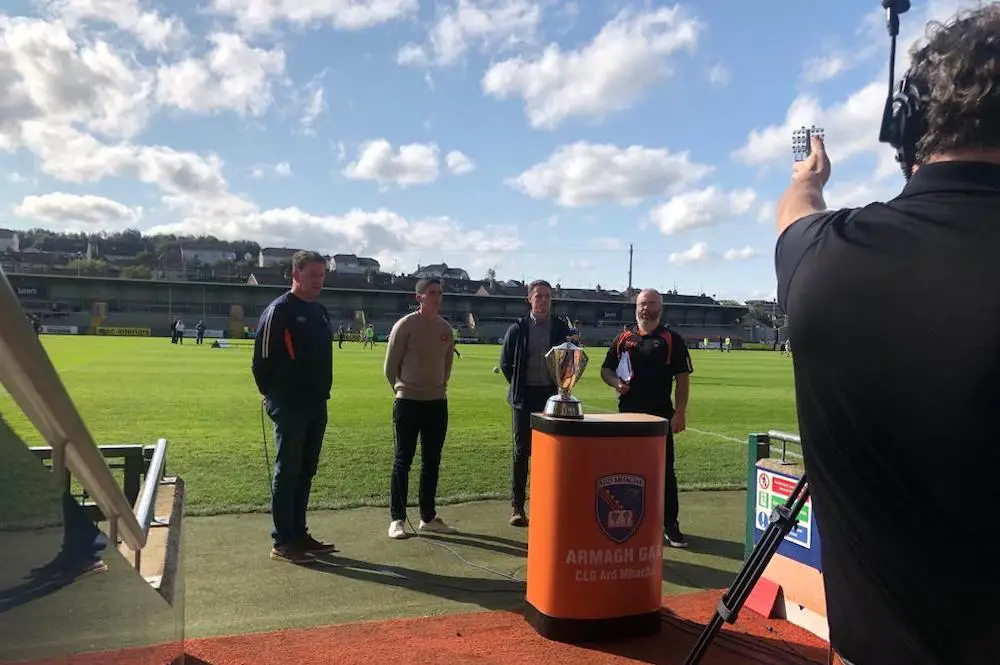 You have to start somewhere, as the saying goes – and for Linwoods Armagh TV, that was back in 2011 at the Armagh County Final following on from a casual conversation a year earlier.
Paul Heaney had dabbled in the idea of live streaming games and vaguely agreed to try it out for Armagh County Board in passing in 2010.
He didn't expect to hear anything more about it – let alone the day before the Senior County Final the following year. And when broached this time, his gung-ho bravado in the ability to pull it off was followed by an extremely nervous laugh.
Paul, Kevin Fox and a few others from the County Board, headed to Argos to pick up a few bits and pieces and Currys for a lead to connect a camera to a computer. They made their way back to the Athletic Grounds with supplies in hand and proceeded to hang the camera out of the media room and live streamed the action – without any commentary – while politely asking people in the stand in front of them to keep their heads down.
'Sounds like something from Father Ted', I suggest when The I on the Ball, proudly sponsored by Blackhill Energy spoke to Paul last week.
To which he replied, "that's a perfect description…It was like something you would do at your kids school play – but the concept worked."
In 2012 Armagh TV took the show on the road when they covered the Dr McKenna Cup match between Armagh and Cavan on a cold, wet, miserable night – perfect conditions for a livestream event.
They informed the Cavan County Board, put it up on the website and with over 60,000 viewers crashing the system – Armagh TV was born. "Nobody was doing anything like this," said Paul.
Getting the right commentators is a vitally important part of the process and with Damian McCullough, Barra O'Muiri and Paddy Savage, they seem to have found that perfect mix.
Paul tells us the story of Linwoods sponsorship and describes the very different personalities of the commentators who worked their proverbial butts off – along with the whole crew – to bring 41 championship games to the masses this unprecedented season.
One of those commentator's Paddy Savage (pictured below) also gives his take on Saturday's Ulster Championship semi-final against Donegal, his involvement with Armagh TV and how his own club, Cullyhanna, has been faring during these baron times.
For all of this and more, listen below or subscribe and download here: Apple Podcasts – Google Podcasts – Spotify.
Sign Up To Our Newsletter