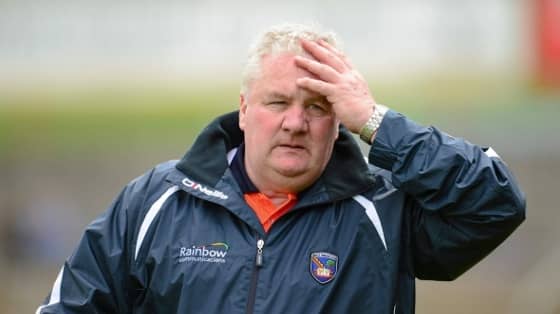 Paul Grimley, Armagh Senior Football Manager, has tendered his resignation to The Management Committee of Armagh County Board.
In a statement released by the Armagh County Board, they said: "Paul strenuously argued that it was the right thing to do as he had stressed on his appointment two years ago that he would embark on a development process and that he thought that the process was ready to progress to another level.
"The Management Committee of Armagh County Board wish to acknowledge the contribution of Paul, in terms of his energy, commitment, loyalty, vision and selflessness, to Armagh.
"Paul joined Paddy O'Rourke as Assistant Manager before accepting the Manager's position the following year. Paul served Armagh as a player, Assistant Manager for two terms and eventually Manager.
"Paul Grimley is big in stature and gargantuan in his commitment to Armagh. On behalf of everyone involved in Armagh we extend a hearty thank you to Paul and wish him well.
"Paul has asked for a period of rest and has expressed a desire to be able to relax with his family over the next few weeks."
Massive respect for PG & sad to see him step down.Always believed in us & has gave us a platform to push on.He will not be forgotten #topman

— Stephen Harold (@stephenharold1) August 13, 2014
Huge credit must be given to Paul Grimley despite what people may think for transforming Armagh's season around. Armagh to the backbone.

— Steven McDonnell (@Killeavy13) August 13, 2014
Official: Paul Grimley Steps Down. Thanks Paul for everything. An @Armagh_GAA Legend #Grimbo #GAA http://t.co/ah3IGsFHJp @officialgaa

— Armagh GAA (@Armagh_GAA) August 13, 2014
What a year! Well done uncle Paul pic.twitter.com/KzocaiYGo7

— Aisling Grimley (@aisling_grimley) August 13, 2014
Always had great respect for Paul Grimley, as he retires as manager of @Armagh_GAA Senior Team, a gentleman #Grimbo pic.twitter.com/stRjlHP6tI

— Fr Rory Coyle (@FrRory) August 13, 2014
Paul Grimley steps down as Armagh manager. Sad to see. Great progress for Armagh this year & Paul deserves credit. @amcleanbookies

— Adrian Logan (@OurLogie) August 13, 2014
Go on mcgeeney! And thanks to Paul grimley for what was a v exciting championship run @Armagh_GAA #mcgeeney

— alana fearon (@lansy12) August 13, 2014
Paul Grimley leaves @Armagh_GAA in a better place on his departure. Always found him to be honest, straight talking and courteous. #niceman

— Owen McConnon (@OwenMcConnon1) August 13, 2014
Thank you to Paul Grimley for his two years as @Armagh_GAA football manager and for finding some exciting new talent for the team! #Grimbo

— barry trainor (@barry_trainor1) August 13, 2014
Huge credit has to go to Paul Grimley who steps down as Armagh Manager today. He got rid of dead wood and gave a lot of young lads a chance.

— Francie (@francie_reilly) August 13, 2014
News that Paul Grimley has stepped down as manager with @Armagh_GAA Well done Paul on reigniting the county's ambitions #ArdMhachaAbu

— CarrickcruppenGAA (@Carrickcruppen_) August 13, 2014
Newsletter
Sign up for our weekly newsletter here.