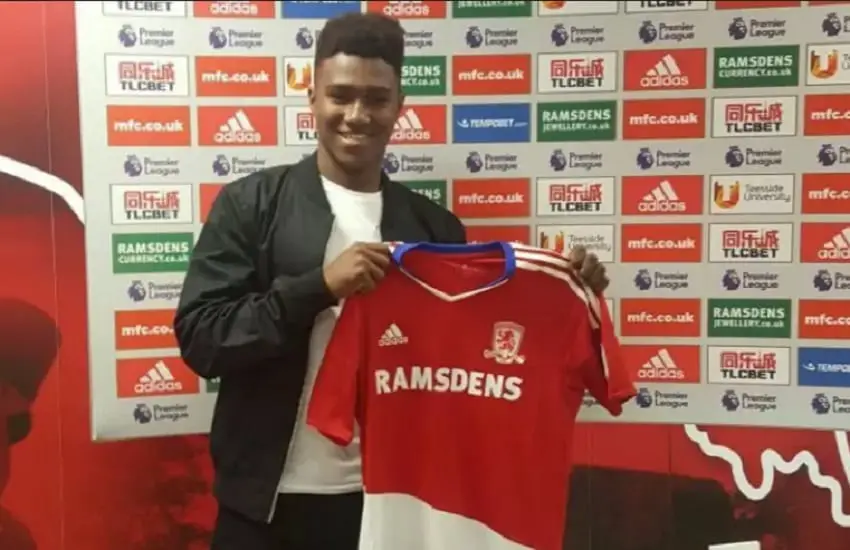 Co Armagh club Portadown FC have confirmed a partnership with English Championship side Middlesbrough.
The 1997 FA Cup winners have recently acquired the talents of one of the Reds' brightest young talents in Alberto Balde (main image).
A Ports spokesman said: "Portadown FC Youth are delighted to announce a partnership with Middlesbrough FC, which sees them become an official Club Partner of Middlesbrough FC, approved by the English FA.
"In doing so we become the first club in Northern Ireland to be an Official club partner of an English side.
"The current leaders of the English Championship, Middlesbrough FC Academy is regarded as one of the best in England for producing players and includes Alberto Balde who transferred from Portadown this summer.
"Recent success for the academy has included a number of players in the England U17 team who won the World Cup in 2017 and Nathan Wood-Gordon who became the first 2002 born player to play in English professional football last month.
"The Middlesbrough FC Academy, established in 1998, has provided a pathway for 98 players into first team football at Middlesbrough, and 18 have gone onto represent their country.
"These stats prove why PFCY are extremely excited about our partnership, Middlesbrough share exactly the same philosophy as ourselves on developing and giving young players the opportunities in football at an early stage.
"We now can provide a pathway not just into senior Irish league football but clear path into English football, at a club who have the same football principles we share."
Portadown Youth chairman Gary McCullough added: "We have developed appositive relationship with Middlesbrough FC over the last couple of years which has seen coaches and players benefit from learning and development.
"Following the recent transfer of Alberto this relationship has been further cemented by the agreement for Portadown FC Youth to become a Club Partner of Middlesbrough FC.
"This will allow continued learning and development for our players, coaches and from an overall club perspective.
"It's hard in Northern Ireland with the resources and time available to have players ready to step up into senior football here or even more so across to England.
"We feel with the guidance and professional experience that Middlesbrough can offer us and our players, we really can push the club and our players onto another level and help to keep us as one of Northern Ireland's most progressive youth academies."
PFC Club Chairman Ronnie Stinson said: "We would like to thank Middlesbrough FC along with our own youth committee for their hard work and commitment in bringing this partnership from a vision into reality.
"We look forward to working with Middlesbrough FC, building and developing the partnership further in the years ahead for continued success."
Martin Carter, Middlesbrough's Head of Global Recruitment added: "In 1998, since the academy system commenced, our chairman Steve Gibson's vision was to give opportunities to the players of Teesside and surrounding areas opportunities to become professional footballers.
"Obviously our recruitment has expanded, with our current Cat 1 status, and we feel it's imperative we compete nationally and internationally.
"Having spent time with the staff of Portadown Youth, you get a real sense of similarities in the way we deliver our programme to our players.
"I think we all agree it is about creating an environment for talent to flourish."
Sign Up To Our Newsletter