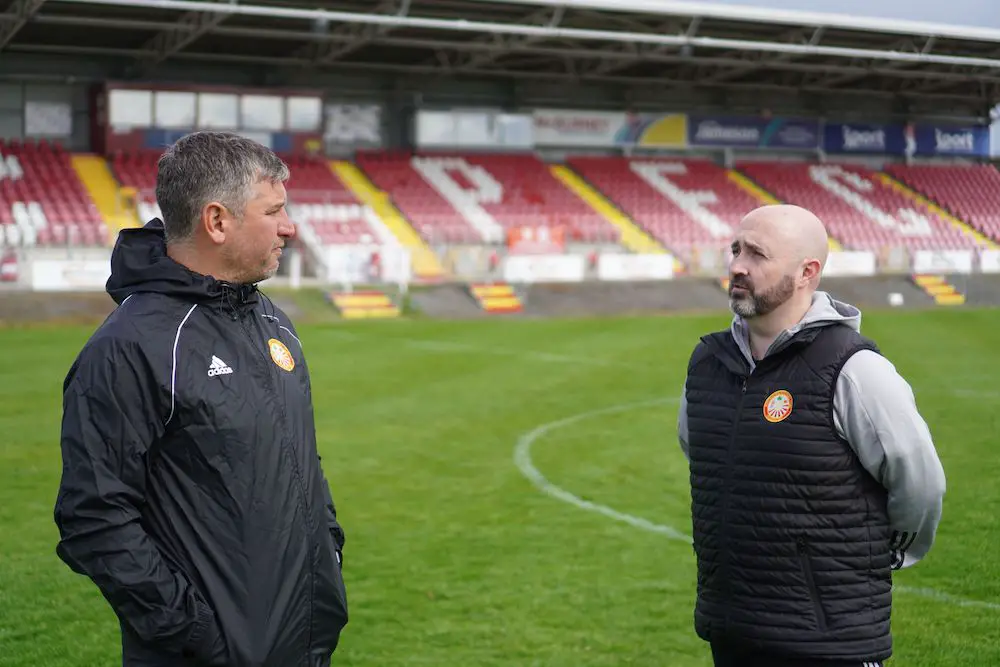 Portadown FC and Portadown FC Youth are delighted to announce the appointment of Peter Mullan to the role of Head of Player Development across both organisations.
This role has evolved following significant collaborations between both the senior and youth set ups over the past number of years.
Peter, a UEFA 'A' Licence coach, is no stranger to the club having made a significant contribution in various coaching and player development roles over the past 7 years in his work with the senior club.
This appointment follows on the back of the senior club confirming a 5 year contract in a full-time capacity for Manager Matthew Tipton.
Both Matthew and Peter will now work closely to set in place and shape a revised structure to oversee the coaching and development of players across the club. Peter will now focus on establishing and building a one-club culture and ethos with development aims and values shared across the club.
The implementation and creation of new and improved player development structures and processes will see further appointments made over the coming months.
Mullan commented: "I'm delighted to be offered the opportunity to expand my current role within the club. It's clear to see the ever growing ambition that the Board of Directors and Youth Committee have for the future. I have really enjoyed working with Matthew Tipton over the past few years.
"He is a forward thinking manager and I know that we both share the same vision and long term aims for the development of our players and the football club as a whole.
"I look forward to helping establish a shared culture and ethos that creates an environment and approach to player development that everyone can be proud of and thrive in. It is crucial that we now continue to drive on and aspire towards excellence across all levels of the club.
"Portadown FC and Portadown FC Youth are already well respected and recognised for their youth and player development work. There are so many people, coaches and players who have played a part in our past successes and over the past seven years I've enjoyed working alongside and learning from many of them. That experience has enabled me to develop a clear vision for how we can move forward together. Now is the time to build on all that good work and push on towards greater goals."
Tipton commented: "This is a really exciting appointment for the club and again shows the commitment of our Board and Youth section to ensure that we are challenging ourselves to improve. I look forward to working closely with Peter to deliver improved experiences right from our youngest players at 5 and 6 years of age through to our senior players."
Peter Hunniford, Director of Football, added: "On behalf of Portadown FC and Portadown FC Youth, I am absolutely delighted that Peter Mullan has agreed to take on the role of Head of Player Development.
"Not only is Peter a fantastic coach but also someone who has both the clubs best interest at heart along with a real desire to help young players achieve their potential. Youth development is a key element to our vision for the future and Peter's appointment is key to this."
Sign Up To Our Newsletter