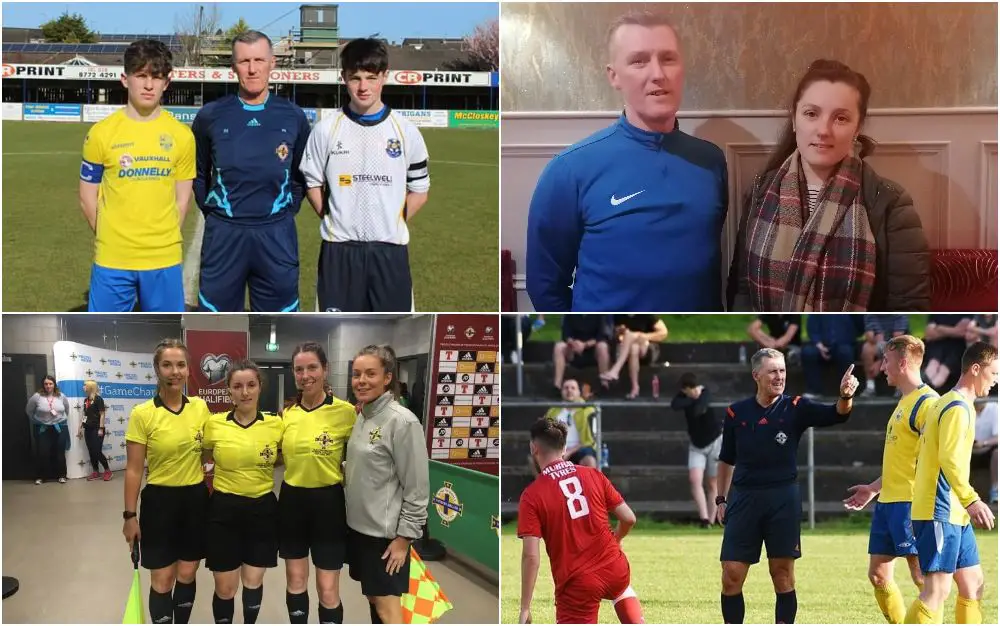 It's not that unusual to hear of a son following in his father's footsteps, in picking up a referee's whistle, but Gerry Murray and his daughter Lauren are trailblazers in that regard.
They are the only father-daughter referees in any code in the country and hopefully they will be trendsetters too.
Gerry played in Division 1 of the Mid-Ulster Football League for many years, before he swapped his club colours for his referee's kit.
Likewise, Lauren was involved in youth football training with her husband, where she began refereeing, before taking up the job at a professional level.
For this episode of The I on the Ball, proudly sponsored by Blackhill Energy, we spoke to Gerry and Lauren about their refereeing careers to date and the challenges – and joys – of the job.
"In my opinion, by a long, long way, the most difficult thing is getting offside right," says Gerry, of the challenges on the pitch.
Lauren agrees, and both struggle with constant changes to the handball rule, not to mention diving, or 'simulation' as it's technically called.
Lauren refereed the IFA senior Women's Football final last year and also regularly referees Mid-Ulster men's fixtures.
"Sometimes at the Ladies football I tend to get more dissent," she says when comparing the different attitudes between men and women towards female referees.
The father and daughter took their referee fitness test a few weeks ago, which I suggest must have been a lovely bonding session.
"I don't know if you'd call it that or you'd call it torture, to be honest, but it certainly comes in-between that somewhere," laughs Lauren.
But, both would encourage men and women to take up the whistle given the benefits and experiences the job brings.
We also caught up with the managers of two teams we spoke to before the Mid-Ulster Football League began.
Division 3 table-toppers Bessbrook United hosted Mindwell FC, at Orior Park a few weeks ago and they drew 2-2.
We spoke to Brook manager Ben Treanor about their league so far, and likewise, Mindwell Manager David Dawson, whose team are also off to a flying start in promoting mental health awareness, in the football world and beyond.
For all of this and more, listen below or subscribe and download here: Apple Podcasts – Google Podcasts – Spotify.
Sign Up To Our Newsletter