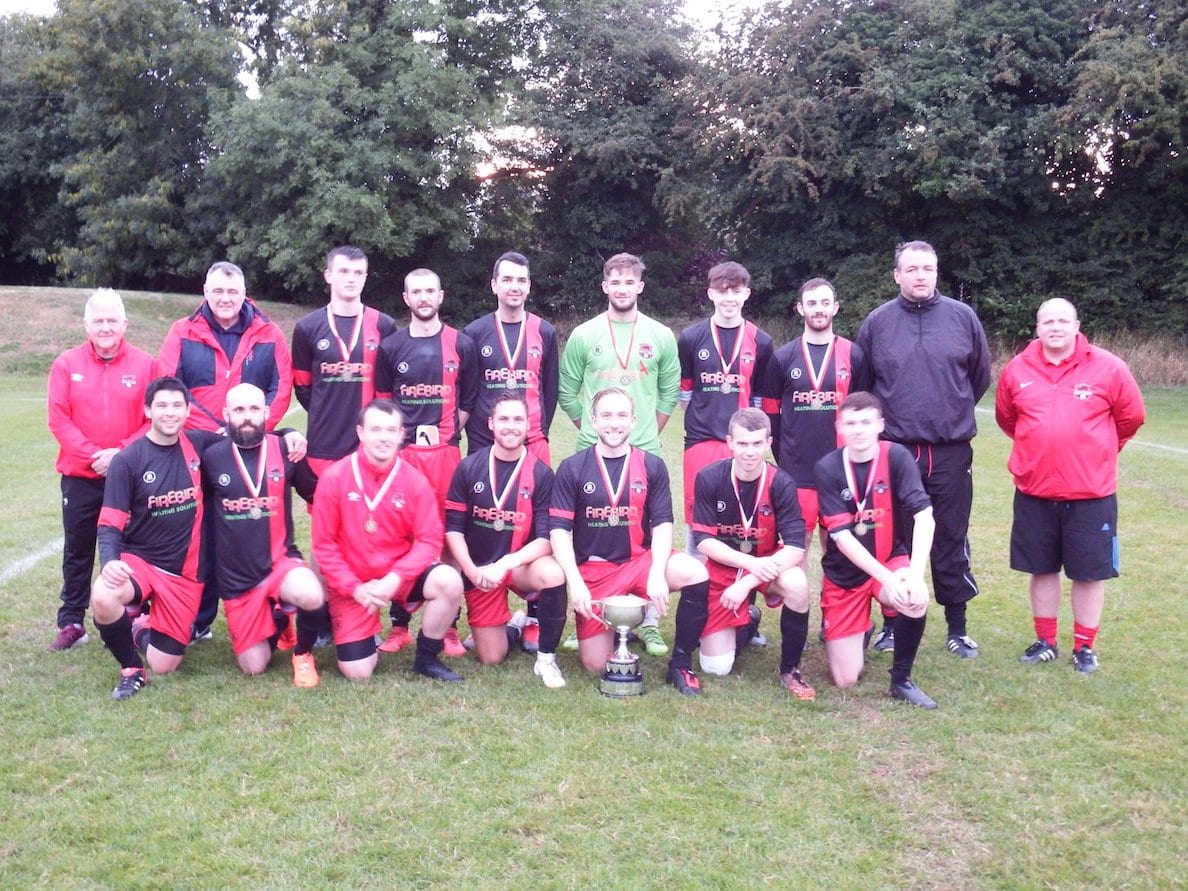 Armstrong Cup Final – FMT 1 – 0 Armagh Blues (Extra Time)
The Blues, who had been reduced to ten players after 60 mins, put in a gutsy and well organised team performance and will take great confidence from this display having been narrowly beaten after extra time by a strong and experienced Fivemiletown team.
The Town had settled in quicker than the Blues and made their intentions known after just six minutes when they were denied an opener but for 'keeper Philip McCoy who made a brilliant one handed save pushing the
low strike around his left hand side upright.
The Tyrone side continued to manage the game with Chris McDowell marshalling his defence, containing any threat from the Blues forward line.
It was the Blues however, who almost took the lead in the 15th minute when Gareth Dobbs strike at the back post narrowly missed the target after several headers had been won following a corner.
The Town were also making inroads particularly up the right flank with the Blues well organised defence holding firm, however picking up several bookings in the process.
They were again denied a goal just before half time when McCoy saved with his feet when confronted by Mark Mulligan who had beaten the off side trap. Half Time 0-0.
The Town continued to have the slighter upper hand and should have taken the lead in the 55th minute when Ethan Jordan fluffed his opportunity when in front of goal with only the keeper to beat.
Blues introduced William Crozier to their attack in an effort to disrupt the flow and it wasn't long before he started to add his muscle to the front line who up to that time had been well contained by McDowell, FMT's best player on the night.
Indeed it was the Blues who thought they had taken the lead but Adam Cooke's 65th header at the back post was disallowed when it was ruled as marginally offside.
The match had entered a feisty period with enthusiastic tackling leading to a number of bookings and became a big game changer when the Blues central defender Adam Breaky was given his marching orders after a second bookable offence.
The Blues reorganised and despite added pressure and some quality saves from McCoy, FMT were unable to break the deadlock with Sean Duffy guilty of missing two golden opportunities in the dying moments, both efforts missing the target from very close range.
The match entered the first period of extra time and FMT finally broke the deadlock after seven minutes when Ivan Carson took a through ball, which he controlled with his chest, and slotted it into the Blues net from 12 yards giving McCoy no chance.
Despite efforts by the Blues to level the score FMT held out and were worthy winners in a very entertaining and well supported match which was well officiated and fully enjoyed by the large crowd present.
Sign Up To Our Newsletter