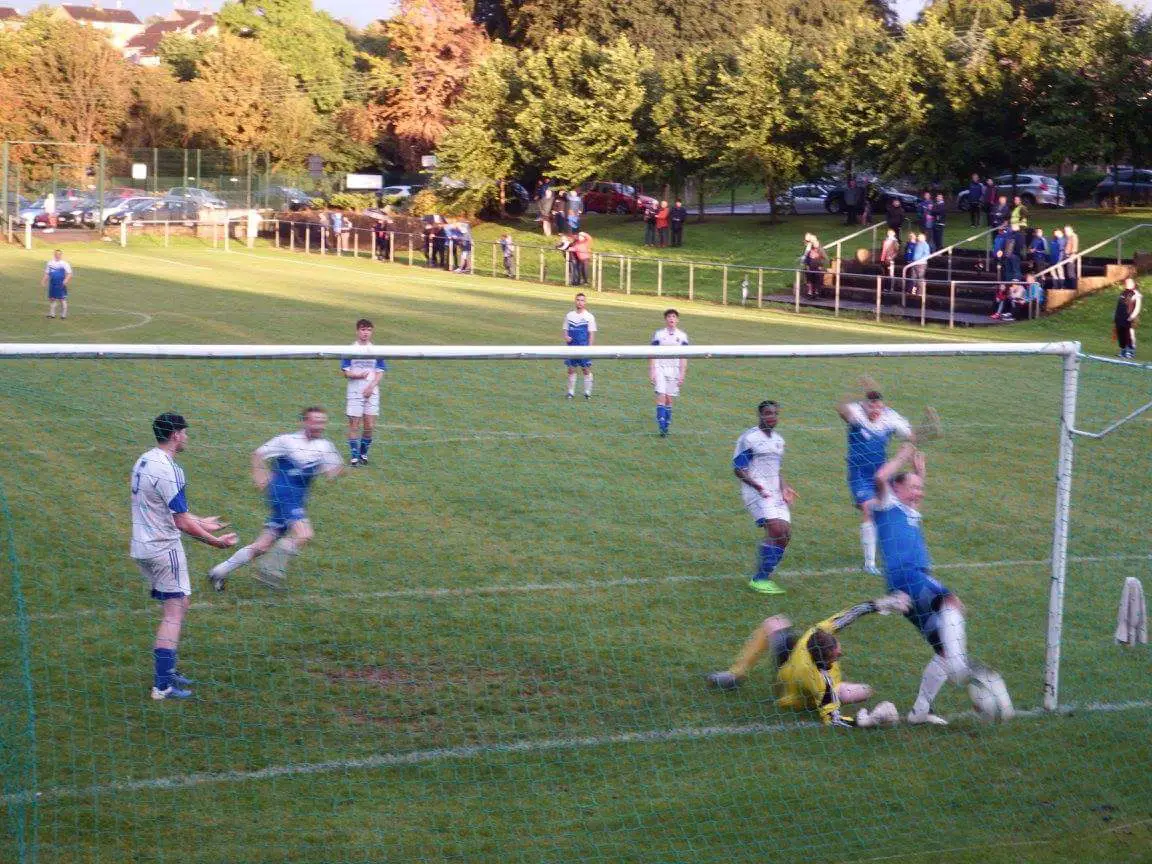 Armagh Blues 2 Armagh City Reserves 2 AET (City win 5-3 on penalties)
Armagh City Reserves needed a nail-biting penalty shootout to book their place in the next round of the Armstrong Cup.
Armagh Blues spurned the opportunity to see off their city rivals in normal time, missing a spate of chances in the first half, before paying the price in cruel fashion.
City Reserves worked hard to contain the constant pressure with their central defender Conor Murtagh and right back Charles Jones putting in solid performances backed up by three superb saves made by keeper Aaron Wright.
Having already hit the upright and another effort cleared off the goal line Blues best opportunity to take the lead came in the 21st minute when Kyle Johnson was pulled down inside the penalty area, however, his subsequent spot kick was well saved by Wright.
City Reserves best effort came just before half time when three successive corners were scrambled to safety by an under pressure Blues defence.
Blues kept up the pressure as the second half began with both Johnson and Stuart Wells coming close but again failing to capitalise on good goal scoring opportunities.
City Reserves were coming more into the game with Gerson Rosario creating several opportunities through midfield.
It was from another Blues attack on 73 mins that City's long clearance gave Ernestus Verencus the opportunity to hold off Dean Nicholl before rounding the 'keeper and slotting the ball home.
Two mins later City almost scored again when Rosario cracked the ball against the crossbar from a 20 metre free kick.
The Blues retaliated and kept up the pressure earning themselves a well-deserved equaliser when Dodds long throw was flicked on by Adam Cooke and headed home by Nicholl.
With no further goals it was City who again took the lead within the first three mins of extra time when the Blues defence failed to clear a low crossed ball which was latched onto by Rosario who toe poked it over the line.
Blues continued to attack and were again rewarded with an equaliser in the second period of extra time when a long free kick from the half way line was headed home by Nicholl.
Penalties ensued with both teams scoring until the Blues third spot kick was blasted wide by Johnson. City continued to hold their nerve scoring their remaining two penalties and they now meet Laurelvale on Tuesday, July 25.
Armagh City Reserves versus Armagh Blues Armstrong Cup
Armagh City Reserves versus Armagh Blues Armstrong Cup
Armagh City Reserves versus Armagh Blues Armstrong Cup
Armagh Blues Armstrong Cup
Armagh City Reserves versus Armagh Blues Armstrong Cup
Armagh City Reserves Armstrong Cup
Sign Up To Our Newsletter