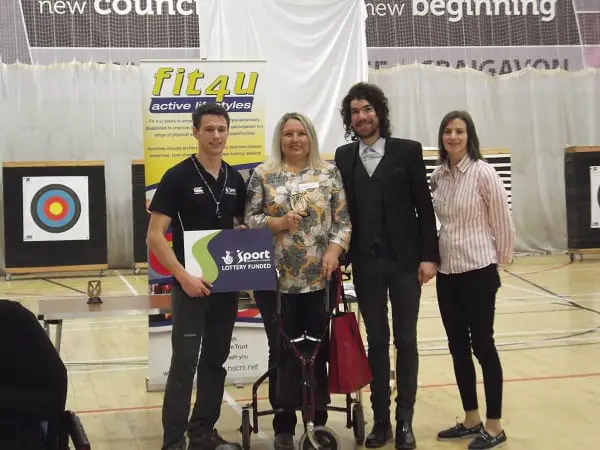 The Southern Trust Fit 4 U Project recently co-ordinated an Archery Competition for people with physical/sensory disabilities from across the Trust area.
The event was organised in partnership with Sport NI funded, Everybody Active Coaches from Armagh City, Banbridge and Craigavon Borough Council.
People with disabilities from across Armagh, Dungannon, Craigavon, Banbridge, Newry and Mourne participated in a competition at Banbridge Leisure Centre on December 8 2016.
Following several rounds of competition, the results were:
Group 1: 1st place Eric Flowers, 2nd place John McKenna, 3rd place David Wylie
Group 2: 1st place Beverley Jory, 2nd place Michelle Keenan, 3rd place Catherine Kowalska
Group 3: 1st place Joanne Thompson, 2nd place David Magee, 3rd place Ann Chesney
Highest Individual Score: Jacqueline Gee
The event was attended by the Lord Mayor of Armagh City, Banbridge and Craigavon Borough Council, Garath Keating, who presented the awards at the competition.
Rhonda Richardson, Fit 4 U Co-ordinator said: "There are many health benefits to be gained from participation in the sport of archery; it promotes co-ordination, concentration and provides an opportunity for achievement and fun with other people."
Joanne Thompson, prize winner added: "I was delighted to participate in the archery competition; I was very pleased with my scoring and to be the winner of my group. I am amazed how well I did in the competition and the coach was so good. It was very exciting and thank you to everyone involved. Archery is a sport that can be played by everyone and it was really good to see people with different disabilities taking part."
Matthew McNicholl, Everybody Active Archery Coach said: "It was great to see such a good turnout for the competition and some really competitive scoring. Well done to all the participants who took part, some of whom had only taken up archery in the last month. I would also like to thank Ballyvalley Archery Club for the use of their equipment and assistance in organising the event."
The Fit 4 U Project is funded by the Public Health Agency and led by the Southern Health and Social Care Trust in partnership with other organisations. It aims to empower people with physical/sensory disabilities to improve their health through participation in a range of physical activity and leisure opportunities.
If you would like to find out more about the Fit 4 U Project and other activities available, please contact Rhonda Richardson, Fit 4 U Co-ordinator, Tel. 028 3741 2129 or email rhonda.richardson@southerntrust.hscni.net.
Sign Up To Our Newsletter