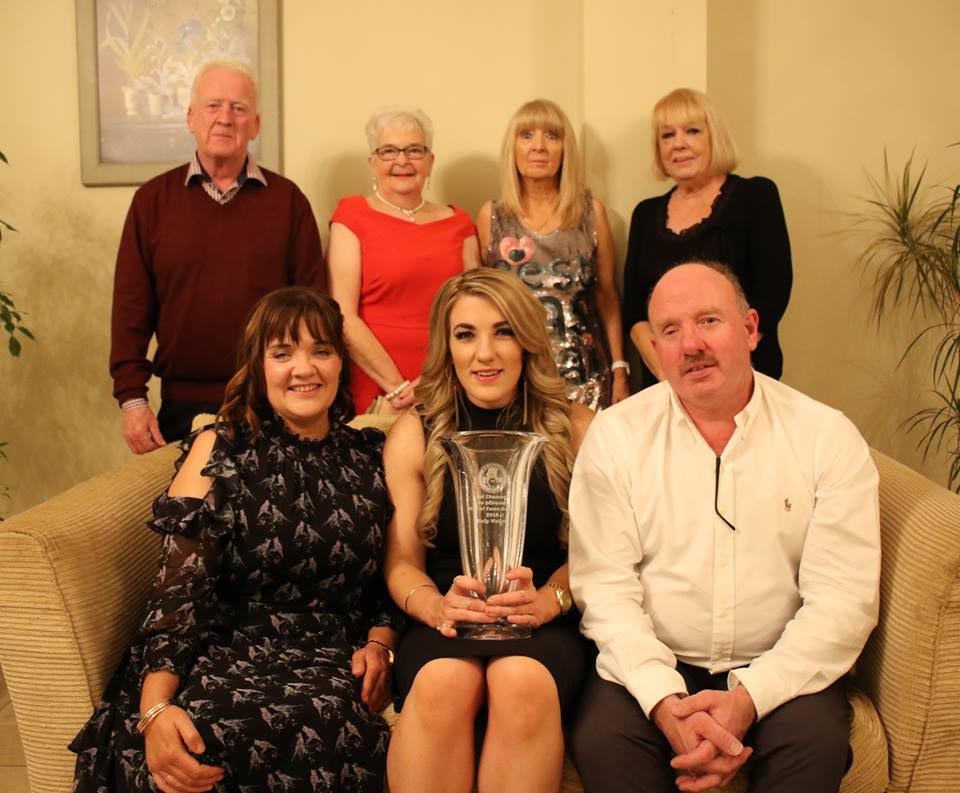 Armagh's Kelly Mallon was crowned Queen of the Road after victory over Silke Tulke from the Netherlands in Cork on Sunday.
Both ladies began strongly but it was Tulke who was to gain a big lead over her rival after the third shot.
Mallon was soon trailing by over 80 yards before Tulke was to rise a full bowl of odds heading towards the halfway stage of the contest.
Mallon battled on but then was to show what she's made of with an incredible shot to cut the corner and 80 yards down the straight to bring the score back level, with Tulke only leading by a mere 10 yards.
Mallon again has stepped up another gear with yet a fantastic pile driver to grab the lead for the first time to leave Tulke reeling.
The Dutch woman could not follow Mallon's throw and found herself a bowl out.
The crowd were stunned as Mallon yet again kept producing massive shots, pressuring her opponent with every throw.
Tulke, who was crowned Queen last year, knew that with only five shots left, she had to produce something special to reel back the deficit between the pair.
At the creamery wall, the bowl was knocked with Mallon still in front by 70 yards, however, the Armagh woman misplayed her next shot to bring the score back level.
Tulke seized upon the mistake and hit a great bowl, putting her Irish opponent under pressure once again.
The contest was on a knife-edge with only two shots remaining and Mallon holding the slenderest of leads – a three-yard advantage.
Tulke then threw an average shot leaving a golden chance for Mallon to put odds on Tulke and indeed she duly obliged to beat the tip 60 yards with the winning line in sight.
A last ditch effort from Tulke wasn't enough as she failed to score the line. Mallon then Played the perfect bowl to score the line and take the Crown.
Mallon who has eight All-Ireland's to her name created more history by taking the Queen off the Road title for the seventh time.
Words could not describe the success which Mallon has enjoyed throughout her bowling career – simply the best female bowler our generation will ever see. Congratulations to the Mallon family and to the Madden club – the party has just started.
Toal wins the Jim O' Driscoll Cup
Peader Toal, All-Ireland champion in Ballyvourney, Cork this year in the Men's Intermediate, was to yet again face Michael Bohane – a rematch of the All-Ireland final.
Both men were shot for shot throughout the whole score with big throwing from both men. Toal who certainly had to produce on the day, went on to win with the last shot.
Donnelly wins The McCarthy Cup
​Sean Donnelly, who lost out in the men's All-Ireland final this year was to meet Mick Hurley in the McCarthy cup.
Donnelly was to lead after the first shot and held his lead after three shots each. Donnelly then played two great shots to see a full bowl in the score. Hurley battled away but it was Donnelly who was in great form and took the honours by over a bowl of odds.
There was no such luck for Michael Rafferty who lost out to a very impressive winner, Vincent Kiely, by a bowl of odds.
Also Thomas Mackle failed to qualify on Sunday as he lost out to Aiden Murphy. Cathal Toal lost out to Gary daly who went on to be crowned champion. Dervla Toal lost out to Silke Tulke in the Queen qualifier.
Congratulations to Gary Daly who beat Aiden Murphy in this year's final to be crowned King Of The road Champion.
Daly who is well known in the bowling scene north and south has been bowling brilliant to qualify and had knocked out some big names along his way so such a great achievement for Gary, well deserved.
Greene Reaches Ulster Final
​Philip White Tyres Ulster Championships, John Mc Gleenan Memorial Cup, sponsored by West Armagh Consortium
Michaela Greene was to Meet Lilly O Rourke and Ellie May Carr last Tuesday night in this year's Semi Final of the Girls' Under 14 Ulster Championships held on the Navan Road.
The score was to start and Carr and Greene hit two great first shots. O Rourke trailed by 30 yards. Carr played a great second shot to almost reach the top of the hill but it was soon followed by Greene.
O Rourke was to soon fall a bowl behind. Heading to the ring corner both Carr and Greene were level bar five yards with Greene front bowl.
Carr played an average shot half way down the straight but the shot off the championships was soon to come as Greene played a very fast bowl to reach the full lane at Crosses to be front bowl 50 yards.
O Rourke at this stage was trying very hard but still trailed by over a bowl. Carr played a good shot past the lane but once again Greene was in top form with an outstanding shot leaving the finishing line in sight. Carr put pressure on with a last ditch effort but failed to reach the line.
Michaela Greene who represent's The Madden club scored the line to reach the Ulster Final against Anna Carson, which will take place on October 20.
Hard Luck to Runner's Up Lilly O Rourke and Ellie May Carr. we would like to congratulate all thrower's who took part in the Ulster Championships it was a pleasure to see you all compete in such a high standard.
The Philip White youth for girls under 14 will start in 2 weeks for all competitors who lost in the Ulster Championships.
Next Weeks Fixtures Around the local clubs
Navan Fixtures
Hauliers Cup
sponsored by Garvey Transport
Sunday 6th Oct
11.15 am Austin Mc Keown  vs Ruairi Hughes
12pm  Finton Daly vs Oliver Kearney
12.30 Hugh Mc Coy vs David Devlin
1pm  Gavin Hannaway  vs Ethan Hughes
Bol Chumman Na Mierleach
Fixtures Novice 3 Ulster Championship
Results Wayne Creaney beat Ciaran Mullen
Fixtures
Saturday 5th October
1:00pm Killian Mallon v Pete Carr Senior
1:30 Stephen Donnelly Sheild G3 Paul Mc Parland v Daire Connolly
Sunday 6th October
11:00 Novice 3 Frank Donnelly v Neil McLoughlan
11:30 Novice 3 Ike Gribben v Declan Toal
Sunday 13th
Novice 3 Semi finals
Sunday 20th
Novice 3 final on Drumcairn
Novice 3 Scores can't be cancelled due to time constraints will have to be played on the stated weekends possibly for throwing on the Saturdays only if the other thrower agrees.
Newtown Fixtures
Great semifinal today, the two men started were nervous to begin but after the first couple of shots both men got well into their stride. Then at the quarry Benny hit a miler and took a good lead, Mickey threw well to stay in the game but his last bowl got a bad knock and went a bowl out, this being the last action of the game. Fixtures Saturday 5/10/19 (12:00) Michael Nugnet vs Gary smith Sunday 6/10/19 (11:00) Ciaran savage vs the winner of Michael Nugnet our Gary smith
Jimmy swing mc Donald vs brian bonzo snr carthey ( score of the year ) brian started strong favorite agaisnt his older opponet as the power differnce was substantial but with brians bullets going a bit way ward from time to time the swing put his age to use showing experience beats power if its used correctly with spectacular accuracy nerves of steel swing crossed the line with only inces to spare proving its the pup for the pad and the owl dog for the hard road '
Third score (6:00)
Mickey hannaway vs Nico kelly
Mickey won
Sunday 29/9/19 semifinal
Benny Davidson vs Mickey hannaway
Benny won
Great semifinal today, the two men started were nervous to begin but after the first couple of shots both men got well into their stride. Then at the quarry Benny hit a miler and took a good lead, Mickey threw well to stay in the game but his last bowl got a bad knock and went a bowl out, this being the last action of the game.
Fixtures
Saturday 5/10/19 (12:00)
Michael Nugnet vs Gary smith
Sunday 6/10/19 (11:00)
Ciaran savage vs the winner of
Michael Nugnet or Gary smith
Congratulations to Benny in Reaching the Ulster Final we wish him the best off luck in winning his first Ulster Title
Tieve Tara Fixtures
Sunday 6th Oct
Challenge  scores
11.15am Don Stevenson & Davy Clarke vs Joe Mc Veigh and Franko Oliver
12pm  Paul Mullen vs Sean Dillan
2pm  Paddy O Neil & Damian Daly vs  Eamon O Neil & Finton Daly
3pm  Jake Cullan vs Eugene Mc Veigh
Portmor Road Bowls
Fixtures
Sunday 6th October
Currans 10.30am Barney Lavery Cup
Patrick Mackle and Keith Lavery v Aiden Conlon and Ethan Hughes
McGrails 11.15am
Malachy Lennon and Gavin McArdle v Caoimhin McGleenan and Michael Kelly
Village 12 noon Novice 4 Championship
Roberto O'Driscoll v Maurice Cullen
McGrails 12.30pm Novice 4 Championship
Michael Dougan v Brian O'Rourke
Results
Barney Lavery Cup
Gareth Lavery and Damien Quinn bt Martin and J D Donnelly 2/bwls
Novice 4 Qty Finals
Brian O'Rourke bt Jim McLoughlin l/st
Roberto O'Driscoll bt Patrick Tierney 2/bwls
Maurice Cullen bt Damien Smyth 1/bwl
Last couple of Lotto winners were Radha McLoughlin with number 17 and Michael Daly with number 41.
Sign Up To Our Newsletter
Sign up to our newsletter for major breaking news stories as they happen – right to your inbox.