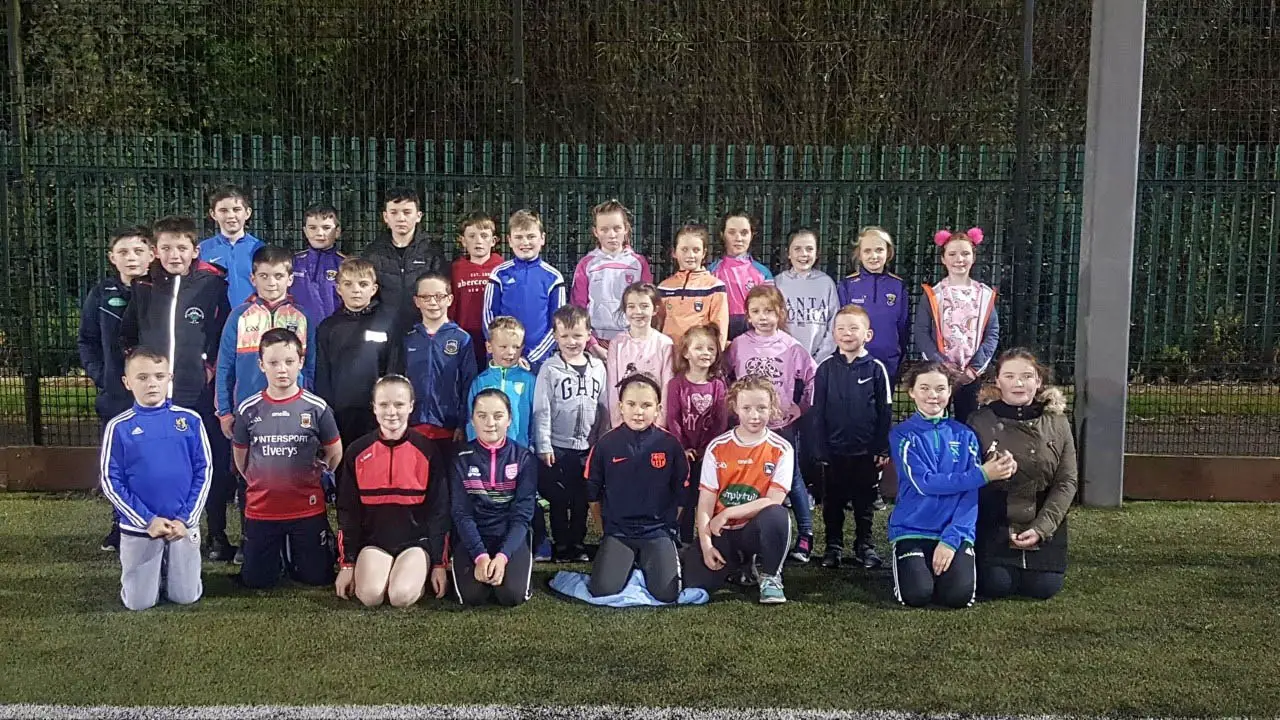 Philip White Youth
It is With great Pleasure to Announce That the Philip White Youth that has been in existence   Now for over 20 years can only be described as getting stronger each year. From the start off the year each club from Armagh/ Tyrone  has taken time out to spend with the young children and the results has paid off with Ulster Champions plus All Ireland Champions coming through the ranks. Our Main Sponsor Philip White Tyre's was Always  about the youth and Rightly so as we need to keep this generation going for many years to come. Sherry's Field last Tuesday night was the next mile stone for the youth. This was open to both boys and girls from the age off 4 right up to 14  that had little or no experience in bowling (Bullets) off Course we had experienced youth on the night and it was a great pleasure watching them help other children out in their run and the delivery off the bowl. The Venue Has an Astro Turff Surface so completely safe in every way especially with the adult Volunteer's at the Helm. We the Northern Branch would like to encourage all Children from different clubs plus their friends ,(Don't have to be member's)  come down This Tuesday night 7pm  and give it a go as it will continue through the winter Months on a weekly Basis .
Team Emily
Last Wednesday Night Member's From each club gathered at the Palace Stables to meet local Mayor Emilia Campbell in Support off Team Emily. Emily Toal Daughter off Martin and Ciara  has a rare condition called  Thrombocytopenia absent radii Syndrome and when this come to light the Toal family new they had a long road ahead as their Daughter Emily would need to travel to America for her operations.
Lord Mayor of Armagh Mealla Campbell welcomes Road Bowls Representatives from Armagh Cork and North America who raised over £48000 for Team Emily to The Palace Armagh Co.Armagh
9 October 2019
CREDIT: www.LiamMcArdle.com
The Road bowling has been the main passion for the Toal Family throughout the years and will certainly continue for many years to come. Different clubs from Armagh certainly didn't hold back in any way when they first heard that Emily needed Help. Fundraising was Priority and with Many of charity scores been held both Armagh and Cork between each club plus or American Friends the Support that had been shown was just Phenomenal. Our Chairman off the Northern Branch Chris Mallon wished  the Toal family every success in America He  also thanked The Lord Mayor for her support shown on the night and to all the clubs involved  for yet again coming up trumps when needed.
Cullen the new Novice 4 Ulster Champion
Black water was the Venue last Sunday when Ulster finalist's Maurice Cullen who represents the Moy Road was to meet Black water Local Michael Duggan  in this year's Ulster Final. Cullen took the opening throw by 40 yards. Duggan unlucky with his next shot  leaving  Cullen  a shot in front at the cap bowl area. Heading towards the orchard Corner Cullen Misplayed and with Duggan throwing a great shot seen the score Level. Both men took 3 shots each to pass the lane on the left but it was Cullen who once again extended his lead by 60 yards by Hughes house. Duggan now was trailing towards the bus shelter and after missing the corner found himself a full bowl out. Maurice then new the title was  in his sight with only two shots remaining and indeed took the opportunity with honours by delivering yet again another brilliant shot towards the chicken Houses to become the New Novice 4 Ulster Champion. Hard luck to Michael Duggan Gallant runner up.
Next Weeks Fixtures
Navan Road Bowls
Sunday 20th Oct
Philip White Tryes Ulster Championships
John Mc Gleenan Memorial Cup
sponsored By West Armagh Consortium
11.15  Anna Carson vs  Michaela Greene
Haulier Cup
11.45 Caolan Smith vs Ciaran Corrigan
12.15 James Devlin vs David Devlin
Aaron Hughes vs Martin Hughes
Portmor Road Bowls
Fixtures
Sunday 20th October
Currans 10.30am Barney Lavery Cup
Frank Oliver and Mickey Donnelly v Ronan Toal and Pat. O'Hagan
McGrails 11.15am
Philip Corrigan and Karol Donnelly v Barry Mallon and Pat Lennon
Currans 12noon
P D Donnelly and Neil McLoughlin v Paul Mackle and Jaime Lennon
McGrails 12.30pm
John McKeown and Tony Daly v Seamus Conlon and Joby Donnelly
Results
Novice Four Ulster Championship Final Sponsored by Philip White Tyres
The Novice Four Ulster Championship Final was played over the Blackwatertown Road course last Sunday morning and although the inclement conditions made thing's difficult both throwers produced a terrific final.
Cullen won the openers from Currans and bowled themself info a great position after two big shots to Connollys. Duggan already a shot out was in trouble however a brilliant bowl to open the Orchard Corner gave him an narrow lead. They matched each other shot for shot approaching the final stages and just when this decider looked sure to go right to the line a mistake from Duggan when he failed to open McCuskers Corner when well placed was punished by Cullen as two great bowls across the final straight gave him a deserved Ulster Title.
In Portmor's on going Partner Tournament for the Barney Lavery Cup Conail Gribben and Michael Daly were in terrific form as they easily prushed aside the challenge of Paddy Donnelly and Jim McLoughlin.
Last week's Lotto winner was Gavin Hannaway with number 31.
Rock Road Fixture's
Sunday 20th Oct
11am Kieth Campbell vs Seamus O Neil
11.45am  Darragh Gribben vs Eugene Mc Veigh
Congratulations to the Eglish club In winning the Team Challenge Last Sunday
Tieve Tara Fixture's
Sunday 20th  Oct
Duffy Cup
11.15 am  Aidan O Reilly vs Shay Mullen
Conor Daly vs Diamian Mc Veigh
2.15pm
Michael Rafferty vs Paul Murphy
3.15pm  Raymond finnegan vs Johnny Rafferty
No Cancellations
Bol Chumann Na Mierleach
Results Novice 3 Wayne Creaney beat Pete Carr
Niall O'Rourke beat Declan Toal
Fixtures
Sunday 20th
Novice 3 final on Drumcairn
11:00 Frank Donnelly v Wayne Creaney v Niall O'Rourke
11:30 Stephen Donnelly grade 1 Shane Feighan v Paul Murphy
Congratulations the club man Maurice Cullen in winning the Ulster Novice 4 Final. Well done Maurice it goes to show your commitment and dedication over this year has payed off.
Tullysaran Fixture's
Sat 19th October:
Chapel, 3.30pm: Challenge: Sinead Lennon v Tammy Mullen
Anne Marie Smyth Cup: (Entry fee £4.00)
O'Neills, 4.15pm: Dervla Mallon v Aoife Trainor (Mkrs: Teresa and Vera)
Point Road, 5pm: Siobhan Mackle v Elaine McGrady
Sunday 20th Oct: Sam Rooney Cup:
These scores cannot be postponed:
Chapel, 3.30pm: Shane O'Neill and John Kernan v Cormac Conlon and Tiernan Killen (Mkr: Mickey Dougan)
Knipe's, 4.15pm: Frank Donnelly and John Lennon v Aidan Conlon and Tom Mullan snr
Best of luck to Frank Donnelly, throwing at 11am on Moy Road.
Madden road bowls
Fixtures for Sunday 20th October
Hughes 11:30am tournment sponsored by madden social club Steven Oreilly v Patrick Carr.
Low line 12:30pm grade 2 Danny Carragher v Bryan Kierna
Newtown Fixture's
No scores on NTH today as Niall o rourke throwing on moy rd next weekend fixtures Saturday evening (17:00) novice rd final ciaran savage vs benny Davidson no scores on Sunday due to Niall o rourke in final of novice 3 on the moy rd On behalf of all the road bowls club we would like to wish bonzo (Brian Caherty) a speedy recovery from his recent arm injury.
Sign Up To Our Newsletter