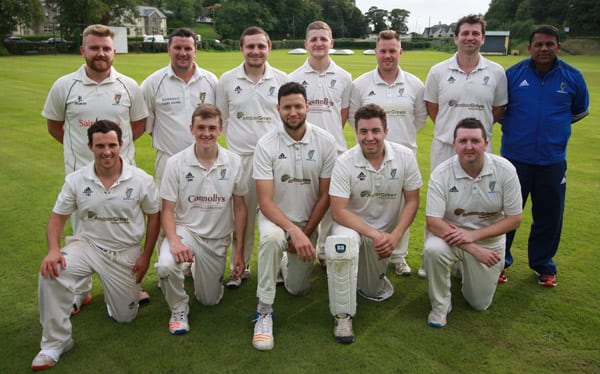 Armagh Cricket Club made a great start in the Robinson Services Premier League on Saturday when they defeated Muckamore away from home.
The last time Armagh played in the top flight of NCU cricket was 1955 some 63 years ago.
After a long winter of indoor nets at the Royal School under the watchful eye of new Head Coach Bruce Topping the Armagh side were eager to get the season started and they certainly didn't disappoint on the big stage.
Armagh captain Matthew Steenson lost the toss to which Muckamore unsurprisingly elected to bowl first on what was a green and soft wicket after the recent inclement weather.
Neil Gelston and Jamie Rogers opened the innings with both working really hard in difficult conditions to rotate the strike and running hard between the wickets when the opportunity arose.
Gelston would be the first to fall, bringing Sammy Wilson to the crease who also battled hard against the new ball with the pitch at its most lively. Wilson looked to be in good form until misjudging one from the Muckamore skipper Gill and being bowled.
This brought Armagh's new South African professional Shadley van Schalkwyk to the wicket and the all-rounder wasted no time striking two boundaries in his first over, immediately finding a fluency that no other batsmen found easy.
Colin Russell and Matthew Steenson looked to bat in a supporting role to the increasingly dominant Van Schalkwyk and help push the score beyond 150.
Both of the middle order batters were dismissed for 18 runs trying to attack the death bowling of the home side. Van Schalkwyks fifty was brought up after smashing the part time off-spin of Sammy Gordon for two sixes in the same
over.
A wonderful debut innings from Van Schalkwyk ended prematurely on 56 when he looked to go straight and was caught and bowled by a fantastic catch from opening bowler Gary Nicholl, but the Armagh players and supporters got
a glimpse of how good their new professional could potentially be.
Michael Hoey and Alan Whitcroft showed some good pace running important singles to get Armagh to a competitive total of 171-8 from their 50 overs.
Armagh captain Matthew Steenson was pretty happy with this total considering conditions he was confident his bowling attack would be able to defend the total.
Ben Mackey looked to start where he left off after his remarkable debut season and he certainly didn't disappoint taking the first Premier League wicket for the side with Craig Drummond perhaps slightly unfortunate to be
trapped leg before wicket.
Van Schalkwyk and Mackey looked to be in great rhythm causing the home side problem as they looked to score and the
youngster picked a second when he bowled Stephenson with a superb inswinging delivery.
Not to be outdone, Van Schalkwyk picked up his first of hopefully many NCU wickets when he clean bowled left hander Gordon with an unplayable peach of a ball.
At this stage Muckamore attempted to rebuild their innings from the carnage of 16-3 with Armagh cock-a- hoop with their early success but although Knights squad player Jamie Magowan and Adey added almost fifty for the 4 th wicket it wasn't without chance.
Eventually they ran out of lives as a poorly called run was pounced upon by Gelston who returned to wicketkeeper McCarter to run out Adey for 23. The Gelston-McCarter partnership worked again in the next over as Muckamores Australian recruit Millar edged just his third ball behind to the keeper who caught safely.
Home skipper Gill looked to dig in and recover but was trapped leg before by the rampant Gelston who was cleverly bowling from around the wicket to cramp up any space.
Any last chance of a Muckamore revival ended in the same over as Magowan came down the wicket to Gelston who seen him coming and spun the ball down the leg-side where Gareth McCarter completed a brilliant stumping.
Gelston finished with excellent figures of 3-21 from his ten overs. Muckamore battled as best they could but Van Schalkwyk returned to make a mess of Ashwin Shettys stumps while Nicholl faced the same fate off the bowling of Sam Wilson.
It was left to Wilson to have the final say as Keates completely misjudged a swinging delivery and let it hit him right in front of middle stump allowing Armagh to celebrate wildly as they completed their first Premier League win by the relatively comfortable margin of 70 runs.
Armagh captain Matthew Steenson was a proud man after the game.
"No-one really gave us much of a chance this year at all and we have won our first game away from home," he said.
"We trained hard from January with Bruce and I telling the squad that if we worked hard and believed in ourselves then we wouldn't let ourselves down. We aren't going to get carried away with one win but it's proven to the lads not to get obsessed with the standard.
"We know this weekend will be a whole new level of toughness but we just have to try and rise to it and compete.
"Credit to our top three on Saturday because Muckamore stuck us in thinking they might roll us over but we were given a platform to get the competitive score because the guys dug-in.
"Our bowlers were all excellent and didn't allow Muckamore the chance to break loose and even the guys who didn't pick wickets kept things tight.
"The fielding stood up well and while we know we have lots to work on it's a start we can all be proud of. Hopefully we get a bit of support on Saturday on the Mall against Waringstown."
Saturdays match ball was generously sponsored by David Courtney.
Robinson Services Premier League
Armagh 171-8 Van Schalkwyk 56. Nicholl 3-21.
Muckamore 101 all out.
Gelston 3-21, Wilson 2-11, Van Schalkwyk 2-15, Mackey 2-22.
Armagh win by 70 runs.
Sign Up To Our Newsletter