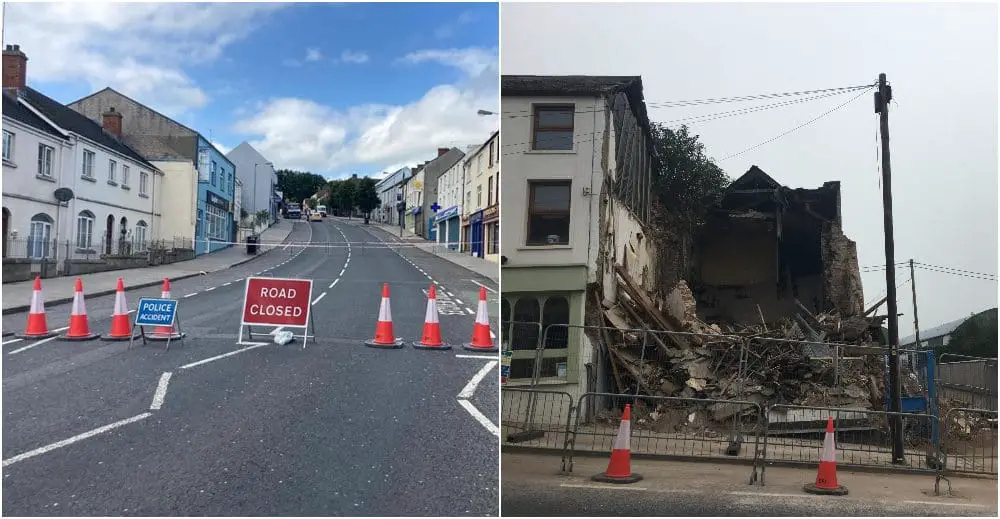 The main street through Tandragee has been closed again this evening (Monday) following the collapse of a derelict building on Sunday night.
Contractors were called in to demolish an unstable property on Market Street after a member of the public noticed the impending danger on Saturday evening.
While removing the asbestos plates from the roof, the building gave way below the contractor, who was perched on a telehandler, at approximately 9pm.
The road had been re-opened to the public this morning but according to Alderman Gareth Wilson, due to the risk associated with passing HGV traffic transmitting vibrations to the premises and then the added risk of other structures being undermined, the road has once again been closed.
"This will be a temporary measure and will be monitored by the PSNI," said Alderman Wilson.
"I have been assured that work will continue in earnest tomorrow in terms of further securing the building and neighbouring property.
"This of course is all in the interests of public safety and whilst the disruption is difficult and unwanted I hope that contractors can bring this project to a successful conclusion as quickly as possible."
Sign Up To Our Newsletter