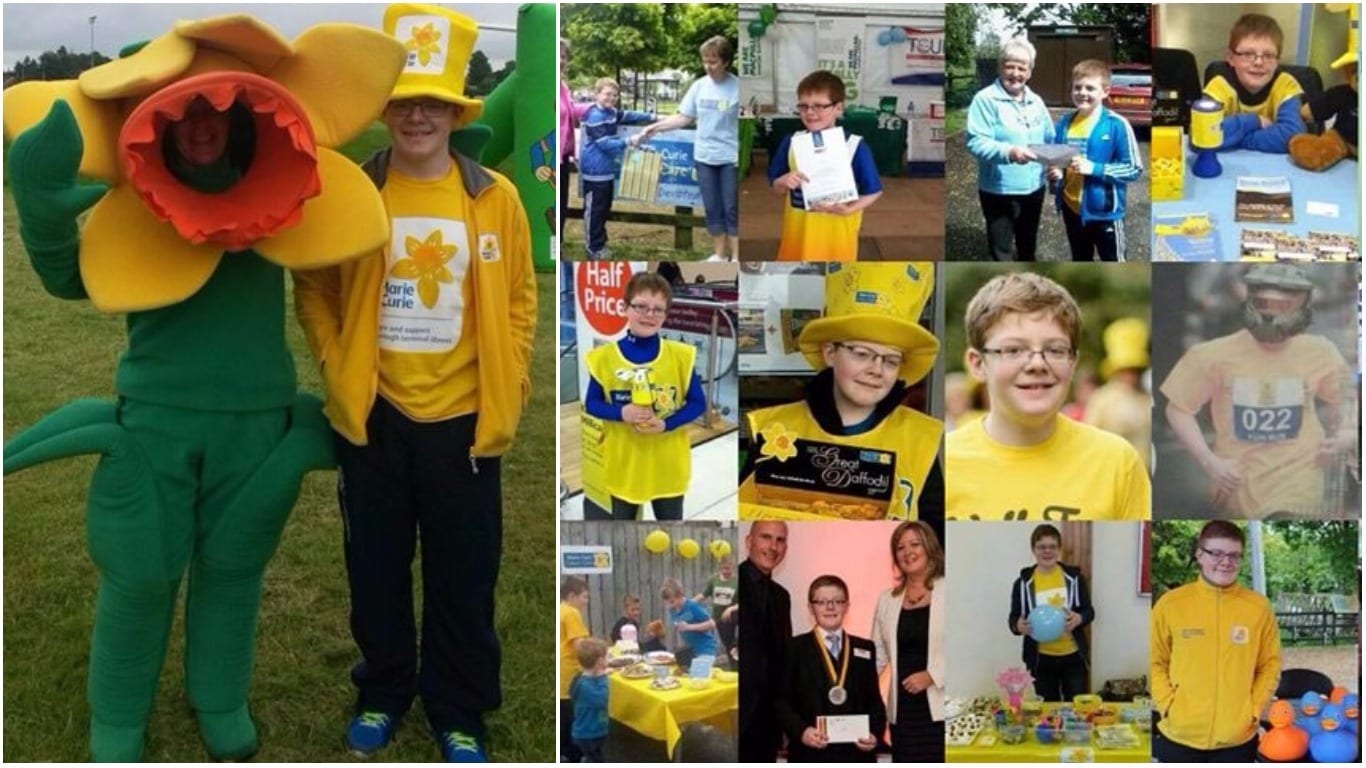 A Tandragee teenager who has been raising money for Marie Curie since he was just six years old is to hold his latest fundraiser on Friday.
Jake McMillan will celebrate his 11th year supporting Marie Curie when he hosts a 'Blooming Great End of Term Tea Party'.
Jake's first event was the Scarva Stroll in June 2006. Since then he has undertaken many different events, such as the Colour Run at Titanic Quarter, Belfast Marathon fun run, and Walk Ten, to others not so active, such as a stall at Tandragee Primary School fayres selling pocket money items, right through to tea parties.
Jake is also involved with organising the Lurgan Bunny Hunt, which was only introduced this year, and over the last two years he has helped at the Scarva Stroll and Big Duck Hunt.
Throughout the year Jake is always keen to take part in street collections and is known to have donned the Mr Jaffa costume at Mud Madness on many occasions.
Last year should have been a celebration of his 10th year, but with GCSEs this was delayed.
So this Friday, June 30, Jake is celebrating his 11th year with a Blooming Great End of Term Tea Party in aid of Marie Curie.
The venue was decided as the Masonic Hall in Tandragee, which has been kindly granted free of charge for the event.
Starting at 12 noon and running until 4pm, there promises to be something for everyone. Fliers and posters have been specially printed for the day and these have been kindly sponsored by Karl Black of Big Cab Taxis in Portadown.
There will also be a raffle on the day with a signed shirt from the 2016-2017 Wolverhampton Wonderers team donated by The Money Shop, to vouchers and hampers from local businesses.
Jake invites everyone along to the Masonic Hall in Tandragee and is pleased the Lord Mayor Gareth Wilson will be in attendance.
He says his proudest moments over this last 11 years are receiving the Marie Curie Exceptional Young Volunteer of the Year in 2010 and the Primarica Award in 2013.
All the money donated will go to Marie Curie through their Craigavon Fundraising Group, of which Jake is a member.
This means the money will be used to provide much needed care and support through a terminal illness to those within the Craigavon area.
Sign Up To Our Newsletter