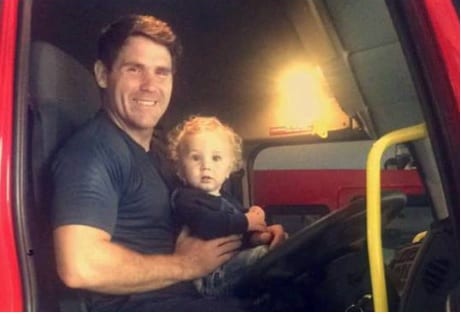 A county Armagh father-of-three who was knocked off his bike as he cycled to work this morning has hit out at the driver who fled the scene.
John Purdy, 31, was cycling from his home in Hamiltonsbawn to work at 7am when he was struck by a jeep at the junction of Brentwood Park in Richhill.
Mr Purdy was thrown from his bike, but instead of stopping, the offending vehicle sped off, leaving the injured firefighter sprawling on the ground.
Recalling the story to Armagh I, the full-time firefighter was thankful the incident wasn't much worse.
"I was on my way to work travelling into Richhill from Hamiltonsbawn and as I got to the junction of Brentwood Park a dark jeep flew past," he explained.
"The front of the Jeep missed me but the rear driver side clipped my shoulder knocking me into the oncoming traffic; I swerved back in and came off the bicycle then."
He added: "Three cars passed me, over taking me as I was there lying in a pile on the ground. The Jeep didn't stop, it just flew off."
Mr Purdy is no stranger to the roads either, cycling to and from work most mornings of the week, including many weekends.
The 31-year-old may not have sustained any lasting damage but the incident left him with a sickening feeling.
"Initially, when they pulled out I wasn't seriously injured, I just thought to myself it was an accident but when they drove off I was raging and disappointed."
He continued: "I go to the scene of road accidents all the time and to think I was close to being a statistic myself was unreal. Then to realise a cyclist was killed 30 minutes before is absolute madness."
A 50-year-old male cyclist died when he was travelling along the Newtownards to Bangor road around 6am this morning.
He is the third cyclist to die on Northern Ireland's roads so far this year.
Read more news:
South Armagh man jailed after 'criminal cash' seized from house and vehicles
Youth in custody tonight and drugs seized after car stopped in Keady
Teenager arrested following Armagh burglary
Scrap yard fire which destroyed 300 cars 'suspicious', police confirm
Pictures show shocking extent of suspected arson outside Keady
Streets closed after two homes shot at in county Armagh
Young couple attacked in their home by armed robbers
Sign Up To Our Newsletter