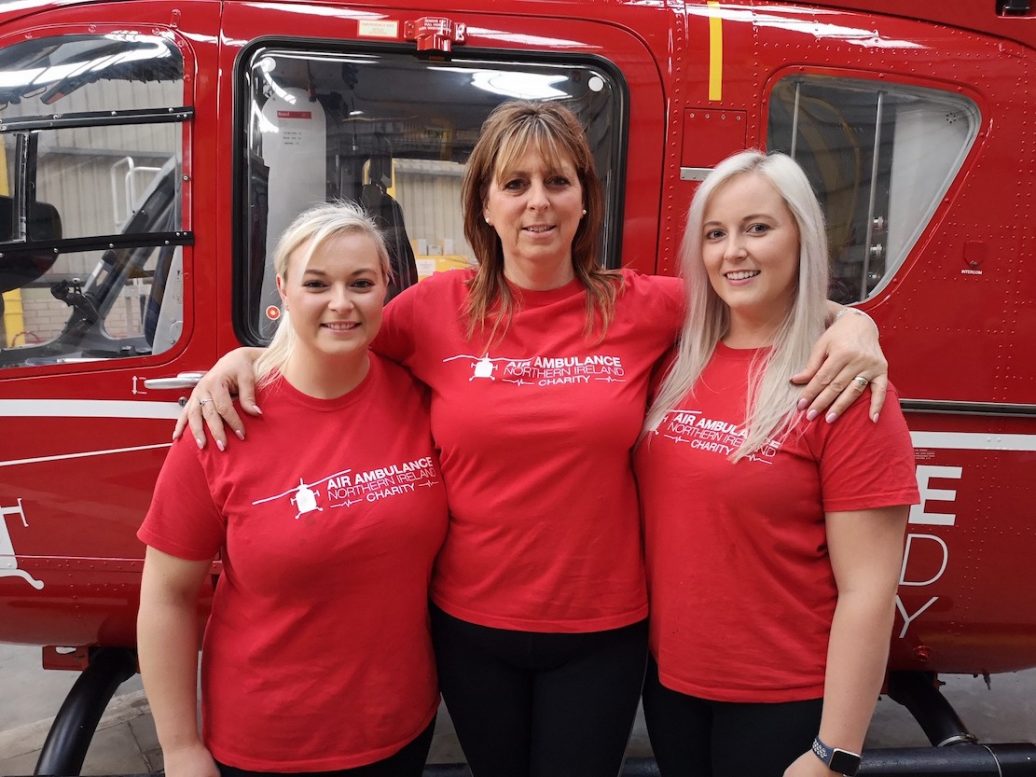 A Co Armagh family has raised almost £10,000 for the Air Ambulance following the tragic passing of their dad last year.
On October 28, last year, Jim Russell suffered trauma to the brain near his Tandragee home and the Air Ambulance was tasked to the scene.
The Air Ambulance medics put Mr Russell into an induced coma and he was then transferred to Royal Victoria Hospital in Belfast where he later passed away due to the brain injury.
Despite his tragic passing, Diane Murdoch – Jim's daughter – said she is grateful to Air Ambulance NI for their help and the fact that the medics gave her father the best possible care.
Since Jim's passing, Air Ambulance NI has also come to the aid of another member of the family.
Jordan Murdoch (10), Diane's nephew, crashed on a motorbike and suffered a cracked pelvis.
The air ambulance team was tasked to the scene and Jordan has since made a full recovery.
To thank Air Ambulance NI, Diane and her family have spent the last year fundraising for the charity, smashing their initial target of £1,000 and raising more than £9,000 in less than six months.
The family organised a pub quiz in Scarva and completed the 2019 Deep RiverRock Belfast City Marathon Fun Run, with one of the team, Brian Murdoch, completing his first full marathon.
Kids Academy in Tandragee, where Jim's grandkids attend, also organised a car wash, bun sale and fancy dress day in aid of Air Ambulance NI, raising a further £2,050 for the charity.
The family plans to organise further fundraising events next year.
Diane said: "We never thought we would need the air ambulance but our family has needed it twice in one year.
"We wanted to raise money for Air Ambulance NI in memory of my father and give back to the charity after all they've done for us.
"The charity relies on public support, so I would urge families across Northern Ireland to donate to Air Ambulance NI because you never know what's around the corner and you never know when you're going to need help."
Kerry Anderson, Head of Fundraising for Air Ambulance Northern Ireland, added: "We would like to thank Diane and the Russell family for their amazing donation in honour of Jim.
"We are so grateful to the family for choosing to fundraise and raise awareness about the Air Ambulance at what is a very difficult time.
"It costs £2million per year to keep the air ambulance service operational and every donation is welcome.
"The air ambulance is there for every one of us and is needed on average for one or two serious trauma incidents daily."
The charity, Air Ambulance NI in partnership with the Northern Ireland Ambulance Service (NIAS), provides the Helicopter Emergency Medical Service (HEMS) for the region and responds to seriously ill or injured patients 12 hours a day, seven days per week.
From its base near Lisburn, the Air Ambulance can reach any part of Northern Ireland in approximately twenty-five minutes.
Its primary role is to deliver advanced care, benefitting those whose lives are at serious risk following significant injury or trauma, by bringing urgent medical assistance directly to the patient at the scene.
Since commencement, the HEMS team has been tasked 999 times throughout Northern Ireland.
To find out more about Air Ambulance NI and how you can support the charity, visit Air Ambulance NI's Facebook page, visit www.airambulanceni.org or call 028 9262 2677.
Sign Up To Our Newsletter