Limited roads maintenance budgets and lack of materials is putting lives at risk in large parts of south Armagh, it has been claimed.
And local politicians have contacted Roads Minister Danny Kennedy to request an urgent meeting of the matter.
Local Sinn Fein Councillor Terry Hearty said cuts to maintenance services meant some roads were now extremely dangerous.
"I got in touch with Transport NI after numerous people contacted myself and the Sinn Fein office in Crossmaglen to complain that roads in the area hadn't received any maintenance in months," he said.
"Transport NI told me that while they have the manpower and the equipment to repair holes in roads, budget cuts mean they do not have the materials.
"They said they have been limited to using less than a ton of tar a day and even that is to be used mainly on R1 or main roads, leaving huge swathes of south Armagh without any maintenance.
"Some of the roads have gotten so bad that people are forced to drive in the ditch or on the wrong side to avoid them.  As well as putting lives at risk, driving on the roads has gotten so treacherous that businesses are suffering, with people avoiding using roads they are on unless it's absolutely necessary.
"Transport NI said they are aware of numerous repairs that need carried out in the area but that they do not have the material to carry them out.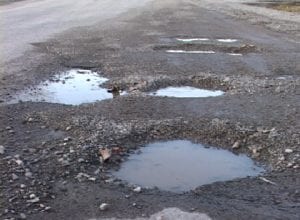 "Roads are checked for maintenance every 16 weeks, meaning the next time they look at these roads it will have been eight months since they were worked on and, if the issue isn't solved by then, it could be a full year until something is done."
Newry and Armagh MLA Megan Fearon said she had written to the Minister to request a meeting on the issue.
"We are all dealing with reduced budgets but Ministers have a duty to use those budgets sensibly and wisely," she said.
Read more news:
Three charged as part of international drug trafficking operation
New service centre to create 320 jobs in Co Armagh
Champion fundraiser Mark's historic honour at the Palace
Co Armagh arrest in illegal gangmasters probe
Disqualification undertakings accepted for three Newry directors
Sign Up To Our Newsletter