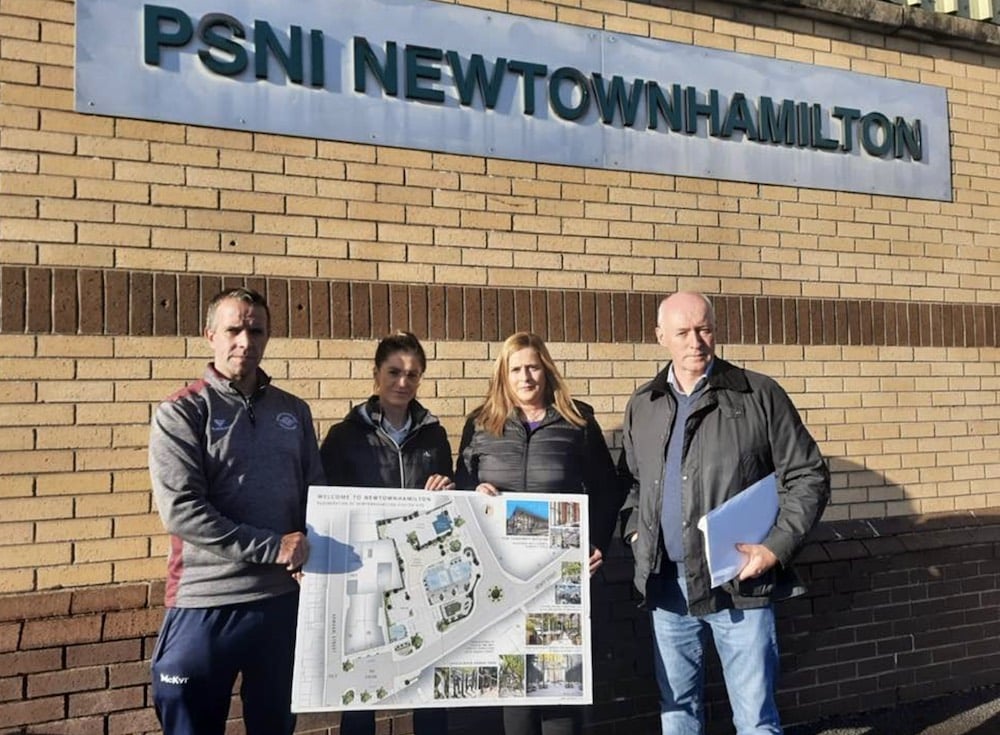 A Sinn Féin delegation presented police in south Armagh with its proposals to demolish part of the police station in Newtownhamilton.
The delegation, which included councillors Barra Ó Muirí, Aoife Finnegan, Oonagh Magennis and Declan Murphy met with PSNI officials at the station on Friday, as part of the Review into Policing in South Armagh.
While the police want to retain the entire mass of the station, Sinn Féin wish to have it partially demolished to "allow crucial regeneration" of the square and Newry Street.
"We brought our plans to the meeting to be be absolutely clear about our vision," said Councillor Ó Muirí.
"I have demanded that as part of all proposals two-way traffic returns to Newry Street to help alleviate traffic congestion on Armagh Street.
"Our plans will be available for viewing in the Community Centre from Monday. All feedback will be appreciated. We acknowledge the need for policing, but dispute the need for such an imposing structure dominating the centre of the town."
Last year, a report reviewing policing in South Armagh suggested the Crossmaglen PSNI station is no longer "fit for purpose" and should close, with all policing for the area being centred in Newtownhamilton station.
It recommends that the existing station complex should be redeveloped, with the perimeter fencing replaced so that it is "more open and welcoming", while exterior security measures should also be reduced.
It pointed out that while a new purpose-built station site is preferred in the longer term, the current economic climate is unlikely to allow for this, although the option should still be explored.
The recommendation is one of 50 changes proposed in the review which was initiated by the Chief Constable Simon Byrne in January 2020
Meanwhile, Chief Constable Byrne has said a lack of chief inspector role in South Armagh is likely having an "adverse impact upon community confidence" in the area.
He was responding to a Policing Board question posed by MLA Liz Kimmins.
Chief Inspector Adam Corner, who held the role of temporary chief inspector for South Armagh, has since stepped away from the role.
Mr Byrne blamed the PSNI's "budgetary situation" but added that Chief Inspector Lynn Corbett will step up to include the "geographic responsibility for the Slieve Gullion" among her duties.
Sign Up To Our Newsletter