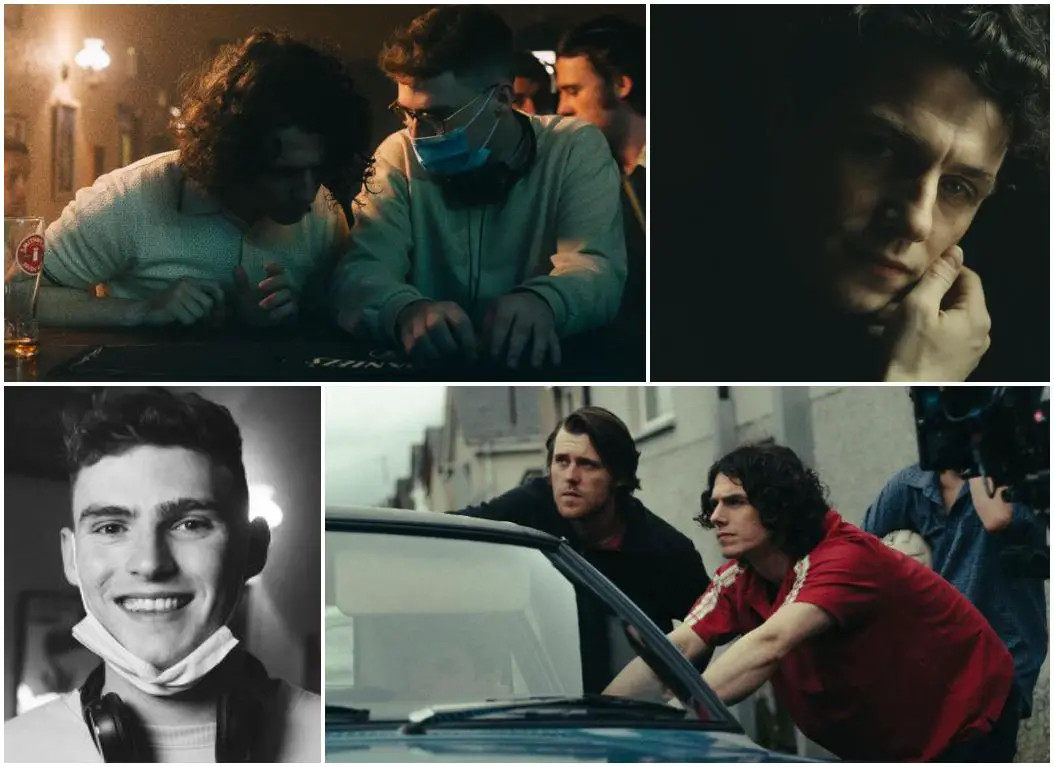 The usually quiet vicinity of Whitecross became a vibrant film set last September, when an important moment in history was documented by a young local film-maker and his cast and crew.
The story of the three Reavey Brothers, who were brutally murdered in their home, as they watched TV, by the notorious Glenanne gang on January 4, 1976, has been told and investigated in the intervening years.
But, until now, their lives, up to and including that fateful night, has not been brought to life on film.
John Reavey – a nephew of the brothers – dreamed of such a project since he began studying Moving Images in school at St Paul's Bessbrook and St Colman's College.
And after continuing film studies in London, the 22-year-old made that dream a reality with his short film, Reavey Brothers, which recently began its festival run around the world.
The project was fully crowd-funded, with an incredible £20,000 raised, and despite being delayed twice through Covid-19 lockdowns, filming wrapped up after a four-day shoot last September.
John, along with Producer Jamie Tarr, and Writer Jordi Estapé, auditioned numerous actors in Belfast and London, who they felt would do justice to the brothers personalities.
And while finding Dylan Llewellyn (Derry Girls) – as the lead actor to play the youngest brother Anthony (17), who survived for a few weeks after the shootings, and Niall McNamee to play John Martin (24) – Kevin Nugent was the one actor who was destined to play 22-year-old Brian.
"I actually called in an actor who was before Kevin who was auditioning and I saw him in the waiting room and locked eyes with him," explains John.
"I was like, this guy looks straight from the 70's or 80's. I just knew he had the energy to pull it off. Whenever he came into the room and Jamie and Jordi met him, the second he came in the door, I could already see the smiles on their faces. And by the time he left the boys said, 'that's a no-brainer'. It was probably the only role that we didn't have any question marks over."
Maghery-native Nugent recalls that day in 2020 also, and the impression he made with his look and his resemblance to Brian.
"It was a bit weird," says Kevin. "I had already grown the hair quite a bit and when I walked in they were pretty set."
It wasn't just his appearance however that made the role a perfect fit. Kevin was a talented footballer – as was Brian. But he may never have entered that audition room were it not for circumstances beyond his control.
"I don't want to quote a film title but it was because of 'A Series of Unfortunate Events' that led me into acting," says Kevin.
"It's the classic saying that one door closes and another one opens – that was the case for me anyway," he says in reference to the ACL injury in 2018 that put him out of football for a year.
Before that Kevin was a member of the All-Ireland winning Armagh minors team of 2009. His talent was well-known but he also hit the headlines the following year after a horrendous assault. It was during a league game for his club Maghery, when he was assaulted on the field and left with a shattered jaw.
"We were winning quite well and there was an incident up the field. I'm a defender and next thing I knew I woke up on the ground. Somebody tried to start something down our end of the field. I think the lad just caught me from behind and it did quite a bit of damage to my face. My jaw was broken and my chin was broken. I actually have a bit of titanium on the chin at the minute – well I'll have it forever."
Kevin downplays the incident when we speak and doesn't wish to regurgitate the details saying, "All's forgiven now anyway. It was a long time ago and we just have to carry on."
After months of recovery, Kevin was back on the field, and acting wasn't anywhere in the picture at that stage.
But in 2016, when he wasn't working, he joined the Extras Department Northern Ireland.
"I started when I was 25," he says. "I had no drama background whatsoever. The Extras Department is the perfect platform. In March 2017. I got an availability check for the Frankenstein Chronicles, Sean Bean's TV series and I said yes to it. The next thing you know I was travelling to Ballywater and I had 1800's period costume on me. It was the very first thing I did on set. I had spent most of my life away from work playing football and the first day there I put on these robes and thought, 'what am I doing here?'", he laughs.
"It was exciting but I thought, 'how did it even come to this?'"
Then, with sport put on hold following his injury, and because he enjoyed so much being on the set, meeting new people and the whole experience of it, Kevin signed up for a few drama courses in the Crescent Arts Centre in Belfast.
A few roles followed in student films and he was happy to work his way through the system that way and gain as much experience on set as possible. Kevin then got an agent, Shelly Lowry and he hasn't looked back.
"Shelly and Amy McVeigh have been nothing short of brilliant since being on their books two months ago," he says.
Meanwhile, John Reavey was in his element, surrounded by other creatives, an aspiring filmmaker in Ravensbourne University in London – also trying to build connections and gain experience in the industry.
"I knew before I came here that nobody was going to do me absolutely any favours and if I wanted to get anywhere I would literally have to put my name out there, put my face out there and connect with anybody and everybody," says John who, like Kevin, did jobs for free and as favours just to get noticed.
"I was just keen on showing people what I could do."
He says his biggest stepping stone came in second year.
"We were tasked to do a documentary on someone we found interesting. I thought hard about it but decided to make it on a friend who was an absolutely brilliant footballer who was gay and hadn't told his parents. It's just not heard of back home being a gay footballer."
His lecturer was impressed and told him to send it off to a couple of people. "I sent it to a few football organisations and it got picked up by a company called Copa Ninety," John explains.
"They funded the piece and it ended up on Sky TV, which for me felt crazy because I made that with no budget, just me and a couple of mates put it together. It was on TV and had tens of thousands of views online."
John had found his niche, in telling important life-changing, stories that could open peoples eyes and change opinions. He needed a big story for his final year project and with a tale to tell right on his own doorstep, Reavey Brothers was born.
John had grown up hearing the story from his father and the rest of the family. It was important to him that they were on board – and they were wholeheartedly.
"It was invaluable. I knew in my mind that these characters existed but there was nothing better than sitting down with the brothers and sisters of these lads. I interviewed everyone who had good memories of them. I wanted to know everything. What they were good at. What they were bad at. And how they acted. Since I was a boy these images of them existed and how they would have been and I wanted to merge that with information I could get and put that onto a screen so other people could see how they actually were. They trusted in me and it meant a lot to get that blessing."
The whole project was backed by Go Fund Me. All crowd funded to the tune of £20,000 "which I'm still in shock over," says the extremely grateful director. "If I wasn't already passionate enough about the project to see how many people were willing to part with their money and their time and offer to help out that was a massive motivator for me."
There were still huge hiccups ahead however, and John almost gave up the dream when Covid hit.
"We had flown over all of our heads of department to Belfast and we were planning on staying in Ireland that week. And then for Boris to announce lockdown while we were there, it just kind of felt like it was never going to happen," John recalls.
"We didn't know when lockdown was going to end. We were already working on a really tight budget and the question marks on if we were going to get our money for the flights back. It kind of felt like the dream was being ripped up in front of our eyes."
Luckily, the team were just as passionate about the project as John and stayed on board, and after a
few more stumbles the 30-man cast and crew descended upon Whitecross and filming began.
"I loved how we kept it all local. The bar is Whitecross Bar – the only bar in Whitecross. The chapel we used is in Belleek. The house is a real house in Tullyherron. So it was all the surrounding areas. We used Belleek's football pitch. It has so much character and it's the actual locations so to be able to keep it there was so special."
For Kevin, who is too young to remember the shootings, the story was something he had heard growing up in Maghery.
"I remember when I was playing underage football and being stopped going out to training and especially coming towards summer time being stopped two or three times because my grandparents lived on the Garvaghy Road and we would have been stopped quite a few times going to visit. So, with that you'd ask a few questions and read your history. But what happened the Reavey family was pretty horrific," says Kevin who, like John, found it invaluable having the family on set to speak to about their deceased siblings.
"Paul Reavey – John's dad became a bit of a star. He was the runner, so he was transporting the crew to the different locations and he became a bit of a legend over the course of the four days," recalls Kevin, who admits that the last day of filming was truly emotional for obvious reasons.
"The film was all fun and games and we left the emotional scenes towards the end because we didn't want to dwell on it too much. But it was the most enjoyable four days of filming I've had to date," he says.
"I actually forgot about those scenes until we started filming them on the Sunday. That was a real eye-opener for me, to be honest, when it comes to acting – doing that scene, when the men came in and shot the three brothers. I think anybody who has an interest in the film will know the true story themselves."
It's a waiting game now for the film, as it does the festival circuit. But no matter what happens, the plan is for a release date some time in December or early January.
"We have a list of maybe 15 festivals that are either BAFTA qualifying or Sundance qualifying and they're our main targets," John explains.
"I'll never sit and say that a film like this needs to get in because you can never hope on these things. So I'm just going to wait and see how it does and if it gets selected for something it would be a dream come true really."
Sign Up To Our Newsletter