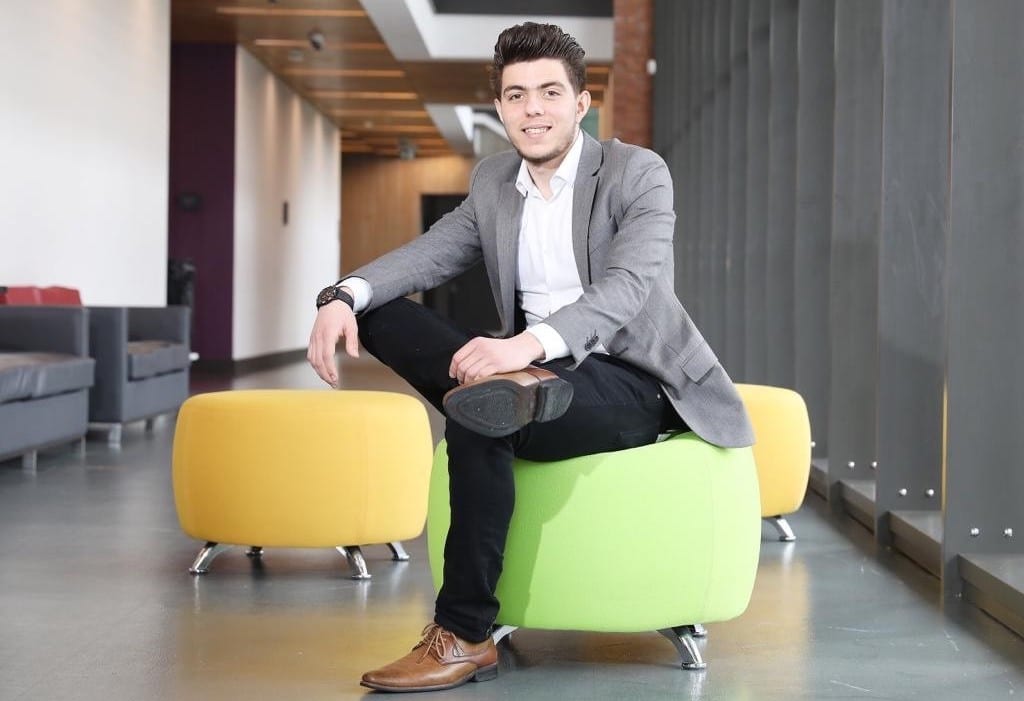 Hassan Alkhawam, originally from Syria and now living in Portadown, has been named as a finalist in the The Prince's Trust and TK Maxx & Homesense Awards in the Delta Airlines, Rising Star Award category.
The national awards recognise the achievements of young people who have succeeded against the odds, improved their chances in life, and had a positive impact on their local community.
The Delta Airlines Rising Star Award celebrates young people who have overcome barriers and are in sustainable employment.
The 23-year-old, who has transformed his life since coming to Northern Ireland, is one of hundreds of local young people who have been supported by the youth charity in the last year.
When Hassan and his family left their home in Syria due to the war, they were given refugee status and resettled in Northern Ireland in 2017. Since arriving in the country, Hassan has transformed his life. He is now studying Software Engineering at university and has been a key worker in Tesco during the Covid 19 pandemic.
Before coming to Northern Ireland, Hassan's father became ill and was no longer able to work, meaning Hassan had to leave full-time education and get a job to support the family. When he arrived in Northern Ireland, Hassan wanted to return to education and fulfil his dream of going to university but needed to take an English language course before he could apply.
At the time, Hassan was not working and didn't have money to pay for the course. A friend told him about The Prince's Trust and Hassan got in touch to see if they could help.
"I knew that taking the English language course was the first step to being able to apply for a job and university, but with no income I didn't have a way to pay for it," said Hassan.
"The Prince's Trust were able to provide me with a Development Award that covered the fees, I was so grateful for their help. As well as providing the money, the support and encouragement from the staff was amazing."
While he was waiting to apply for university, Hassan wanted to get a job to help support himself. He took part in The Prince's Trust and Tesco Get into Retail programme, a training and mentoring scheme that gives young people the skills, experience, and confidence they need to find a job.
After completing the four-week programme he was offered a job and started working there just before the pandemic began.
"I found the programme really interesting; I think it is a great opportunity. Everyone was amazing and I was delighted to be offered a job at the end of it.
"I've been working there for nine months now, right through the Covid-19 pandemic. The stores have been busy, but it feels good to be helping during this difficult time.
"It is great to be earning money and living independently, I've made lots of new friends and am proud to work for Tesco. I also was accepted to university and started my course in Software Engineering at Queens in September. I'm grateful to The Prince's Trust for all their support in helping me achieve a better life, not just for me, but for my family."
As well as working part time and studying, Hassan is a voluntary Director of a local charity that supports vulnerable members of the refugee and migrant communities in Northern Ireland.
The winners of The Prince's Trust and TKMaxx & Homesense Awards will be announced in early 2021.
Six of the young awards finalists recently joined a virtual panel hosted by Fearne Cotton to talk about their remarkable achievements as well as the challenges facing young people in today's post-pandemic world.
In this video, the panelists talk with Fearne, who is a Goodwill Ambassador for The Prince's Trust, about how their wellbeing has been affected by the pandemic, their coping mechanisms and their hopes for the future.
Speaking about the awards, Louise Greenlees, President, TJX Europe said: "We're delighted and very proud to continue to partner with The Prince's Trust to sponsor these awards, and to recognise those young people who, with the help of the Trust, have beaten the odds to turn their lives around. We're humbled by their achievement and grateful for the opportunity to share in their celebration.
"Since 2013, our partnership with the Prince's Trust has enabled us to bring over 1000 young people into our stores through the Get Into Retail programme, and over 700 have gone on to find employment with us in TK Maxx and Homesense.
"We believe that the Trust helps to make a huge difference to the lives of young people across the UK, and we are privileged to be able to support them in this work."
Youth charity The Prince's Trust gives young people the practical and financial support they need to stabilise their lives, helping develop self-esteem and skills for work. The charity supports 11 to 30 year-olds who are unemployed, struggling at school and at risk of exclusion and has supported over one million young people since it was founded in 1976. Three in four young people helped by The Prince's Trust move into work, training or education.
If you are a young person who needs help during this time, or if you are looking to support the work of The Prince's Trust, search 'Prince's Trust' online.
Sign Up To Our Newsletter