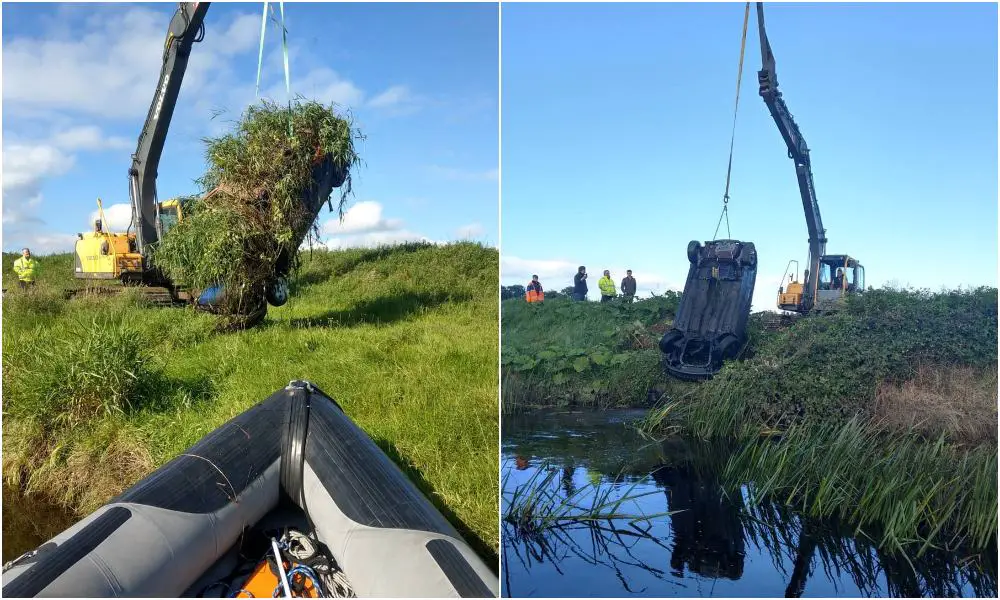 This is the moment two cars are dragged from the River Bann in Portadown this morning (Monday).
YOKI Marine, owned by Johnny Newell and Ross Irwin, alongside contractors Watson Autos, undertook the task of removing the vehicles from the river which had been submerged for the best part of five years.
Removing one car from the water is dramatic enough but this telehandler made light work of removing both, which had become part of the eco-system.
Their removal was welcomed the most by Jon Medlow, who has been voluntarily clearing the River Bann for a the best part of a year – in his kayak.
He thanked SDLP Councillor Eamon McNeill for his intervention.
"Another step towards a cleaner river," said Mr Medlow. "Cllr Eamon McNeill gets results."
"After having been in the river for a number of years, the Vauxhall and Citroen cars have now been removed," he added.
"There have been many requests to get these cars taken out of the river, even before I began the clean-up.
"I've also raised the issue with numerous political reps and agencies over the months, to no avail. Finally, after a request by Leigh Silcock to Councillor Eamon McNeill just over a week ago, the cars are out.
"With a site visit and pinpointing of the cars locations, Eamon has achieved what others couldn't and how he did it, I've no idea. What has been a blight on our river and a potential environmental problem, is now no longer.
"To say I'm overjoyed is an understatement. Every time I've passed the cars during the cleanups this past year, I've always said to myself 'one of these days, you're being removed'.
"Now after all this time, they are gone. Councillor Eamon McNeill – you're a legend! Big thanks to the contractors for finally getting them out also."
Councillor Eamon McNeill commented: "I am delighted these two cars have been removed and so glad to help Jon and all the at the River Bann Cleanup Portadown volunteers as they've worked so hard on the river this past few months. Thanks to ABC Council and contractors."
Almost 20,000 plastic and glass bottles, 800 football, rugby and tennis balls, 120 bin bags of rubbish, 60 pieces of footwear, 22 plastic ducks, 15 traffic cones, 11 shopping trolleys and bicycles have been fished out – these two cars can now be added to that list.
Speaking following a day on the river with Mr Medlow in June, Environment Minister Edwin Poots said: "I am shocked at the level of pollution, debris and waste in our waterways.
"The volume is truly appalling and it's obvious that it has a profound and damaging impact on the fish and wildlife using our rivers and on the ecosystem including organisms, plants, grasses and trees near the river banks.
"We all love getting out to enjoy the multiple benefits that our outdoors provides – the pleasant scenery, the exercise and the good feeling we get from being close to nature."
Sign Up To Our Newsletter