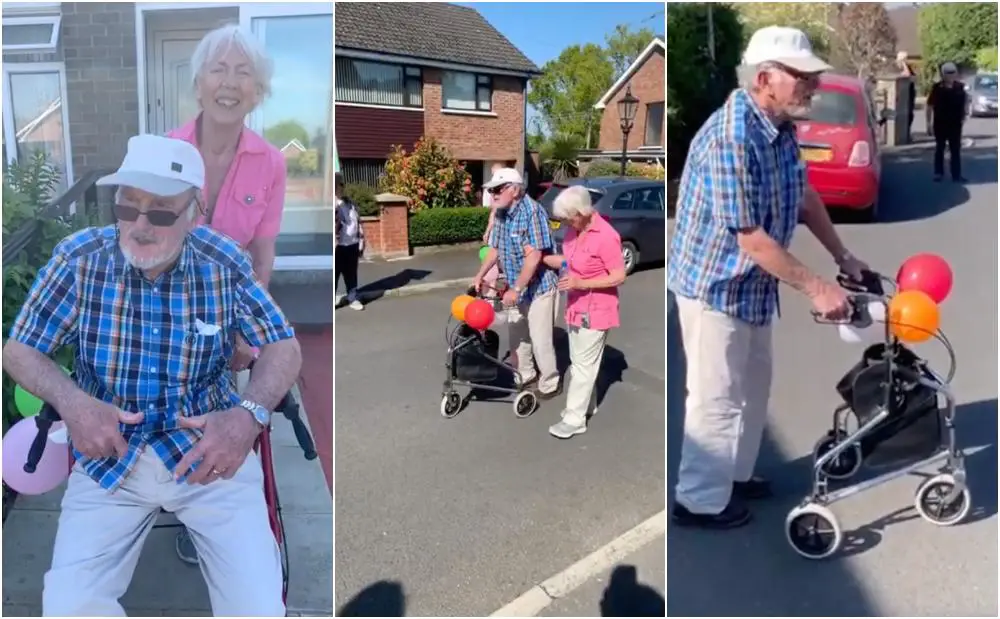 A Portadown pensioner has raised over £5,000 after undertaking a Captain Tom-inspired sponsored walk around his neighbourhood.
Ken Turner, who has significant mobility issues and suffers from Parkinson's, walked one kilometre around Enniscrone Park, Portadown.
The 85-year-old completed the feat on Saturday, and was cheered on by neighbours and relatives in the street, along with staff from Ann's Home Care, who help support Ken.
Speaking to Armagh I, Kelly Gibney, of Ann's Home Care, said: "He had initially contacted us and said he was going to do the one mile walk and wanted to donate it to us.
"Usually at the start of the year we would choose a charity which we would focus fundraising for, but we told him that we had not designated the charity this year due to everything that was going on with Covid.
"We told him that we were very chuffed that he wanted to do this for us so we said he could donate it to a charity of his choice and say it's on the behalf of the staff that come in to see him as well."
Ann's Home Care team leader of the area – who had been joined by two of his main carers to cheer him on – recorded his fantastic challenge on camera!
Kelly said: "His wife says at the end of the video that she wouldn't be able to cope without the girls.
"They have obviously developed bonds with him. It was very heartwarming to hear that he wished to do this on their behalf.
"Going from what the manager for the area had said, the girls all have a fond relationship with him. I suppose in the healthcare industry it is not just about a client, you become a part of their home and their family life.
"You try to keep continuity in staff in order to build this rapport.
"The girls had said even the atmosphere that was there with all the neighbours out with their signs was second to none. It was a real one-off."
Kelly confirmed that to date Ken has raised £5,011 and that is going to be donated to a Parkinson's charity and also the Southern Area Hospice.
If you would like to make a donation, you can visit Ken's Go Fund Me page.
Sign Up To Our Newsletter