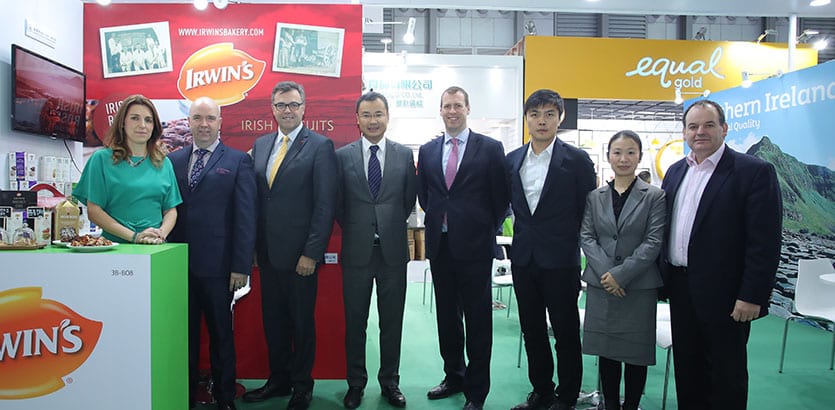 Two of Northern Ireland's most iconic brands – both County Armagh-based – have landed lucrative orders overseas.
Portadown's Irwin's Bakery and Tandragee's own Tayto have bagged business in China.
Invest Northern Ireland Chief Executive Alastair Hamilton has congratulated both on their successes.
They are among 11 local companies visiting and exhibiting at Food Hotel China this week, an event exclusively aimed at imported food, drink and hospitality supplies for the retail and foodservice sectors in China.
Irwin's Bakery has secured a valuable order with United Merchant Food in Beijing, while Tandragee-based Tayto NI has recently shipped its first two orders to China, for ET2C in Shanghai and China Merchants Food in Shenzhen.
Welcoming the news following a visit to the Northern Ireland group stand at Food Hotel China, Alastair Hamilton said: "Securing these export orders is a significant achievement for Irwin's and Tayto who are both investing considerable time and effort into nurturing partnerships with global operators in this lucrative market.
"These local food producers have benefited from food business development guidance, trade advice and from participating in Invest NI trade missions to profile their products on an international stage.
"As these results demonstrate, Northern Ireland companies are reaping the business benefits of our export support and establishing strong trade and investment links across what is a huge country."
Commenting on the success, Brendan Lappin, Irwin's Bakery Business Development Manager said: "We are delighted to secure a new order via our partner in China Merchants Food with their sister company United Merchant Food of Beijing. We hope it is the beginning of a fruitful relationship with this prestigious customer.
"Invest NI has assisted with expertise in market and also with the help of their great team in Northern Ireland, to facilitate introductions and meetings through the Food Hotel China exhibition; this ongoing support has been invaluable in helping us achieve this new business."
John McQuaid, Tayto Group Group Sales & Marketing Director, added: "These shipments to China Merchants Food and ET2C are a promising start in what are early days for us in this fast-growing and dynamic marketplace. Trade support from Invest NI is paying dividends as we focus on profiling our Real Hand Cooked Chips to potential business partners. Food Hotel China offers invaluable opportunities to showcase our award-winning produce and build relationships with key decision makers."
Picture: Representatives from China Merchants Food at the Food Hotel China exhibition with Colette Wilson and Brendan Lappin, Irwin's Bakery, Alastair Hamilton and Steve Harper, Invest NI, and John McQuaid, Tayto Group.
Read more news:
Former Armagh GAA chairperson Joe Jordan passes away
Tractor run to be dedicated to two young men who died earlier this year
'Little boy racers' terrorising passersby from city centre car park
Adorable pup stolen from yard outside family home
Ulster Canal restoration high on agenda as North-South Ministers to meet in Armagh
Co Armagh primary school does one of the best Mannequin Challenges you'll see
Councillor warns of con artists targeting Co Armagh residents with sophisticated scam
Sign Up To Our Newsletter