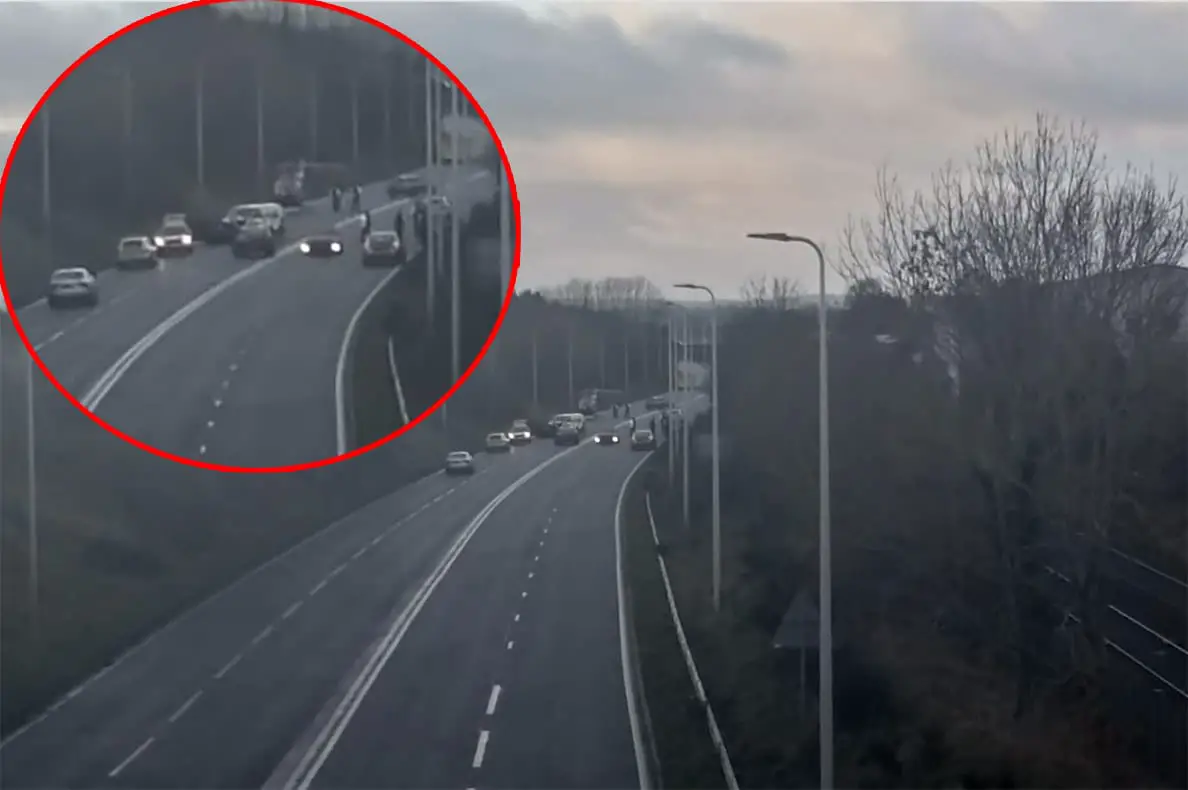 A man in his 60's who sustained "life changing injuries" says he has forgiven the driver, a court heard today (Friday).
Despite that forgiveness however, 20-year-old Morgan Guy was handed a 12 month prison sentence at Craigavon Crown Court.
In addition to the jail sentence of which Guy will serve four months in custody and the rest on licence, Judge Patrick Lynch QC also imposed a two year driving disqualification.
Having heard that the 61-year-old victim "forgives him for what they have no doubt was an honest mistake," the judge said the reasons behind the devastating crash were "inexplicable" but sentencing guidance was clear that without exceptional factors, dangerous drivers had to go to jail.
At an earlier hearing Guy, from Richmond Chase in Tandragee, entered a guilty plea to causing grievous bodily injury by dangerous driving on the Northway in Portadown on December 20, 2018.
Opening the "quite straight forward" facts of the case, prosecuting counsel Ian Tannahill outlined how Guy had been driving his works Toyota Hiace van, heading for the motorway at 8am that morning with the victim heading in the other direction towards Portadown in his Lexus car.
The lawyer said while other rush hour drivers have statements they believed the van was trying to execute an overtaking manoeuvre, there was also a suggestion that Guy misjudged the beginning of a filter lane for turning right but either way, the van ended up in the lane of oncoming traffic and caused a "substantial collision," head on, with the victim's Lexus.
The 61-year-old had to be cut out of his car and was taken by the Air Ambulance crew to the RVH where he spent almost three weeks in the Intensive Care Unit before being transferred to the Regional Brain Injury Assessment Unit.
The court heard how the victim sustained a brain injury which had impacted on his memory and cognitive skills as well as multiple fractures to his legs, wrists, ankles, sternum, pelvis and ribs in addition to a lacerated liver.
His mobility is now severely curtailed in that he has to use two crutches to walk only short distances, his wife has given up her job to care for him and that carers also have to help him twice daily.
Guy, who told police all he could remember about the crash was "an almighty bang," was also hurt in the crash, suffering a broken jaw.
Mr Tannahill said that despite the "high energy poly-trauma" sustained by the victim, there were no other aggravating factors attached to the offence in that Guy had a clear record, had no alcohol in his system, was not speeding and wasn't using his mobile phone prior to the crash.
Defence counsel Conor Coulter said Guy was "truly sorry for causing those injuries and he offers his unreserved apology" to the victim who sustained such "horrific injuries."
"He has struggled to make sense of all of this," said the lawyer, revealing that as well as the broken jaw, Guy has since been diagnosed as suffering from PTSD.
In an impassioned plea for leniency and urging the judge not to jail the defendant but to allow him to continue his education and employment, Mr Coulter said the crash "had already had numerous consequences for him and will continue to have for the rest of his life."
Today, Judge Lynch praised the "magnanimity" of the victim having heard that he "holds no ill feeling" towards Guy, adding that he had looked for exceptional circumstances which would have saved him from jail but told him "unfortunately from your perspective, I find that there are none".
Sign Up To Our Newsletter